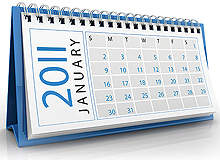 Thomas Schmid, MD of the Dolder Resort, Switzerland
After a difficult 2009, both business and pleasure tourism to Switzerland grew through 2010, although the average rate was still under pressure. As well as getting the second Michelin star for The Restaurant we hosted the FIFA bidding nations Qatar and Russia at the Dolder Grand. It was a big challenge for the whole crew to achieve every demand during this time, but it was rewarding at the same time.
Next year, I predict Paris will heat up again with openings by Asian hotel groups Raffles and Mandarin Oriental. Europe has a lot to offer and taking short flights for a long weekend is popular right now. New York has some new smaller hotels such as The James, but also the Andaz and Setai.
In terms of new hospitality trends, Facebook, Twitter and other platforms are more important now and so is online booking. Email feels rather slow and has become comparable to fax messages in the 1980s. Generously sized rooms, public spaces and the spa have all been important factors in providing a luxury service but service is more important than ever and constant training for all employees is key. Customers want instant, tailored, professional and friendly service.
Claus Sendlinger, founder and CEO of Design Hotels
"In terms of new hospitality trends, Facebook, Twitter and online booking are important."
Design Hotels was back on a growth path earlier than anticipated. In fact we had repeated record highs in the value of bookings brokered. We also increased the portfolio with 45 new hotels – the most ever in a single year.
To fulfil the demand for integrated solutions we have optimised our internal structure and refined our strategy.
In terms of brand activities, we'll be focusing on building our global community by becoming a reference point for architecture, design and culture-related interests.
To kick off next year, we'll be introducing more of the truly original people behind some incredible hotels, like Pedro Marques from the Kenoa Exclusive Beach Spa & Resort in Brazil. I'm also really excited about the opening of Grupo Habita's Hotel Americano in New York this spring.
These days, great architecture and design are really a minimum requirement – on their own they probably won't stand out in someone's holiday memories. To create a luxury offering we have to engage and connect people in a way that goes beyond telling them where the city's top restaurant is.
We want to not only expose them to the local community but also have them become part of it. This is something that we are looking at more and more in our member hotels. How are they addressing this very essential, and very individual, component of their hotel's concept?
At the same time, we will also be looking at how to engage this audience of design and culture enthusiasts through global events and our online platform.
Kirk Kinsell, president of InterContinental Hotels Group, EMEA
We are showing our strength in a recovering market and the last quarter saw a return to rate growth for the first time since early 2009. Total gross revenues from all hotels in our system are up 13%. The leisure traveller never went away and the business traveller is back on the road.
The highlight of 2010 was the completion of the Holiday Inn relaunch, with a £650m investment across more than 3,400 hotels worldwide. We are looking forward to working on a host of activities in 2011 in preparation for the London 2012 Olympic and Paralympic Games – Holiday Inn is the official hotel provider to the games.
"Luxury to most of our guests is about time."
We are also excited about the global roll-out of Hotel Indigo; we signed six more hotels in the last quarter and announced plans for the high priority markets of Bangkok and Taipei, taking the total number of hotels to 59 with 13 outside of the Americas.
We are looking forward to developing our network in China, now IHG's second biggest market by number of rooms and currently a £650m business. We're working on doubling our size in the next five years – we have 132 hotels in Greater China today and 148 in development.
Luxury to most of our guests is about time. Giving our guests the time to enjoy the city they are visiting or doing business in is what is most important. We take care of the rest, giving them exceptional service and a hassle-free experience so they have time to enjoy their trip.
Michael Wale, SVP regional director of operations North-West Europe, Starwood Hotels & Resorts
Leisure travel came back during 2010 but the most significant trend we have benefitted from is the very strong return of business travel which has returned to levels we achieved in our previous peak years. This was critical for us, as business travel drives 75 of our total revenue.
Now heading towards the end of 2010, our revPAR is accelerating around the globe and occupancies are strong in key cities. So while 2010 may have started on a slower note, things have certainly picked up and the recovery is continuing to play out better than expected.
My highlight of 2010 has been launching the Aloft brand in Europe with the opening of the Brussels property in September. It's the fastest growing hotel brand in history; launched in 2008, we already have almost 50 properties open worldwide.
2011 is set to be an exciting year for Starwood. We will open three new W Hotels in Europe next year: W London Leicester Square in February, W St Petersburg in March and W Paris-Opera towards the end of the year.
Paris has been on the hit list for W Hotels for many years and with the 90-room Opera property, we have found a quintessentially Parisian building in a Haussmann style. Luxury is definitely alive and growing and today our luxury brands are enjoying the strongest RevPAR gains of any segment. As the largest operator of four and five-star hotels in the world,
Starwood is in a very strong position. Our guests are still willing to pay for a luxury product, but they also want value for money in terms of exemplary service, experience and facilities.
Kevin Kelly, general manager of the St Pancras Renaissance, London
"London has to be the most exciting city on the hospitality scene for 2011."
I started 2010 as GM at the London Marriott Grosvenor Square, a position I held for over four years, and I'm finishing it as GM of the St Pancras Renaissance Hotel London. At Grosvenor Square the highlight of 2010 had to be the significant year-on-year growth that we witnessed, with demand bouncing back from all areas of the world. However, being appointed GM of what is anticipated to be one of the most exciting hotel openings for 2011 has undoubtedly been another peak.
Despite concerns about a double dip recession, I feel we are set for continued growth in London. International travel to London is very strong and with the build-up to the Olympics and the Royal wedding this will give London tremendous exposure. London has to be the most exciting city on the hospitality scene for 2011, with a number of highly significant luxury hotel openings earmarked throughout the year, making it a very exciting destination at the moment.
When opening a five star hotel within the fabric of such an extraordinary Grade I listed building, 'luxury' cannot be adapted, it has to be embraced. The interior of the hotel has been restored to its former glory by expert teams of craftsmen and painters. The hotel will also showcase restored gold-leaf ceilings, ornate wall murals and the grand staircase. So, 138 years to the day after the opening of the Midland Grand, the Renaissance will celebrate its relaunch on 5 May 2011.
Kiaran MacDonald, GM of The Savoy
Two highlights stand out for me from the last year. The first was the 10/10/10 re-opening of The Savoy, which I think will forever stay with me as a personal and professional accomplishment.
The second is The Savoy's official launch that our owner Prince Al-Waleed and HRH the Prince of Wales attended. To be in the presence of the British heir to the throne, who has a strong view on protecting British architecture, and hear him endorse what is being done was a tremendous testament to everyone involved in the project.
"People want to appreciate true value, something that resonates with a sense of longevity."
The next year is about stabilising our business. We've had a tremendous re-opening that received a worldwide level of interest. Next year is now about driving the business, meeting our objectives, and re-establishing The Savoy's position in London and on the world stage.
London continues to be an extremely successful city from a luxury point of view, even during the last three or four years. The 2012 Olympics will give us a further boost, with new hotels coming onto the market and existing hotels that are undergoing investment.
The end result is a destination that will continue to offer the very best in luxury for guests from around the world. We're very proud of what we've achieved, but the reality is that we had to get in order to stay up there with the best.
I think there has been a greater emphasis on authenticity since the recession. People want to appreciate true value, something that resonates with a sense of longevity. Those products and services that offer it will do better than those that don't. It's much more difficult for a new hotel entering the market, presenting luxury without the historical resonance to back it up. They need to give off a sense of value and historical resonance – luckily, the Savoy doesn't have to take measures that others might have to.