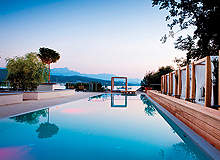 "Well, you couldn't have chosen a better location," said the well-dressed Austrian sitting next to me on the plane.
The location is Lake Worthersee in the Austrian Riviera, and the destination is Lake's – My Lake Hotel. It's a bit of a mouthful, but it carries a certain charm.
Drive 20 minutes in a cab from Klagenfurt Airport and you're in Portschach. The setting is idyllic – you feel healthy just breathing in the Austrian air.
The Southern Alps provide a striking backdrop, feeding the lake with cool mountain water. Rumour has it the French tried to bottle the lake's water to sell it.
Lake's hotel ('Lake's') has 72 suites, two penthouses and all the extras: a spa, steam rooms, saunas and a Jacuzzi. The spa offers massages, manicures and facials, one of which uses 24-carat gold powder.
"You won't want to leave this part of Austria in a hurry."
There are three swimming pools: one indoors, one out, and one sectioned-off from the lake.
What could be better than passing a day on a sun lounger watching swans and mahogany motor-boats glide by? Your photos will look like a scene from a James Bond film.
Celebrity status
Lake's has already had the celebrity seal of approval: 'The Hoff' was one of the hotel's first guests, and a Baywatch sticker and a scrolling 'David Hasselhoff' signature adorn the guest book.
Friendly and unpretentious, 'casual luxury' is the name of the game. The hotel staff manage not to cross that crucial boundary between being attentive and aggressive. Well-turned out waiters in white chinos and boat shoes bring refreshments to lake-side loungers. An Apparel Spritzer is the drink of choice.
The dining experience
If you can avoid the temptation of calling for room service, it is well worth the trip downstairs for breakfast. The restaurant serves breakfast, lunch and dinner. The decor is Italian 1960s chic. Breakfast is made to order and delivered on a three-tier plate stand.
The coffee is also exceptionally good, a perk of being so close to Italy, perhaps. It is even outstanding in the mini-bar. My suite had a mini-bar in a league of its own: imagine a Hermes trunk turned upright, home to wine, snacks and an Illy espresso machine that puts George Clooney's Nespresso to shame.
From the inside out
The suites are spacious, all with large balconies overlooking the lake. Two penthouses make up the entire top floor of each of the hotel's wings.
"Friendly and unpretentious, 'casual luxury' is the name of the game."
My room had two widescreen TVs, one in the bedroom and one in the living area, and an iPod docking station was provided. The bathroom and separate walk-in shower room come complete with a generous supply of Molton Brown toiletries. 
For those who want to venture off the sun lounger, I would thoroughly recommend taking a boat across the lake to Velden.
It takes one hour and showcases lakeside health farms (of the surgical and detox varieties), golf courses and vast estates. Catch a glimpse of the house of Austria's richest family, the Flicks, heirs of a German industrial empire. If the chocolate-box scenery brings on a craving for cocoa, book yourself in for the regional speciality: a chocolate body wrap.
For the sporty visitor there is golf, boating, water sports, walking, hot-air ballooning and swimming on Lake Worthersee. A great way of circumnavigating the lake is by bike. Hire a state-of-the art mountain bike from Lake's or opt for the electric variety. I am ashamed to say I went for the latter and loved it: unbeatable for speed and amusement.
Singing Portschach's praises
Be warned, this part of Austria is not somewhere you will want to leave in a hurry.
The German composer Johannes Brahms summed up the feeling you have when in Portschach: "The first day was so beautiful I had to stay for a second," he wrote in a letter to his friend and fellow composer Clara Schuhmann. "The second was so beautiful that I am going to stay for a while."
Swan off to Lake's
"The spa offers facials, one of which uses 24-carat gold powder."
For more information about Lake's – My Lake Hotel visit: www.mylakehotel.com, email: info@mylakehotel.com or call: +43 1 515 80 1831.
Getting there and away: The hotel is just 20 minutes from Klagenfurt Airport, which is served by Austrian Airlines, Air Berlin, Lufthansa, Ryanair and German Wings. Ljubljana Airport is one hour away, while Graz and Salzburg are 90 minutes and two hours away, respectively.