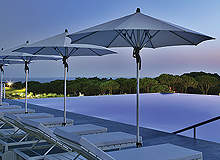 It has become almost as fashionable in the hotel industry to prefix the word spa with 'eco' as it has to name-drop 'wellness' or 'holistic' into a marketing blurb. That's because the demand is rife from guests – even in the luxury market – for natural over chemical, sustainable over wasteful, and efficiency over excess.
Susan Harmsworth, CEO of spa brand ESPA, which has had environmental leanings since its beginning two decades ago, says the eco trend – and the nature-inspired treatments that go with it – is set to ramp up in the next decade with new innovations and a new direction that could see eco, wellness and even 'medi' coming together in a unique total-health spa concept for hotels.
Steeping up to the spa boom
Overseeing spas in 55 countries, Harmsworth has a fair understanding of the spa trends around the globe. ESPA is experiencing the biggest boom in Asia (China in particular), South America, India and eastern European countries such as Russia and Kazakhstan.
Egypt and Turkey – being detached from the euro and dollar – are also becoming the hot destinations for European holidaymakers, and so the demand for spas is increasing there too. ESPA, whose products derive from plant extracts, essential oils and marine extracts, has had to step up its own eco positioning to meet the growing demand, and is due to launch its rebranded and reinvigorated product offerings at the end of January 2011.
"From an eco and green point of view, the new products are even more so," says Harmsworth.
ESPA goes eco
"The latest ESPA spas incorporate water-saving technologies."
The latest ESPA spas incorporate water-saving technologies, heat exchangers for conserving energy and more environmentally friendly ways of heating pools. Wood finishes are ethically sourced and lighting is energy-efficient. The brand has removed trace parabens and sodium laureth sulphate (SLS) from its products and overhauled its packaging to be as biodegradable and green as possible.
ESPA 'power showers', which might use 60 or more litres of water per five-minute spritz – twice as much as a water-saving shower – are no more.
"The key words are efficacy and natural. We're not claiming organic but we use organic wherever we can," says Harmsworth.
While 'going eco' sounds like the ideal direction for any hotel spa, the logistics of greening everything from products through to operations and construction is difficult.
"A major trend is the concept of the medi-spa."
"I would say most responsible developers and architects now are definitely very into it, but there are areas of the world where construction is antiquated, and there's not a lot you can do about it," says Harmsworth. "We're very conscious of it, but it's very difficult to dictate when you've got a developer who's not interested."
Opportunities for greening ESPA's latest spa at Resort World in Sentosa, Singapore, for instance – where there are strict green building regulations – are much better, to say the least, than somewhere like China where green building standards are still developing.
Medi-spa concept
The other major trend rising simultaneously with the eco spa movement – more so in the destination and day-spa sector – is the concept of the medi-spa. Whether it's cosmetic surgery, blood tests for nutritional assessment or doctor-prescribed sleep therapy, medi-spas involve a medical component in conjunction with the usual spa offering.
While it might seem that 'eco' and 'medi' are at opposite ends of the pole, ESPA is soon to reveal how they can be blended.
"The logistics of greening everything is difficult."
In spring 2011, ESPA's flagship spa at Corinthia Hotel, London, will introduce the ESPA Life concept, which will see the brand evolve from a natural marine-based line of products and treatments in eco-conscious settings to an even broader wellness model, blending complementary medical therapies with an enhanced spa offering.
While invasive medical procedures won't be on the menu (Harmsworth, who has researched all the medi-spa avenues, has concluded hotels and hospitals don't mix from an insurance point of view), ESPA will introduce naturopaths, nutritionists, acupuncturists, remedial massage therapists, personal trainers, post-operative orthopaedic therapists, and even doctors in some locations. Eco plus medi – could it be the next super spa?