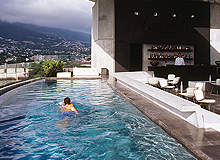 "Once you open a hotel, you never know what is going to happen, it's like a child," explains Carlos Couturier, one of the founders and managing partners of super-cool Mexican hoteliers Grupo Habita.
Couturier, who once ran a citrus farm in San Rafael in the Mexican state of Veracruz, launched Grupo Habita in 2000 with his friend Moises Micha, who had spent 15 years working as an investment banker in New York. Since debuting with Hotel Habita in Mexico City, the group now has a bespoke portfolio of ten hotels across Mexico from the mountains to the ocean – the latest being Hotel Boca Chica in Acapulco, on the Pacific coast, which opened in March 2010.
Habita Monterrey
Habita MTY in Monterrey, in the north-east of the country, preceded it in 2008. Spring 2011 sees the opening of their first property outside Mexico. The country has a lot to offer the global hospitality industry, says Couturier: "International design standards plus high-quality service."
Mexico City itself has always been a destination for travellers.
Each Habita hotel is unique. One occupies a renovated water purification factory near Puebla La Purificadora, another is a restored 1920s apartment in Mexico City's Condesa federal district, CONDESAdf.
"Grupo Habita will open its first property outside Mexico in 2011."
"We never repeat ourselves," says Couturier. "There is one original idea that makes it all happen. Grupo Habita is a great fit for Design Hotel," says Claus Sendlinger from the group's Berlin HQ.
"The hotels connect brilliantly with their local community, which is something we really look for in our members. CONDESAdf's rooftop terrace in Mexico City is as much a place for beautiful locals as it is for savvy travellers.
"Although they all have a distinct Grupo Habita feel to them, each property is still very different from the other and one-of-a-kind. They are great examples of hotels that offer the right concept for the right crowd at the right location."
Hotels with personalities
Couturier and the brothers Micha brought their originality to the faded ocean resort of Acapulco, once a playground for 1950s stars and starlets.
"Each hotel speaks of its surroundings and location," says Couturier, who bemoans the lack of individuality in most top hotels. As he terms it: "Unique personalities vs cookie-cutter hotels."
Habita injected a big shot of imagination into the Hotel Boca Chica, now owned by Mexican architect Fernando Romero, a former protege of Rem Koolhaas. A razor-sharp contemporary attitude sits slickly with a deeply ingrained old-school charm. Designed by Frida Escobedo and Jose Rojas, the lime greens and subtle shades of the 30 guestrooms sit comfortably with vintage furniture, original brick work and stone floors. Each of the hotel's six suites has outdoor living rooms and private gardens.
"CONDESAdf's rooftop terrace in Mexico City is as much a place for beautiful locals as it is for savvy travellers."
Then there are the facilities. The restaurant is headed up by sushi chef Keisuke Harada, from New York's Bond Street. There are some eccentric touches, from the poolside massage cabanas to the wonderfully named Coco Wash disco. The hotel has commissioned Mexican artist Pedro Reyes to create a floating doughnut-shaped island, with its own pool, that will bob offshore opposite the hotel.
"We select our designers to the needs of location," says Couturier. "Every time we create a complete package of a hotel there are so many things we need to take into consideration from the weather and local culture to the people. We put it in a mixer and there is an outcome."
In Monterrey, the modernist, curved, concrete tower of Habita MTY has interiors designed by Paris-based Joseph Dirand. The 39-room hotel is an exercise in design exploration in black and white. The hotel's lobby is set out in polished concrete while the lounge comes with ranch-style antlers and vintage furnishings. The rooms have white-washed floors that contrast with the blacked-out walls. The whitest of beds illuminates the dark. Bathrooms come decked in black and white marble fixtures.
The hotel's most outstanding feature is its rooftop terrace with a bar and pool designed around the breathtaking 360° views of the Monterrey skyline.
"We don't only build hotels," says Couturier. "We build experiences."
Habita's unique outlook
What makes Habita different? "We create unique and unrepeatable destinations in Mexico," says Couturier. "Once we have a concept we choose a location, but sometimes the location comes before the concept."
He explains that it is his job to come up with the conceptual vision, Moises Micha deals with the group's finance, operations and logistics, while his brother Rafael concentrates on PR, sales and marketing efforts.
"It's all about teamwork and exchanging ideas," says Couturier.
After Habita set its sights on New York with the help of acclaimed Mexican architect Enrique Norten and his practice TEN Arquitectos, they are close to completing work on Hotel Americano in Chelsea, Manhattan. The striking transparent glass building certainly makes an impact in this neighbourhood of art galleries and boutiques where making an impression is everything.
"Luxury is not related to process or money: it is an experience."
"We like to break the rules every time we create a new hotel," says Couturier. "We are influenced by global ideas and adapt these ideas to the location."
Arnaud Martigny is responsible for the hotel's 56 rooms and public areas that include two bars in the basement and a 10th floor open air rooftop terrace with swimming pool. Habita's philosophy is more instinctive than evolved.
"We take out the essence," says Couturier. "It is almost like taking a wet fabric and twisting the water off it. We go to the essence. It's about attaining simplicity."
That creative translation brings with it a dilemma. "The big challenge is to change an idea into an experience," he says, but emphasises that the key to luxury is simplicity. "Luxury is not related to process or money: it is an experience."
As we finish our conversation, Couturier is just about to catch a flight to New York from Mexico City to inspect Hotel Americano.
"I get my passion from the fact that I am hyperactive," he says. "The culture of movement suits me. I cannot stand still."