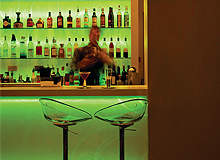 Working in the hospitality trade has always been a matter of good teamwork. Owners and operators have long accepted the idea of brand partnership in the bedrooms, the kitchen and the spa, and now the idea has started to break through to the hotel bar.
The general manager of the Cumberland in London, Alan Vukomancic, re-launched its bar last October in partnership with the premium tequila brand Patron – and turnover in the bar is up a staggering 330% on 2009.
He explains that the model behind the partnership had been tried and tested in other industries before revitalising his workplace: "Once-independent companies are now merging in order to push for better results, and survive ongoing recession. Hospitality is not much different from other markets.
"We have partnered with our suppliers and direct brand producers so that we can maximise on the product knowledge, marketing support and sales effort. I believe that once the creation of brand loyalty is in place other customers will naturally follow."
The Patrón bar is the natural stop-off for aperitifs as diners make their way to the Cumberland's Gary Rhodes' brasserie. The premium tequila brand helped design the cocktail menu to include seasonal ingredients so that drinks would complement Rhodes' dishes. Patrón also supported the outlet by offering staff training, an incentive programme for top sellers and free stock supply during joint promotions.
Brand partnerships can work
"Every waiter knows the best way to upsell a meal is to add an aperitif and digestif."
Consultants Giles Looker and Michael Butt agree that hotels could do much more through brand partnerships. Their agency, Soulshakers, oversaw the concepts for Whisky Mist at the Park Lane Hilton, the Myhotels group and Virgin Atlantic's in-flight bar, as well as non-hotel enterprises Milk & Honey, Quo Vadis and Mahiki.
Butt points out that hotel groups are ideally placed to capitalise on brand partnerships because of their massive purchasing power, but many have fallen behind due to internal fragmentation.
In his experience, there is little flexibility or convenience in the hotel on-trade. "The purchasing manager for an individual outlet would be responsible to hit a target, and isn't encouraged to think of ways to increase income through brand partnerships, specialist serves and offers. Purchasing managers are unlikely to get enough credit from head office to make it work financially."
The consultants encourage hotels to develop their specialist serves and target the pre and postprandial crowds. "Every waiter on the planet knows the best way to upsell a meal is to add an aperitif and a digestif," Butt points out. "We've fallen out of the habit of asking guests if they would like one."
The pair suggests that, if a hotel bar doesn't want to start a formal brand partnership, it might prefer to serve a signature aperitif as many outlets already do – for example, Bellinis at Harry's bar, sherry at the Hart brothers' restaurants and the Quo Vadis aperitivo.
"Drinking an aperitif is de rigueur in these places, and becomes part of the experience," Butt explains. "Quo Vadis, a bar of 60 covers, is one of the largest Campari outlets in London. Every customer was offered an aperitif, and so the bar sold about 35 bottles of Campari a week in 15ml serves."
The Savoy: quality attracts customers
The Savoy, the venue that impressed the aperitif habit on the British public, has just re-opened on London's Strand, and the 100-year-old lounge is still serving many of its own inventions such as the dry martini and the White Lady. The Savoy's American Bar is unlikely to call on a brand for support – there has been a queue outside ever since it re-opened in October – but bar manager Daniel Baernruther says he can understand why a hotel might give its outlet over to an operator from outside the hotel.
He draws the parallel of Gordon Ramsay's Savoy Grill lease: "People will be drawn to the hotel by the quality of his food, and his TV appearances; they will probably also come and have a drink with us, see the hotel, and perhaps book functions here in the future. If you're not happy with your operator, it's another story, but if you're satisfied with the PR they generate and the money they invest to build the hotel and recruit staff, it's a win-win situation for both parties."
"The Savoy's American Bar is unlikely to call on a brand for support."
Baernruther and head barman Erik Lorincz talk about their new positions as being career highlights, but Lorincz has never worked in a hotel before and admits the purchasing procedure is more complicated than he has experienced elsewhere. But Baernruther points out that where the most luxurious product on the back bar at a high street venue would be worth £80, the hotel's financial support gives them huge creative freedom with their ingredients.
"Buying for a hotel bar, you just need to plead your case. If I have a case and can sell a product, I just ask for the investment. From a £5,000 bottle of cognac, for example, I could make £15,000. If you know the system, you can use it."
Both cite their professional relationship as the most important factor in the successful running of the bar. "Good communication with Daniel is key," Lorincz says. "You have to make friends – it holds the community together, when other people are following you and watching what you're doing."
The American Bar has an outstanding background in terms of its heritage, dating back to 1898 and being amongst the first places that introduced mixed, or 'American', drinks to Europe. However, visitors might be surprised to find how short the menu is. Instead of pages of obscure names, the bar has picked a handful of drinks from its repertoire; anything else can be ordered off-menu to the guests' specifications.
Cumberland: a model for transition
Not every five-star hotel can claim to have a Diageo World Class bar man on its payroll, but many of The Savoy's neighbours get by on their reputation for quality drinks, service and heritage. The majority of the hotel bar guests in London walk in from the street – Baernruther estimates that just a quarter of his customers are staying at the hotel.
"Vukomancic hopes to increase the bar's operating profit by 20%."
Certainly, the Cumberland has said that the leap in profits hasn't just come from the brand partnership – it was also down to the installation of a draught beer station, a new range of special offers, upselling training for bar staff and better e-commerce.
Compared with other hotel outlets such as celebrity-chef-endorsed restaurants and luxury-brand spas, bars don't often attract the crowds or the profits that they are worth.
Brand partnerships and signature drinks can't shoulder the sole responsibility for delivering profits, but they might provide an attractive model for transition while an operator develops a long-standing concept.
For the Cumberland hotel, its first brand partnership has initiated a second project – this time, the branded outlet will be a tea salon. Vukomancic hopes to increase the bar's operating profit by 20% year-on-year in 2011. If everything goes as planned, in the next quarter he will start focusing on the new concept, following the same process as he used to set up the Patron bar.
Tequila might not be to everyone's tastes, but in the post-recessionary environment of today, it's better to pair up than to be left drinking alone.