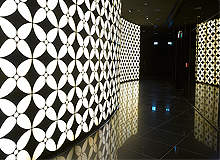 Fashion-branded hotels are very much in vogue. Ten years ago, the world's first hotel of its kind – the Palazzo Versace on the Gold Coast of Australia – opened its doors. Since then a number of luxury fashion labels have followed suit with hotels under their name.
Italian labels Missoni, Armani and Moschino are among the latest to do so, along with jewellery giant Bulgari, which will soon add a third hotel to its oeuvre based in London, and Versace, whose second Palazzo Versace will open in Dubai in 2011.
French fashion behemoth Moet Hennessy Louis Vuitton – which has previously dabbled in hotel design with the Cheval Blanc, a five-star mountain lodge in south-eastern France – will be opening hotels under the Cheval Blanc name in Oman and Egypt in 2012.
New York designer Diane Von Furstenberg has designed 20 rooms for Claridge's hotel in Mayfair, London, the first of which opened mid-2010.
Marriage of hotels and haute couture
"Fashion hotels have special and unique design elements that set them apart."
So what exactly is it about the marriage of hotels and haute couture that has made them so popular, and spurred such an onrush of designer inns onto the hotel catwalk? Claus Sendlinger, CEO of Design Hotels, of which Maison Moschino in Milan is a member, says fashion hotels have "special and unique design elements" that set them apart. Moschino's 65-room hotel features 16 fantastical interiors with names such as Sleeping in a Ballgown, and make-you-look-twice pieces, including the label's signature corset lampshades.
But after experiencing the Palazzo Versace first hand, this fashion hotel philanderer thinks the reasons run deeper than that. One only has to stand in the Palazzo's lobby – where a sea of marble stretches underfoot, and above a 1,000-crystal chandelier glints as it makes eyes with the 65m outdoor lagoon – to understand: fashion-branded hotels offer one thing in particular to guests that mainstream five-star hotel brands can't…
When Palazzo Versace developers Sunland Group came up with the idea for a fashion-branded hotel, the heavyweight Italian label seemed the obvious choice. Says Sunland Group MD Sabha Abedian: "In the world of the fashion industry, it very much was a total 'look' in terms of the lifestyle it could afford. From the moment you woke up to the time you went to bed, you could immerse yourself in the brand."
Since the mid-1970s, the label had been cultivating a luxury lifestyle ideal synonymous with the brand, and by transferring that into the context of a hotel, it made it possible for consumers to live out that perfection in full.
"When guests choose a fashion-branded hotel, they are choosing it because they love that brand and what it stands for, and they want to experience it as a lifestyle," says Abedian. And because guests have such a personal relationship with the brand, it makes the experience of living that lifestyle much more intense, and the sense of luxury much more deeply felt.
Another device that unarguably heightens the experience of staying at a fashion hotel is the design and branding itself.
When plans for the first Palazzo Versace were drawn, CEO of the label Santo Versace decreed: "Everywhere the eye looks must see a feature."
"Hotel Missoni's interiors are an onslaught of bright colours and geometric patterns."
Along with spying Versace-designed furniture, china and linen, the eye is constantly clinging onto the ever-appearing Versace insignia dotted about the place. And this has a profound effect: because with every glimpse of Medusa's serene expression or the label's borderline pattern – around the base of your champagne glass or woven into the fabric of your lounger by the pool – a history of glamour and luxury flashes before your subconscious and you are reminded again of your whereabouts.
Forever in style
The degree to which fashion hotels use the insignia should reflect, according to Abedian, the way that symbol is used in the label's other goods. For fashion houses such as Moschino that are not as emblem-heavy as Versace, branding takes a backseat to design. And in some fashion hotels, such as those by Ferragamo, Karl Lagerfeld and Christian Lacroix, the relationship between design and brand is kept well on the down-low.
But, as Abedian explains, it's really each to their own: "A successful fashion-branded hotel will be a branded 'lifestyle' extension of those things that make guests love the fashion house in the first place."
Of course, fashion can be fleeting, whereas interior design in hotels needs to last years – decades even. So how can fashion hotels stay on trend?
Based on the design philosophies of the late Gianni Versace – which were essentially neo-classic baroque with a twist of modernity – the Palazzo's longevity in terms of its design is a safe bet. Abedian warns against designing for the times: "No one would want to live in an environment that is all about the here and now. It's not about the moment. It's about timelessness."
Missoni and Moschino's hotels have a more daring, contemporary edge compared with the fashion-branded hotels of Armani, Bulgari and Versace. Hotel Missoni's interiors, as with the brand's fashion, are an onslaught of bright colours and geometric patterns, while at Maison Moschino – a label known for its sense of fun and flights of fancy – the rooms are like kookily themed dreamscapes.
But in both cases, the bow is tied by the unifying themes and philosophy already established through the fashion label itself.
"It's about the brand's heritage and the brand values."
For a fashion hotel to really work, Abedian lists his key criteria as "financing, a willingness from all parties to form long-term alliances, the aesthetic, the brand's enduring popularity proven over time, and its ability to be reinterpreted into a tangible 'lifestyle'.
"Really, it is about the brand's heritage and the brand values," he says.
Sleeping between Versace-branded sheets, dining with five-star cutlery and dozing under a Versace four-poster cabana – a hotel experience such as this offers value well beyond the norm.