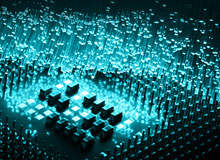 Driven by increasingly tech-savvy customers with state-of-the-art entertainment systems and communications products in their own homes, the demands being made on hoteliers to provide sophisticated technology-based systems continue to grow. In this complex area, knowing what investments to make and how to find the right financial deal to make it all worthwhile has become increasingly difficult.
It's clear that guestroom entertainment has moved on from the 28in television propped up in the corner of the room. Yet satisfying today's consumer is more than just a matter of swapping out creaking equipment for a sparklingly new flat-panel unit. Not only is choosing the right technology difficult (and potentially expensive if you make a mistake), but the actual televisions themselves are only a small part of the overall puzzle.
Potentially more troublesome is providing the right infrastructure to support the new technology, and populating it with appropriate content at a selling price that justifies the investment but is not off-putting to the guest. Navigating this technological minefield is problematic, and becoming even more difficult as systems continue to develop rapidly. 
Challenges can be grouped into four main categories.
The need for new and updated equipment 
The era of the old CRT-based television is gone, with consumer demand forcing hoteliers to add LCD or plasma flat panels in the guestroom. Buying such panels is far more complex for hotels than for the typical home user. There are issues such as compatibility with analogue and digital broadcasts, video-on-demand services and high-definition television (HDTV) signals; how to set viewing angles so that they can be seen easily from everywhere in the room; how to fix panels to walls or other furniture so that they are not easily stolen; and how to lock down configuration settings so that they cannot 'accidentally' be scrambled by the guest.
"The HDTV standard is now a given for hotels replacing existing technology."
The HDTV standard is now a given for hotels replacing existing technology. With image quality up to four times better than traditional TVs, such technology has become the norm in the consumer market and, despite the higher costs, hotels would be foolish to select anything but HDTV-compliant equipment if they want to future-proof their investment.
However, the need for new and updated equipment isn't limited to just the screen itself.
Quality audio has also become an issue, often necessitating the installation of separate amplification to provide a cinema-like experience.
Furthermore, today's digital lifestyle has led to many guests travelling with MP3 players, smart phones and laptops, all containing digital content they would like to access through the room's audio and video systems. While some hotels provide basic iPod docking stations, often as part of the guest alarm clock, others provide full access to the room's audio and video systems. For example, Pullman Hotels provide 'connectivity panels' in each guestroom, which allow guests to hook up personal media devices to the room's high-quality audio and video systems through a variety of interfaces.
In many hotels the television is increasingly being used to control other technology in the guest bedroom. A typical example is luxury chain Peninsula Hotels, which allows guests to control everything from lighting, temperature, wake-up calls and even curtains through the television's remote control. To facilitate such functionality, suppliers of flat panels are increasingly building interface cards into sets destined for the hotel market.
Diverse range of content
Even the most sophisticated screens are limited without appropriate content. Currently challenges exist in terms of both the range of channels offered and their format. Until recently, many hotels offered just local broadcast channels, often supplemented by a small number of expensive pay-per-view movies. However, with the typical paid-for TV subscriber now having access to several hundred channels covering a diverse range of specialised interests, it's clear that more choice needs to be provided in the guestroom.
Guest demands now include not only terrestrial and satellite channels, but also cable, IPTV and even content sourced from the internet such as YouTube or Hulu. To respond to this demand, the newly built Mandarin Oriental in New York provides access to 108 television channels, including ten in high definition, as well as access to an on-demand library of films and TV programmes that include new releases, classics, art films, foreign films, short programmes and documentaries, and a library of music and radio programmes, including a satellite radio service.
"Challenges exist in terms of both the range of channels offered and their format."
Providing access to a range of content brings with it its own set of challenges, not least of which is security. With movie studios typically making content available to hotels before their DVD release, piracy is a real risk, and therefore hoteliers need to take steps to protect content. As such, it has become essential to work with a content provider that uses encryption technology to prevent digital signals being copied electronically, and which digitally watermarks content to identify pirates who make copies simply by pointing an HD video camera at an HD flat panel. 
Giving access to streamed content from the internet may also be fraught with difficulties, as the legal liability for pirated content on video-streaming sites is not as yet clear, and hotels that facilitate access to such content may get caught in the crossfire.
Infrastructural support
As both the range and format of content becomes more sophisticated, the infrastructure needed to support it also grows. More sophisticated content typically requires higher bandwidth, and thus the hotel's network may need to be upgraded or even replaced. In the case of new builds, using a fibre-optic cable as the backbone has become the norm, while a variety of different solutions, including using structured cabling or Cat3/DSL-based IP services, can be used to retrofit existing properties.
When installing a new network, a key decision is whether to keep the entertainment system network separate or use a converged solution, whereby all in-room services (such as IP-based telephone, the in-room bar and energy management system) share the same wiring. In either case, building redundancy into the system so that a fault doesn't shut down all IT-based services becomes important, further driving up costs.
Business models
With consumers demanding more sophisticated equipment and a wider range of higher definition content, hoteliers are increasingly worried about cost and return on investment. While in the past content providers helped pay for investments, or in many cases even provided the TVs and infrastructure for free, this has become less common as the use of systems diversifies.
"US hotels are reporting revenue gains of up to 30&#37."
The most common solution today is a revenue-share model, whereby the hotel sets prices for different options, kicking back a negotiated percentage or fixed fee to the content provider. In some cases, properties are building this fee into their room rate, using it as a differentiator to provide enhanced content to their guests for 'free'.
Others are using it as a supplemental revenue source, with the good news being that guests seem willing to pay for better equipment and a wider range of content. 
Many hotels in the US that have already moved to differentiated product offerings are reporting revenue gains of up to 30% over previous revenue models. Thus, while guests would like to have such enhancements for free, they seem ready and willing to pay for an exceptional experience.
The in-room solution
Providing an appropriate in-room technology-based experience guest experience has become far more complex. Each of these four issues – having the right equipment to deliver appropriate content over the correct infrastructure using the right business model – has to be balanced.
Doing so requires time, resources and commitment. Done successfully, it results in a win-win situation, with happier clients and a more profitable hotel.