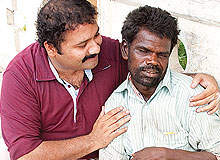 "I was visiting a temple in Madurai when I saw a very old man eating his own human waste for food. It hurt me so much. I was shocked. After that, I started feeding that man and decided this is what I should do the rest of my lifetime. I left my job in a hotel kitchen and returned home for good, convinced of my new destiny.
That spark and that inspiration is a driving force that is still inside me like a flame – to feed all the mentally ill and the destitute. The trust does not serve beggars or those able to work; they can look after themselves.
Caring for the desperate
Despite India's great rise, the most desperate have been left behind. I work with the most desperate of the poor, those people who cannot take care of themselves.
There are millions of people suffering on various counts. All of them deserve support and attention. Though it is difficult to prioritise, taking into account various limitations I felt my focus should be to help those unfortunate groups who have no one to care for them, those who do not know even how to seek help. I would like to make my contribution, however small it is.
"I work with the most desperate of the poor, those people who cannot take care of themselves."
I invested all my savings and founded Akshaya Trust in 2003 and we have served more than 1.2 million meals, breakfast, lunch and dinner. My parents initially did not want to support me as they had spent a lot on my education.
I asked my mother, 'Please come with me, and see what I am doing.'
After coming back home, my mother said, 'You feed all those people, the rest of the lifetime I am there, I will feed you.' I'm living for Akshaya. My parents are taking care of me.
Spirit of helping others
The name Akshaya in Sanskrit means 'imperishable'. Compassion should never decay or perish. The spirit of helping others must prevail for ever. The Akshayapatra was a bowl given by the Sun God, Lord Surya, to provide a never-ending supply of food for the hungry.
I sleep in Akshaya's modest kitchen with my few co-workers. My day begins at 4am. My team and I cover nearly 125 miles in a van and regularly work in temperatures topping 100°C. I supervise the buying of the ingredients from the Central Market and their preparation. Only fresh ingredients are used and the lentil and vegetable dishes are tasty and nutritious.
"We have served more than 1.2 million meals."
While some of the volunteers are distributing the morning meal, others are in the kitchen preparing the noon meal. I search out the homeless under bridges and in the nooks and crannies of the city's temples.
I serve nearly 400 people a day. We also help clean them.
The panic and suffering of human hunger is the driving force for me and my team members in Akshaya. I get this energy from the people. The food that I cook and the enjoyment that they get is the energy.
I see the soul. I want to save my people.
Inspiration for thousands
Akshaya relies on donations and my personal assets. We have not really approached the Government for any help. Our support has always been mainly from the public. As the programme grew, matching support was always available. This gave me the conviction and courage to move ahead.
Akshaya's work has inspired thousands of people from different parts of the world, pledging support to Akshaya and making them think of extending help in their own way. CNN's interest in Akshaya's work has brought wider publicity.
"I want to save my people. That is the purpose of my life."
We are expanding Akshaya and substantial progress has been made in the creation of a home in the outskirts of Madura. It is simple but when completed will provide living, healthcare and support facilities for 100 men and 100 women. The home will be made up of separate dormitories for men and women, dining and kitchen facilities, an administrative area and a healthcare facility consisting of a clinic, a doctor's room and an ICU.
Mahatma Gandhi said: 'You must be the change you wish to see in the world.' 
I want to save my people. That is the purpose of my life.