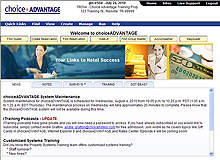 Over the last seven years, Choice Hotels International has been rolling out an ambitious programme aimed at deploying its proprietary web-based hotel property management system, ChoiceADVANTAGE, at a global level. To date, in the region of 3,700 franchisees have the system and uptake figures are rising fast.
Choice has had to develop a system that meets the complex needs of large, international organisations, with multiple brands, at both central and franchisee level. The scale of the task is evident when you consider the company currently has more than 6,000 hotels in over 35 countries.
ChoiceADVANTAGE is an innovative system, highly focused on centralisation, integration and multiple functionalities. It marks a move away from high levels of expenditure at hotel level on hardware, software and personnel. The flexibility it offers includes authorised individuals being able to access the system off-site.
Todd Davis, chief technology officer at Choice answers our questions:
Catherine Park: What factors were instrumental in deciding on this system?
Todd Davis: Previously, a lot of the systems we had put in place required an IT person at the hotel to be able to operate them. Our franchisees wanted us to be able to manage the system for them.
"ChoiceADVANTAGE has been designed so that it can be rolled out to every brand that we have."
In our market, most hotels are very concerned about reducing costs, so it was a matter of anything we could do to reduce expenditure on infrastructure. It just made sense to move towards a web-based solution in the long-run.
We looked at different systems that were on the market, but there wasn't anything that was truly a web-based solution that we could bring to a hotel at lower than capital investment cost – so we ended up building it ourselves.
ChoiceADVANTAGE has been designed so that it can be rolled out to every brand that we have, from economy hotels with limited functionality needs, to 300-roomed hotels, using eight different interfaces, which have sales and catering, groups and packages – all that capability is in there.
CP: Apart from reducing the immediate costs, how else did you want to support franchisees?
TD: There is not much space in hotels behind the front desk – limiting servers and other equipment was part of the goal.
Previously, we had to send a trainer to a hotel for seven days to train someone to use a property management system.
With the new system, basically you just need a web browser; there is no software that runs at the hotel. Someone can just walk in and start using it – very limited training is required. It is designed very intuitively.
CP: How does the system help the reservation process?
TD: For example, full synchronisation between ChoiceADVANTAGE and the central reservation system has allowed us to sell down to the last room. Previously discrepancies between the hotel PMS and data within central systems meant that this could never really be done.
CP: And how does the system support customer relationships?
TD: ChoiceADVANTAGE is integrated with multiple systems, including the Customer Information System, which is basically our record of every guest who has stayed with us. If you've stayed at any Choice Hotel before, someone at the front desk can just look you up and the system will prepopulate all the necessary information into the reservation – this makes the booking process faster.
Because data is centralised, a reservation can be serviced by any channel, no matter how it was originally booked. For example, if you called the hotel direct and booked a reservation, you can then go to choicehotels.com or the call centre and modify or cancel it.
CP: Can you give some examples of how the system aids marketing?
TD: There are a number of management reports, including several that are more around being able to mine the data in the database.
"There are 3,700 hotels on ChoiceADVANTAGE and by the end of this year we'll be reaching the 5,000 mark."
So, for example, if you want to know the top markets from which people are coming to your hotel, in terms of countries, zip codes in the US or provinces, there's a report for that.
With centralised data, Choice as a franchise organisation can look at the data across the board and target markets on a national basis, which helps our franchisees.
CP: What is the actual scale of this roll-out?
TD: Today there are 3,700 hotels on ChoiceADVANTAGE and by the end of this year we'll be reaching the 5,000 mark. In the first quarter of 2011 we are going to start to roll it out in Australasia and then, in late 2011 and going into 2012, we're looking at going into the UK, France and Germany.
CP: What developments can you see in the future?
TD: We're getting to the point where you'll be able to use the system from any device – an iPad or whatever the latest gadget is, if you have a browser. It's one of the things that franchisees have been asking for recently.
Development is ongoing. There's a tool that we use to gather input constantly from the users. They can go to the website and say "You know, I wish ChoiceADVANTAGE had this feature." They can put in suggestions and vote for new functionalities. We take the top 10 every quarter and add them to the development programme.