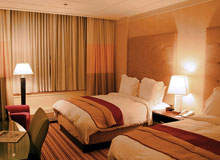 With an increasing number of companies looking to host trade events at hotels, and a large contingent of holiday-makers needing to keep in contact on their vacation, the hotel industry must be prepared to cater for the demanding guest.
Suitable business and events suites, cloud computing and wireless connectivity facilities can all promote a hotel's ability to meet the demands of 'business tourists', and a growing list of available technology can allow them to be as prepared as possible. Several large hotel chains have identified the business event market as a lucrative one and, as such, are equipping their facilities to provide the best possible service.
Keeping guests connected
Marriott International in Australia recently announced a partnership with Hewlett Packard, under which the hotel selected the HP Networking high-performance infrastructure to deliver the in-room technology needed to cater for business guests.
The HP E Series suite of routers, selected by Marriott, boasts a high-speed architecture and scalable system design, allowing it to be installed in a wide variety of hotel sizes. The system includes remote intelligent management and wireless multi-service controllers, access points and devices.
Providing both wired and wireless connectivity ports in hotels rooms significantly reduces cabling costs for the establishments and allows the hotel to cope with large peaks of demand, such as during hosted events or holiday seasons.
"Several large hotel chains have identified the business event market as a lucrative one."
Marriott began to roll out the technology across its hotels in November 2010, and the programme is expected to be completed across Australia in hotels in Sydney, Brisbane and Melbourne by August 2011. Marriott International Director of Field Technology for the Asia Pacific Region Andre Baljeu heralds the technology as important for the company, saying, "We believe these technologies are an important part of our guests' overall experience and, as such, we need a reliable, high-performance network to ensure a smooth running, continuous service."
Cloud computing
Cloud computing, the method of shared servers providing resources and software to multiple computers and devices within a local network, is another category of technology that has the potential to be beneficial for hoteliers.
The hotel trade association, Hotel Technology Next Generation (HTNG) has expressed its support for the use of cloud computing within the hotel industry, citing that the time is ripe for hotels to embrace it. "We believe that we're at a watershed moment for this industry. This model can offer efficiencies and performance enhancements that will redefine standards of delivery, quality and performance for hospitality technology functionality for decades," said HTNG EVP and CEO Douglas Rice.
The addition of cloud computing can offer many strategic benefits, including guest-room device management, whilst increasing the overall performance of concierge, point-of-sale, housekeeping, facilities management and HR applications. These benefits include greater efficiency, a lower capital expense, minimal operational costs and fewer technical resources to implement, equating to a much simpler system to install and operate.
Business hospitality could flourish under cloud computing because of the availability of resources through the over-the-internet network, allowing guests to access data over their computers with ease.
Touching base
Readily available internet access, like those provided by a cloud-computing network or wireless infrastructure, can also help equip a hotel to deal with a multitude of business enquiries.
UK budget hotel chain Premier Inn has responded to this need by launching its "Touchbase Centres" in specific hotels across the country. In 100 Premier Inn establishments, Touchbase Centres can be booked and tailored to a business or individual's specified needs.
" Allowing guests to book with ease, using smartphone applications, is another way of smoothing operations."
Up to 15 alternative Touchbase Centres are available, consisting of meeting rooms in three, pre-designed layouts; hot desks, business lounges, working lunch areas and offices. Hot desks are available to individual guests with a need to work, and come equipped with internet access, while business lounges are designed for informal meetings, and both are provided with free refreshments.
Offices come equipped with office furniture and facilities, including printers, copiers and fax machines in order to maximise productivity whilst away from the office. All facilities can be rented out at a cost of £25 per delegate, per day.
Booking with ease
Allowing guests to book with ease, using smartphone applications, is another way of smoothing operations. In January 2011, Fujitsu launched its new smartphone application in partnership with Premier Inn, the UK's largest budget hotel chain, that allows guests to check availability, make reservations and manage bookings using their phone.
The free application offers real-time availability for all 590 Premier Inn establishments and provides local information and suite photographs. Premier Inn Innovation leader Steve Conway said, "The application makes us accessible to as many guests as possible whilst on the go. We aim to help guests with every aspect of their stay and the new app will give guests even more freedom to access or to make hotel bookings at any given time."