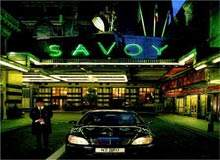 It takes a lot to impress Donald Trump. Viewers of the original US version of the hit TV show The Apprentice will know just how stingy he can be with his praise; the majority of the contestants, desperate to impress the man with New York's most dubious haircut. But there is at least one person who makes Trump sit up and take notice.
That man is self-made billionaire Thomas Barrack, the chairman and CEO of Colony Capital, LLC. "Tom has an amazing vision of the future, an ability to see what's going to happen that no one else can match," observes Trump.
""We have generally found hospitality to be an attractive sector to invest in"
High praise indeed, but well deserved. The grandson of Lebanese immigrants, Barrack grew up in the suburbs of Los Angeles, where his father ran a grocery store.
He began his real estate investment career as president of Dunn International Corporation in 1976, later becoming principal of the Robert M. Bass Group,
INVESTMENT AND CONSOLIDATION
Founded in 1991 and based in Los Angeles, Colony Capital has had a meteoric rise. Its hotel investments include not only the Raffles and Fairmont groups but also the Costa Smeralda resort in Sardinia, Hotel Guanahani in the Caribbean, the Aman resorts hotel chain, The Savoy Group, the Stanhope Hotel in New York, the Atlantic City Hilton and the Las Vegas Hilton. So how has Colony Capital achieved this level of success?
"We have generally found hospitality to be an attractive sector to invest in because it is the first place institutions flee from when trouble arises and the last place they return to when recovery begins," explains Barrack.
"Complexity and distress have been our friends, but there are few pockets of distress left these days", he says. "We are fortunate to have the benefit of our existing platform investments, such as Fairmont/Raffles and Accor. These businesses have been aggressively monetising bricks and mortar to take advantage of unprecedented appetite for encumbered hotel assets."
And Colony Capital's recent investments have value beyond mere bricks and mortar. "Our focus is largely in the upper upscale sector, where the best hotel brands need to balance a degree of uniformity with doses of local flavour," explains Barrack.
"In our view, the best long-term approach combines that predictability of guest experience with enough of the locale's character that the guest truly feels that he or she has benefited from more than just a room or a meal."
FAIRMONT AND RAFFLES COMBINED
This approach has been evident in the stewardship of Raffles, which came under Colony Capital's control in July 2005 at a cost of around $1bn. The deal included not only the original Raffles, one of the world's most famous hotels and an icon of Singapore, but also 14 other Raffles hotels and resorts and 26 Swissotel hotels and resorts in 35 destinations.
" [We wanted to] integrate the brands and operations, reduce real estate ownership without risking control of an asset, and develop a concerted growth plan."
In 2006 Colony Capital added Fairmont Hotels to its portfolio, in partnership with the entrepreneur and investor Prince Alwaleed bin Talal bin Abdulaziz Alsaud, a member of the Saudi royal family and the world's eighth richest man.
Prince Alaweed put up the lion's share of the $3.9bn purchase price. Following the completion of the deal, the Fairmont and Raffles' portfolios were combined.
And what in particular attracted him to Raffles and Fairmont? "As branded hotel assets and operations, they offered tremendous worldwide scale – but at an early enough stage in their growth that there was enough work left for us to do; release real estate, provide capital for growth and seek sufficient global scale."
THE HOLY GRAIL OF HOSPITAILITY
"Enjoying the benefits of cycle recovery has been the easy part," explains Barrack. "The next stages are harder, but we are fortunate to have best-in-class management as well as the co-stewardship of Prince Alwaleed."
The plan was fairly simple, he says." [We wanted to] integrate the brands and operations, reduce real estate ownership without risking control of an asset, and develop a concerted growth plan, all in partnership with our key executives."
However, as Barrack sees it, the plan to turn Raffles Fairmont into a management company will create challenges as well as opportunities, in the search for what he calls 'the holy grail of hospitality': free cash flow.
"Low-cost/covenant-lite debt has proved to be an elixir, at least for the time being," he explains, "but hotel owners will not look at management contracts as being quite the same as a triple net lease with a credit tenant when the cycle turns."
"Management contracts that seem to support reliable, steady cash flow may instead become mere invitations to negotiate. Accordingly, the biggest challenge will be to navigate an optimal alignment between owner and operator."
So what does the future hold for Barrack and Colony Capital? "The existence of these platforms [Raffles and Fairmont] gives us additional 'arrows in the quiver' in terms of potential add-ons and growth via new management contracts," he says.
"We see the advantages at this point in the hospitality cycle as being something other than a single-asset investment." It's that kind of forward thinking that has won Barrack the respect of his peers – even 'the Donald'.