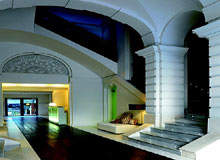 "Too many hotel brands forget we operate in the world of hospitality, not just the worlds of finance and profitability." Strong words indeed from Antonio Pérez Navarro, CEO of Spanish chain Hospes.
"Being financially sound is a necessary condition to survive, but it is not our main goal," he adds. "We aim to fulfil our guests needs, helping them to sleep, rest and revitalise themselves."
Hospes, which comes from the Latin hospitum, meaning guest or hospitality, was established just seven years ago and now boasts seven properties, with a further seven in development. Its first acquisition was the Las Casas del Rey de Baezo in Seville, whose rustic courtyards and ballustraded galleries were complemented with contemporary interior design.
"The Lancaster in Paris combines Parisian glamour with a Mediterranean soul"
"We decided to keep looking for new locations in appealing destinations," says Pérez Navarro. There followed openings in Mallorca at the Maricel, which was restored to its former glory in 2002.
"It had been closed for the last ten years when we bought it, and it was in ruins; within a few months of its reopening, it became one of the leading hotels in the Balearic Islands," he recalls proudly.
Since then the Amerigo in Alicante, once a Dominican convent, the Palau de la Mar, two 19th century buildings in Valencia, and the Palacio de los Patos, a former palace in the heart of Granada featuring original mosaics and a grand marble staircase, have all been added to the Hospes portfolio.
This year saw the opening of the Palacio del Bailio in Cordoba, where original detailing such as terracotta tiles and wrought iron railings sits alongside modern touches such as dark walnut floors and fabrics in brilliant shades of beige and burnt orange.
"We search for buildings of great architectural, cultural or historical value in prime locations," says Pérez Navarro. "It is our job to convert them into luxury hotels, using top-quality local materials and sustainable construction methods."
CHANGE AND DEVELOPMENT
Spanish tourism's shift away from the typical fortnight on the beach has allowed brands like Hospes to develop in the burgeoning boutique hotel sector.
Indeed, in 2004 for the first time independent visitors rather than package tourists made up the majority of holidaymakers (51.6%). Low-cost airlines flying to non-coastal destinations have also helped.
"Hospes has opened in a lot of places where previously there wasn't direct access, plus its quality of service is far above what is offered with your standard three-star," says Sarah Johnson, managing director for Spanish travel consultancy Pure Espana. "This is readily available in the UK from the likes of Malmaison, but people are now looking for that type of offer elsewhere."
Hospes' first venture outside Spain was the Lancaster in Paris, bought in 2006. It already had some unique selling points: a great location just off the Champs Elysées, a Michelin starred restaurant and what general manager Valentino Piazzi describes as "an atmosphere of the petit palais – discreet and quiet – which is very important to a lot of our regular guests".
"The transition wasn't difficult," Piazzi explains. "When you have a very definite way of doing things, it makes it easy for everyone. There have been several changes, including new products stocked in the mini-bar, new presentation methods for the room service menu and the introduction of complimentary wireless access."
The guestrooms were substantially made over and now feature materials such as parquet flooring and marble in the bathroom to convey a sense of classic yet modern style.
"We want to reflect the location of the hotel, although we do our best to retain a Spanish ethos," says Pérez Navarro."The Lancaster in Paris combines Parisian glamour with a Mediterranean soul".
BRAND INGREDIENTS
Branding was also at the heart of Pérez Navarro's vision, and to this end he has created a family of individually named brands. Fuenso, which means 'source' in Spanish, is the umbrella name for the whole group, underlining that all the brands should be a source of revitalising experiences.
Hospes Hotel and Moments is the hotel brand, Bodyna Spa and Sensation represents the wellness facilities, including treatment rooms, hammams and spas, while Senzone is the restaurant brand.
"We aim to fulfil our guests needs, helping them to sleep, rest and revitalise."
Pérez Navarro is a champion of regional cuisine, and this is reflected in the Senzone brand. "The idea of Senzone is to give guests the opportunity to enjoy regional dishes using top-quality ingredients and 21st century cooking methods. Professional nutritionists help develop balanced, healthy dishes that enhance guests' well-being – relaxing menus for dinner or energising menus before an afternoon meeting, for example."
Pérez Navarro's own background has undoubtedly helped him develop Fuenso and its associated brands. His first job in the hospitality sector was as finance director at NH Hotels, one of the leading Spanish chains. It was there that he gained a good all-round knowledge of hospitality, from IT systems to general management. He then became part of the team that helped Antonio Catalan start up AC Hotels.
After that, he says, "I felt a strong need to create my own concept, a brand that would focus on authenticity, history and, above all, on the guest. For many years I have been looking in detail at what luxury hotels have been doing – facilities, services, customer focus, staff attitude and so on. This has helped me to understand what can be inspiring and what has to be avoided to achieve our goals. Design, proximity to the guest, honesty, light, space – these things are too often forgotten by luxury hotels."
INTERNATIONAL GROWTH
And the Hospes expansion shows no sign of slowing down; summer 2007 will see the opening of Hospes Madrid in the Spanish capital, and the Villa Paulita Hotel in the lakeside town of Puigcerda in the Catalan Pyrenees will also be welcoming its first guests very soon. Meanwhile, sites in Malaga, Pamplona, Murcia and Budapest have also broken ground.
"We are growing, but in a very controlled manner," says Pérez Navarro. "We are looking at an international portfolio of up to 30 properties – no more. We would not want success to mean we lose our soul."
New York, London, Rome, and Vienna are among the cities he has set his sights on, with luxury resorts a possibility in the longer term.
As for the secret of Hospes' success, Pérez Navarro simply replies: "There are no secrets. Awards, customer satisfaction, quality and profitability are all the result of the hard work of every single person who works at Fuenso." Ironically, it is this kind of ability to look beyond the bottom line that has guaranteed Hospes' enduring success.