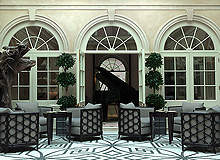 David Collins, legendary designer of some of the hospitality industry's most memorable interiors, is also as well-known for his work on Michelin-star restaurants and bars, including J. Sheekey, the Wolseley, Locanda Locatelli and many of Gordon Ramsay's eateries.
The David Collins Studio has offices in London and New York and has collaborated with architects including Rogers Stirk Harbour & Partners, Foster & Partners and Rem Koolhaas's Office for Metropolitan Architecture.
The studio recently completed a new 120-seat 'British brasserie', the Gilbert Scott, at the St Pancras Renaissance in London, and will be publishing a book of Collins' design achievements in 2011.
Christopher Kanal: Sum up your style in five words.
David Collins: Detailed, passionate, focused, informed, relevant.
What makes a classic design?
Classic design is the very simple concept of form following function. It is about proportion and efficiency. Great classical architecture is still standing because it is well thought through with detailed engineering.
When I trained as an architect I was always very inspired by Mies van der Rohe because everything was so resolved in his buildings. There were no loose ends. I was also inspired by the work of Eileen Gray. Due to the period in which she emerged, the early 20th century when women didn't study architecture, she remained an untrained architect. I like people like her who take the design straight from the architecture of the building through to the design of the lighting and the furniture.
What else inspires you?
I am inspired by everything around me, like fashion, for example. The fact that there are a lot of stripes in PRADA's women's wear collection might inspire me this year. Other than fellow architects I tend to look at films and photography, for no reason other than I have an enquiring mind and some extra time on my hands, so I get inspired by what I see. I always want to learn more, see more and get more information.
What eras interest you in terms of stimulating your imagination?
I am particularly interested in the early 20th century because there was a design explosion. Design seemed to leap forward between 1899 and 1935. I have found the period fascinating from every point of view, from women's clothing to technology and architecture. It was such a radical period.
What was the last hotel you stayed in that impressed you?
I find something that impresses me in nearly all the hotels I stay in. At Christmas I spent time with some friends at the Delaire Graff Estate in South Africa. I like seeing it used and appreciated by people. It gives a certain satisfaction and one can learn what works well and what doesn't by seeing how people use and interact with it.
I'm going to Thailand very soon and I've decided to stay at the Sukhothai in Bangkok because I like it there. I'm also staying at a new Six Senses hotel as I haven't stayed there before. But to be honest, I usually do my research and choose a hotel that offers me the best deal!
Can you describe your holistic approach to design?
It really depends. I can be a control freak and want to manage every single part of the hotel, from the graphics and the architecture to the music and the furniture. But equally, I can say that I like to know what the whole picture of the hotel is right down to the brand. Essentially, there is a kind of pathway that moves through the whole experience and makes it very relaxing and consistent. Consistency can include surprising and delightful elements as well as predictable occurrences. I do this through the use of colour, smell, sound and texture to create a sense of how a place might feel.
How do you maintain consistency in your use of symmetry, colour and sound?
I like the feeling that when people go into buildings I have designed, whether it be the lobby of a hotel in or a restaurant like the Wolseley in London, they have a sense of where they are in relation to the rest of the building. I like to know that I've achieved this through the use of colour, architecture, proportion and lighting.
How has your background as an architect influenced the way you work as an interior designer?
I'm quite good at visualising spaces. The fact that I am an architect allows me to have the technical know-how; even if I am not involved in the architecture of the building I can talk with an understanding of the architecture. Architecture gives you a very broad education, which revolves around architectural history, mathematics and engineering.
Is architecture an avenue David Collins Studio will explore more?
I think the the Palermitano Hotel we designed in Buenos Aires is as architectural as it gets. Yes, we are interested in doing more collaborative projects. We are currently working with John McAslan in Doha, Qatar, and we have worked with Foster and Partners and Richard Rogers. We are also working on a big project in London with Woods Bagot. Working with architects also helps me to understand and respect them. However, there is a limited amount of work that I can do at one time.
How many projects are you working on at the moment?
I am working on fewer projects than I have in the past but the ones I do have are much larger. Within each project there might be seven sub-projects.
How has your studio navigated the slowdown?
We haven't wounded ourselves financially by taking on jobs just to pay the bills because eventually, those kinds of jobs end up costing you money. So we have been fairly consistent in doing luxury high-end jobs. I think there is a lot of work out there for architects and designers. I can only focus in on a very small part of it. The bits I am best at are the one-off hotels like Limewood, and the work we are going to be doing for the Mandarin Oriental hotel.
Why did you decide to work on the Marcus Wareing project at St Pancras Renaissance?
I would not have done it if it had not been Marcus Wareing. I love Marcus. He is really passionate about what he does. I loved working with him at Petrus and Marcus Wareing at The Berkeley. He looks after his restaurant beautifully. He lives and breathes it. 
What does luxury mean to you?
Luxury to me is time to appreciate the good things in life. Luxury is not focusing on the negative but really appreciating the positive.
Do you think you have a special knack with hotels?
No, I think I have made a lot of money for those involved with the hotels, whether it's the Claridges Bar, the Blue Bar, or the apartment at the Connaught. I don't come from a hotel designer niche and so I'm bringing something different to it. That is why I don't do too many and I continue not to do too many. I continue to do one or two at the right opportunity and everything else falls into place.