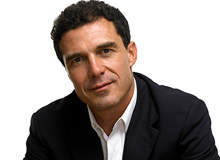 "When I make a decision it is dead certain to me, the risk has been eliminated," says André Balazs from his downtown Manhattan office.
"Take developing The Standard NYC. People not paying attention would say that is a risky decision, but to me, it always seemed like the most rational thing to do, considering where the city was likely to go and the fact that the land was undervalued. It was just a question of convincing others that there was no risk."
The 35-year-old luxury hotelier and property developer is measured, but clearly enthusiastic as he describes his latest completed hotel project. The Standard NYC, a two-towered glass property, rises above the Meatpacking District just east of the Hudson River. It soars over the High Line – a former elevated freight railway running down Manhattan's West Side, now transformed into a park on stilts. Once the haunt of bloodied meat workers by day and streetwalkers by night, the 'MePa' is now one of Manhattan's most sought-after areas.
The Standard NYC pays loving homage to the 1950s modernist architecture of Lever House and the United Nations, particularly Mies van der Rohe and his 'skin and bones' approach to design, while expanding on an ultra-contemporary aesthetic. The hotel consists of two glass slabs that are hinged like an open book and angled to further emphasise the building's levitation above the low rise local neighbourhood.
Designed by Todd Schliemann of Polshek Partnership Architects, the 20-storey, 337-room building is a departure from previous Standards – there are two in Los Angeles and one in Miami – in that it is a newbuild construction. Balazs usually renovates.
"It is rare that a hotelier that is going to operate a hotel builds his own property," he says. "Only the grand hotels of the past are informed by the building. These days hotels are informed by developers and the hoteliers are brought in as a sort of adjunct consultant and so you end up with what you pay for."
The Standard New York: from the beginning
"The design is about how people move through a space; not the decoration."
Starting with a fresh canvas allowed the hotelier to re-imagine the environmental experience completely and develop a wholly original destination that literally jumps the tracks of the High Line and defines a landmark site.
"The goal with the New York Standard was to create a modern building," he says. "But we were also consciously trying to make it look like it had been there for a while so it would not look like an imposition on top of the High Line."
Balazs designed the interiors in collaboration with Shawn Hausman of Manhattan's legendary Area nightclub and the New York firm of Roman and Williams. The design evolves the higher you get. The lobby looks back to the early 20th century, mid floors evoke the 1950s of Mies van der Rohe, and Arne Jacobsen, who created the first ever design hotel in Copenhagen, the SAS Royal Hotel (now a Radisson Blu).
Rooms are spacious with exhibitionist bathrooms and floor-to-ceiling windows. The glass-enclosed top floor, with its Top of The Standard bar, has magnificent views of Manhattan and the Hudson right down to the Statue of Liberty, and a restaurant that pays tribute to Warren Platner, who created the original Windows on the World restaurant in the World Trade Center.
The Standard formula
Balazs is a serious enthusiast for contemporary architecture, to the extent that a number of his projects almost become forms of artistic patronage. The Standard NYC is a wonderful example of this, but the developer's hotel portfolio extends beyond The Standard family.
The Mercer in Manhattan, Sunset Beach on Long Island, Chateau Marmont in Los Angeles and the Raleigh in Miami Beach are all part of the Balazs roster. In May he even took hospitality to the skies, launching StndAIR, The Standard Hotel's new service from Manhattan's East 34th Street Sea Plane Base to the Hamptons. The eight-seater Cessna whisks you there in 45 minutes.
"Led Zeppelin once rode their motorcycles through the lobby of the Chateau Marmont; Jim Morrison swung from the balcony."
Each Balazs hotel tells a different story linked to its neighbourhood. The Raleigh in Miami is an art deco haven. The 75-room Mercer in SoHo is a collection of loft-style rooms in a converted warehouse, which is very popular with the local fashion crowd. Sunset Beach on Long Island is a bolthole for those wanting to escape the city.
The formula, however, remains the same, attracting a hipster clientele to properties that soon become the places to stay and be seen. Don't call him a trendsetter – "It is a journalistic handle," Balazs says, laughing – although he does celebrate the fact that hotels are enjoying a renaissance again as cultural destinations. In New York alone you only have to look at the Ace and the Chatwal hotels in Midtown that have reinvigorated the locale.
"I think 'again' is completely right," says Balazs. "My hero, César Ritz, his first property [Hôtel Ritz, Paris] was a cultural destination. It was where locals met the travelling public."
Balazs' creative process is distinct in that he is obsessive about detail. His painstaking approach covers everything from choosing the fittings of a room to deciding on a plot to build a hotel.
The 9 / 11 effect
Outside of hospitality Balazs has several residential projects, including 40 Mercer Residences in SoHo, designed by architect Jean Nouvel and One Kenmare Square. Both were to be hotels but after the shock of 9/11 affected the banks attitudes to tourism, he converted them into apartments. When the apartments for 40 Mercer were put on sale almost every one sold within days – some in the region of $15m.
The one-man brand spent zero on advertising. People want to buy into the Balazs lifestyle, something the hotelier and property developer has played on brilliantly.
"The Standard is very much a cultural and philosophical brand if you will," he explains. "We have a website called Standardculture.com that has nothing to do with hotels. It is for people that joined the family over the last decade."
From the ground up
Born to Hungarian parents who fled to Sweden during World War II, Balazs completed a Masters degree in journalism and business at Columbia University. He chose not to pursue journalism and instead founded a biotech company, Biomatrix, with his father who taught at Harvard Medical School.
"The Standard in West Hollywood creates desirable and sexy experiences."
Moving to SoHo in 1984 when it was a far cry from the happening area it is today, Balazs was invited by a friend to become an investor in a Manhattan nightclub. This led him to working on restaurant projects and, by 1990, becoming a hotelier on the acquisition of the Chateau Marmont in Los Angeles.
"What attracted me was that at the time there was very little going on in the field," he reflects. "I think the idea of creating an environment and the time-honoured practices of hospitality, namely, taking care of people, is very pleasing and satisfying.
"The hospitality end of the business as opposed to the lodging end was what appealed."
The Hollywood playground of actors and rock stars – Led Zeppelin once rode their motorcycles through the lobby; Jim Morrison swung from the balcony; and John Belushi overdosed and died in one of its private bungalows – had fallen into disrepair. Balazs took the biggest risk of his career to resurrect the Marmont while retaining its soul, and succeeded.
"It didn't seem like a gamble at the time," he says looking back. "No decision by the time you make it seems like a gamble, at least in my book. By the time you make the decision it seems like the most logical thing to do, and it is not risky."
Balazs does not shy away from publicity yet retains a certain enigmatic air. He was married to Katie Ford, founder of the Ford Modelling Agency and has two daughters with her, and has dated a number of glamorous women including the actor Uma Thurman. He is currently dating American television personality and author Chelsea Handler. He doesn't feel uncomfortable with being a celebrity hotelier like his friend, Ace Hotels founder Alex Calderwood.
"Good people in any profession are becoming celebrities," says Balazs. "You can be a computer programmer and be a celebrity. It is happening everywhere."
He has a reputation for taking risks but all Balazs' decisions are a result of careful calculation.
"Risk is quantifiable," he says. "How one makes a decision is very important when it is made up of so many components. Instinct is made up of experience, thought and where you come from. An honest decision does come from instinct. It is not formulaic."
Designed to be different
The hotelier has maintained an exceptional ability to stimulate the individual guest, each of whom is staying for a different reason. The Standard in West Hollywood creates desirable and sexy experiences: a glass shower with all sides is visible from the bedroom; some guest rooms feature a large foot-sculpture in the bathroom while the reception desk has a nude prone in a vitrine; however, Balazs, the hotelier so closely associated with aesthetics, believes that great hospitality is totally unrelated to great design.
"Balazs does not repeat himself; he creates hotels that chains can only dream of recreating."
"In our book it is not about how you decorate a place," he reveals. "The design is about how people move through a space, who greets you. It is not the decoration of the space."
One has only to step into the airy, streamlined lobby of The Standard NYC to experience this.
Balazs does not repeat himself; he creates hotels that chains can only dream of recreating. His hotels are everything the Marriotts and Hyatts are not.
"A Sheraton is a Sheraton whether you put a W on it or not. It is still the same product, the same underlying thing," says Balazs.
Balazs has no desire to enter the mass market yet treads the line as an astute innovator with a name associated with distinct good taste and a finger on everything cool, sexy and desirable.
"Hospitality is a personal business," he says. "That is one of the reasons companies of a certain size have difficulty delivering it."
Blogs are filled with rumours of Balazs' next move, whether it be speculating about the possible conversion of Eero Saarinen's iconic Terminal 5 at JFK into a Standard or a recent sighting of him 'poking around' at the legendary Chelsea Hotel. Whatever Balazs sets his sights on, it is likely to keep in line with his ability to consistently surprise and stimulate.