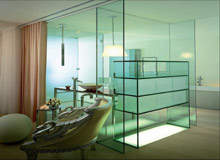 When it comes to luxury bathrooms, gold taps are probably still considered the gold standard – though Antonio Citterio has rewritten the standard with his platinum fittings for Hansgrohe. But with hot-tubs on balconies overlooking snowy mountain peaks, outdoor showers with to-die-for views of tropical panoramas, private gardens and dedicated soundtracks piped in from complimentary MP3 players, deluxe hotels are finding ceaselessly inventive ways to amaze and delight their guests in the bathroom, and ramping up the haute-design factor with the help and influence of superstar practitioners like Philippe Starck, Ron Arad and Marcel Wanders.
Height-of-comfort amenities like powerful massage showerheads, underfloor heating and TV while you wash are becoming more common, and hoteliers are turning to inventive design and use of space – oversized bathrooms, showers that jut into rooms, baths set alongside beds – to suggest superior luxury.
One of the most recent trends is for bathrooms to emulate the spas that high-end hotel guests have come to expect, with spa baths fitted with relaxing bubbles and warm jets, and fine beauty products replacing mass-produced mini-toiletries.
Typical of the latter is Starwood Hotels' aloft chain, in which ultra-chic 'bliss' spa products are not only placed in guest bathrooms, but appear in an eco-friendly, fashion-forward guise in refillable containers instead of fussy little packets.
And with ample counter space another key to good bathroom design, the refillable units have the added benefit of removing clutter from the bathroom, says Brian McGuinness, aloft's vice-president. "We've done an oversized vanity unit," he adds, "so there's plenty of room for your razor and your toothpaste and your shaving cream, your colognes and so on; and we've also raised the sink so that you're not hunched over it and feeling uncomfortable as you wash."
THE 'WOW FACTOR'
"You can tell so much about a hotel from its bathrooms," says Francois Bertrand, the designer responsible for the Manchester Hilton's sleek, contemporary bedrooms, and bathrooms for Jestico + Whiles. 'It's like when you go to a restaurant: if the toilets are clean and orderly, you feel you are in a nice environment."
From basic conundrums like finding beautiful materials capable of delivering ultra-cleanliness and durability, to the quest for enhanced functionality – fast, abundant water in showers; quick drain-away in sinks; considerate lighting that makes grooming a pleasure – if you can then inject a touch of 'wow factor', explains Bertrand, then you'll have a bathroom that guests can use with pleasure.
"We try to create a bathroom that is a bit different from what people have at home," he says. "There will be more fittings, for a start, and a feel of luxury that perhaps they don't have in their own bathrooms – the way the bathroom is dressed, how the towel is arranged. We might design boxes in which the towels or bath products are displayed a bit like they might be in a shop."
Heightening the luxury becomes an even more pressing matter when a bathroom is part of a presidential suite or penthouse, as in Bertrand's deluxe Hilton bathrooms, in which slick black marble walls contrast with the bright white dazzle of a pear-shaped stone bath.
LETTING LIGHT IN
At aloft, targeting the business traveller, they've done away with baths altogether, but compensate for this with a generous 3′ by 5′ area complete with a radio and overhead power shower.
"The shower is also very bright," says McGuinness, "because we put a clear glass door on the shower and installed recessed lighting overhead, then frosted one of the walls to let natural light in." Natural light is almost always at a premium in hotel bathrooms as they are typically positioned away from windows.
"One of the most recent trends is for bathrooms to emulate the spas that high-end hotel guests have come to expect."
Philippe Starck was one of the first to open the lines of sight between room and bathroom, with his transparent in-room showers at New York's Hudson Hotel and later with stunning glass bathrooms at London's Sanderson, where gauzy layers of curtain provide onionskin levels of visibility, letting the light filter or flood in and blurring the boundaries between bathroom and room.
Separate toilets are a must in glass bathrooms for obvious reasons; but partitioning the toilet off inside the average bathroom is also a welcome trend that allows two people to ablute in companionable comfort.
REMEMBER THE BASICS
Innovative bathroom design may wow the guests, but, says Iain McGuigan, GM at the Leeds Park Plaza hotel, UK, there's little point in going to great expense in pursuit of the wow factor when you haven't spared an ounce of effort on avoiding the 'oh no factor'.
"I'm always surprised at how many hotel chains put cheap toilet paper in their bathrooms," he says. "No matter how glitzy the bathroom is, you let yourself down if you use cheap supplies.
"Customers don't buy that quality for themselves at home, and it's the kind of thing they notice. Only if you get the basics right can you start thinking about amazing the guests with the details that go towards making a bathroom look really fantastic."