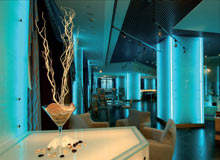 These are interesting times for Kempinski Hotels. After almost ten years of growth, the group is now looking to consolidate and improve on its stock of hotels, while also expanding into what it regards as the destinations of the future: the Middle East, Africa and Eastern Europe.
At the centre of this change is Michel Novatin, the group's COO. Novatin, who joined Kempinski in 2003 and is based in Geneva, is excited about what the future holds in an era of increased competition in the luxury hospitality market.
As a native of Alsace and a fluent speaker of French, German and English, Novatin is well placed to take this most European of hotel groups forward.
How are Kempinski Hotels going to stay ahead of the competition?
Well, it might sound obvious, but we can do that by staying different. I am not keen on going to hotels where, when I walk in, I know exactly what kind of place it is or what kind of company. I like places to be a bit different and not always to have the same attitude.
" I like places to be a bit different and not always to have the same attitude."
It is probably more dangerous our way, but when you have a strong culture, you should be adaptive. We don't have the strict rules that the Americans have, though his does not mean the Americans run bad hotels.
I was in Bruges the other day; it is probably one of the most cultured cities in the world. We are going to open a 100-room hotel in a castle there. We were arguing with the owner and the decorator, who wanted to give this castle a very modern type of design inside.
I said "Look, let's take the Chinese customer who comes here. He comes to Europe and he goes to Bruges; if he goes to Bruges what does he want to see? Culture, tradition, architecture, history. If he walks into a castle and finds inside a decor he can find in Shanghai, New York or Tokyo, it doesn't make him dream. So let's try, without over-doing it, to respect what people want to see when they come to a place like this."
So we try to be different from the others – the best example is Dubai. Dubai has a lot of hotels, but we have a hotel there which is very different: the Mall of the Emirates. We have a huge shopping arcade of 450 shops, we have the ski dome and we have a hotel. That makes us very different.
We either want to be the market leader, or different. When we go somewhere this is what we try to do. We cannot claim to be the best everywhere, like some do; we try to fulfil one of these two criteria.
What factors influence where you open a hotel?
From 1998 to 2006, we tried to grow our portfolio from a base of about thirty. What we are doing now is basically a quality phase. We are looking at value, drivers, brand, financial performance, people and corporate compliance.
We currently have 103 hotels. We would like to cap at 110 because our company will be 110 years old this year. Then we raise the bar by either terminating some hotels which do not meet the standards or because it is the end of their contracts.
We think that, in this way, in the next four or five years – when it will be 115 hotels – we should raise the bar and be at the level of very, very good hotels. This is our strategy. The Middle East is crucial to us. In the Middle East we have very beautiful hotels.
What attracts Kempinski to a property?
We try to go to the places of tomorrow and we want an owner with whom we can have a good relationship. We cannot operate without this relationship. We are not choosy – we are going to all the places in the East. We take risks and we are pioneers.
How has your experience at Kempinski changed your approach to working in the industry?
What I like about Kempinski is that, first of all, we are not on the stock market. We belong to an owner. We have our regular board meetings and as long as we produce results and keep the quality and the image, we are basically free to do what we want. There are not many companies around like this. This is why we have grown so fast.
"We take risks and we are pioneers."
We are European; we are the oldest hotel company – probably in the world, but at least in Europe – and all the other companies are basically American. There is a very great difference between the style in America – where I learned the business – and the European style, which is our company. It is much more open and cool.
What are the hotel group's major strengths? What are your weaknesses?
Probably our weakness is that we have decided not to grow into North America and we have just finished our contract in South America. So basically, we develop where we know we can do it well: all over Asia, the Middle East, Africa and Europe and Eastern Europe. This is our turf.
Also, when we grew, we had certain hotels that were not at the level that we would like them to be. This will be solved very shortly.
The strengths? Probably the people. The thing that is nice in this company is that nobody ever wants to leave – this means that everybody feels good. I think we are very close to our people.
We had the general managers' meeting at the Hotel Adlon in Berlin recently. At the end of the meeting, everybody embraced each other, everybody said they are happy to work for this company because we don't bother them. There is a lot of freedom for our managers. This is our strength.