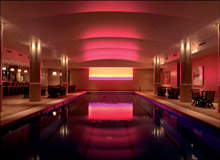 With an annual turnover of £55m and occupancy rates of 88%, it would be hard to class Firmdale Hotels as anything other than a success story. The Haymarket Hotel opened to much acclaim in May 2007 and brings Firmdale's London portfolio to seven hotels and five restaurants.
The husband and wife team are also taking their unique boutiques to New York, where work is underway on a 100-bedroom hotel in Crosby Street. All the Firmdale hotels are in premises that have been rebuilt and designed from scratch by Tim and Kit, who in addition to being business partners, have been married for more than 24 years.
"We take buildings like old warehouses or a defunct hospital and turn them into hotels."
"We don't just take a hotel and upgrade it, we take buildings like old warehouses or a defunct hospital and turn them into hotels," says Kit. The Haymarket is housed in the former headquarters of American Express, in a landmark building designed by John Nash in the heart of London's West End.
The Charlotte Street Hotel opened in 2000 in a former dental warehouse in smart Fitzrovia, and The Soho Hotel, opened in 2004, is housed on the site of an NCP car park.
The rest of the collection includes the Covent Garden Hotel in central London, The Pelham Hotel and Number Sixteen in South Kensington, and the Knightsbridge Hotel near Harrods. Firmdale Hotels have acquired an elite status in London, with the Charlotte Street Hotel in particular developing a reputation as a popular hangout for movers and shakers in the film industry.
BRITISH STYLE
While the design of each hotel is unique, as is the design of each room, Kit has developed a trademark style, which is very British. Original art, predominantly by British and Irish artists, is a major feature in Firmdale hotels and The Haymarket has works by Sandra Blow and Paul Winstanely.
Her style has progressed since the mid-1980s from "sophisticated city townhouse" at The Pelham to "a quirky English style" at the Covent Garden Hotel and on to "a modern London style" at the Soho Hotel. However, comfort and practicality remain key characteristics.
"Obviously you need to look several years in advance," says Kit. "When I did the Haymarket it was about two years ago and you have to think about what will be appropriate at the opening. You don't want to be too fashionable and go out of date.
"I was worried about the Haymarket because I thought I was taking a few risks, so it was a huge sense of relief when it opened and worked – like having just passed a major exam."
ART AND DESIGN
Kit tries not to be influenced by other designers and fashions because she wants to create a new experience for guests. "My design is extremely personal," she says. "If you try to attract a Mr and Mrs Average, it's not going to work.
"If you stay in a hotel you want to become a different person for a day or two, it should be fun and intriguing and not feel like it is a formula. We get people asking every day where they can get hold of something but you can't get it on the high street because it's made to measure. We want each room to be special and individual to our hotel."
"We want each room to be special and individual to our hotel."
Kit's main objective when designing a new hotel is to create environments that guests can enjoy. "It gives me an enormous amount of joy to see people using every bit of a hotel," she says.
"I feel sad if I go into a room and it's not being used; houses and buildings only come alive with use."
BUSINESS ACUMEN
The couple's work has not gone without recognition. They were given the Queen's Award for Enterprise in 2006 in recognition of their achievement in international trade.
While Kit's role defines the look of the hotels, she and Tim have a balanced and mutually supportive work partnership and are both very hands-on. "We work quite autonomously in different areas and I think our approach is slightly different but if Tim ever says something is not working then I know he is right," says Kit. "We've been in the business nearly 30 years now."
While design is clearly important, service remains at the core of any successful hotel and the Kemps, who employ nearly 600 staff, spend most days in their hotels ensuring everything runs smoothly. "We have grown with the business and it is part of our lives, whereas most people look for jobs they can step away from," says Kit. "I am lucky enough to be around my designs 365 days a year, under every light and every condition. It's the only way to be."