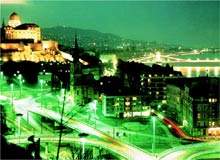 Eastern Europe saw huge growth in hotel rates in the first half of the year, with average rates climbing by 18.7%, according to a survey by Hogg Robinson Group. But a host of experts point out that the Czech Republic, Hungary and Poland haven't done quite as well when looked at independently; exhibiting low room rates, poor occupancy and an imbalance between supply and demand. However, one thing the experts do have clear is that these countries each have a unique make-up.
"I think one of the biggest things to learn is that each of these countries is actually very different, although a lot of people throw them all in one bag," says Christoph Härle. As the managing director of Jones Lang LaSalle Hotels, Härle oversees Central and Eastern Europe.
POLISH INVESTMENT
Poland has the largest population of the three, at nearly 40 million, and is strategically located between Germany and the emerging markets of Eastern Europe. Since the end of communist rule in 1989, it has developed into one of Europe's fastest-growing areas. Its capital, Warsaw, attracts predominantly business visitors, with few attractions for leisure tourists who are more likely to visit the historic city of Krakow.
"In Warsaw, leisure travel is a lot slower. It's a Monday to Thursday city and not the hottest market, although it has been recovering recently," says Härle. When the country opened up in the early 1990s, an increase in international demand and a shortage of rooms prompted a great deal of hotel development. However, hotels ended up having a tough time between 2001 and 2005, after the initial surge resulted in supply overtaking demand. "We carry out a regional analysis of about 24 markets across Europe and Warsaw has consistently been in last place both in room rates as well as occupancy," says Härle.
"The hotel business is developing at a fast rate now, a boom has just started which is going to last about 20 years."
Katarzyna Hryniewicz, the managing director of Hogg Robinson Group in Poland, is confident that resurgence in the market is beginning. "The hotel business is developing at a fast rate now, a boom has just started which is going to last about 20 years," she says. "Currently, for every 10,000 people in Poland there are only 50 hotels; in the Czech Republic it's 200 and in Greece it's 6,000, so there is a lot of room for expansion."
According to Hryniewicz, the prospect of co-hosting the Euro 2012 Championships – which will draw millions of tourists – has prompted a rush of new investment, with 100 new hotels opening this year. Most are budget hotels but there is increasing interest from international luxury chains. The first Hilton opened in Warsaw this year while a second is due to open in Rzeszów this spring; there are also 11 Garden Inns in the pipeline.
InterContinental has a presence in Warsaw and is planning 30 new hotels, while hotel leader Accor aims to build a further 17 properties. "There is new stuff coming in across most of the market but it's in the two to three-star category where there is still room for growth," says Hryniewicz. "People are still renting out apartments for trade fairs during busy periods, so there's arguably more room for budget supply … it's a really exciting time, with the
economic development of the country bringing profit and the support of EU funds and the Polish Government – the situation is really changing."
MEETING THE CHALLENGES
Hungary, and its capital Budapest, experienced similar growth to Poland in the 1990s, as well as the same subsequent rough ride because of over supply. However, the country has suffered the additional challenges of political instability and very high taxes, putting off potential investors. "It's a pretty expensive country to run hotels in and staffing is more expensive than in Poland, and you're not getting any more in terms of room rates," says Härle. "It's a reasonable market but, compared to Prague, the room rates are €30-€50 less. InterContinental and Novotel are doing well there but the investment takes a while."
Budapest has struggled to attract low-cost carriers to Ferihegy Airport in the numbers originally anticipated, but efforts are now being made to address the situation. There are attractions for international hotel operators – Budapest has a good balance of leisure and business tourism, attracted to its historic quarters and growing international conference market.
"There are some disturbing trends coming out of capitals like Budapest and Prague because average room rates are falling."
"There is a reasonably liquid investment market and there are more products coming and one or two places under construction," says Härle. "The city is actually pretty big so there is more opportunity to build, whereas in somewhere like Prague, you don't have so many options."
Leo Novobilsky is the managing director of Marienbad Kur & Spa Hotels Group, in the Czech Republic. He is also on Danubius Hotel Group's board of directors, based in Hungary, as well as being a member of the European Hotel Management Association. According to Novobilsky, there is still large growth in Budapest, Prague and Warsaw and slower development in the regions, which he expects will continue for another five years.
"The Czech Republic really took off in the early 1990s and anybody who invested then was lucky … now it's a lot harder," he says. "There are some disturbing trends coming out of capitals like Budapest and Prague because average room rates are falling. There is a price fight which started about two years ago as supply grew and it is continuing, so it's making it difficult to bring in price changes."
Prague's heritage, and its location at the crossroads of Europe, makes it a big draw for leisure, business and spa tourists. The majority of visitors come from Germany, Britain and Russia but the country is keen to attract more from Asia – particularly China – through long-haul flights into Prague's Ruzyne airport.
Daniel Grossman, business development manager at Hogg Robinson Group, Czech Republic, believes that Prague's biggest challenge lies in providing international standards of service. With a scarce and expensive workforce, and a low season that runs from December to February, he explains that it is difficult for hotels to retain staff to ensure a high standard of service.
Grossman believes that the Czech Republic's regions are slowly begin to open up, with Marriott opening hotels in three rural locations and the Holiday Inn situated at the Brno trade centre. Furthermore, the country has another feather in its cap, since becoming a popular location for big movies like Casino Royale, the latest James Bond instalment.