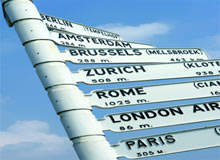 Although Europe's share of the global tourism market continues to be eroded by Asia-Pacific and the Middle East, the old favourite remained the top destination for more than half of the world's travellers in 2007 – attracting 480 million tourists a year, up by 19 million on the previous year according to the World Tourism Organisation (UNWTO).
ACTIVE AVIATION
One of the main drivers for continuing growth across Europe is the rapid expansion of low-cost carriers. According to the Official Airline Guide, in September 2007 the low-cost players accounted for 22% of the total flight activity in Europe, up 18% year-on-year.
"One of the main drivers for continuing growth across Europe is the rapid expansion of low-cost carriers."
In addition, there will be a significant change in air travel in March 2008 when Singapore Airlines – the first airline to add the A380 super-jumbo to its fleet – brings the world's largest aircraft from Singapore to London on its first commercial service to Europe. The aircraft holds 471 passengers. As Singapore Airlines and other major players take delivery of more of these flying giants, tourist numbers are bound to rise significantly.
The introduction of the super-size aircraft is expected to generate increased demand at a time when the US and European Union (EU) have finally agreed to liberalise the transatlantic air travel market. From March 2008, European and American airlines will be able to fly to any destination in Europe and the US, ending years of restrictions and leading to more flights and lower fares.
RevPAR King
Even though the sports and culture calendar for 2007 was not as busy as the previous year, the region remains on top of the world when it comes to revenue per available room (revPAR) performance – up 16.1% to $110. However, when local currency rates are applied, the increase is a more conservative 6.3%. This is $3 and $15 higher than the Middle East and Asia-Pacific respectively. As in other world regions, increases in average room rates are driving double-digit increases in revPAR
growth.
IN AND OUT OF THE EURO ZONE
While all European regions have seen revPAR growth, those who have yet to embrace the euro have seen better growth rates. Occupancy, average room rates and revPAR have all done better outside of the euro zone, with strong non-euro countries, like the UK, pushing up the numbers. This growth has also been a result of local currencies strengthening against the euro.
Whatever currency hotel bills are paid in, most European cities saw revPAR growth in 2007. Looking first across the euro zone, all but three cities have seen revPAR rise. Amongst the success stories were Athens and France – hosting the UEFA Champions League Football and Rugby World Cup respectively, attracting hundreds of thousands of fans and filling hotel rooms.
WINNING STREAKS
In May 2007, Athens claimed one of the biggest prizes in modern sport – the role as host for the UEFA Champions League Final, between Liverpool FC and AC Milan. Hosting the European final is a massive coup for any city, as few sports attract so much passion and so many supporters as football does. However, this event was a particular gem, as few clubs have the status of these two, claiming 11 European cups between them.
On the night of the final, hotels in Athens enjoyed soaring revPAR results – up by 116% to €337 according to the Daily HotelBenchmark Survey by Deloitte, adding a welcome boost to 2007 results. Occupancy reached 67.3%, while average room rates were up 6.7% to €142 resulting in a revPAR of €96.
PARIS FLIES HIGH
Paris had an additional attraction in 2007, with the 47th International Paris Air Show, at Le Bourget in June. With just under 154,000 trade representatives and 160,000 public visitors, the show set a record during its three days. In 2007, the city achieved a 10.2% increase in revPAR to €168. Paris still maintains some of the highest average room rates in Europe at €217.
GERMANY GOES INTO EXTRA TIME
Germany's tourism scored highly in 2006 with the football World Cup, and few expected the country to maintain such a good performance. 2007 results show that hotel occupancy grew 1.8% to 63.9% while average room rates remained the same at €85. The VAT increases in the country have hampered the ability by German hoteliers to push up average room rates. Overall, revPAR grew marginally at 1.9% to €55.
"Most European cities saw revPAR growth in 2007."
This pattern was more extreme in Berlin, where a 5.4% growth in occupancy was matched by a 2.2% drop in average room rates, keeping revPAR stable at €62. The city's hoteliers were undoubtedly pleased to be able to fill more rooms, even with no football and several new hotels openings.
Frankfurt didn't attract more visitors during 2007 and both occupancy and average room rates declined, with in revPAR dipping 2.5% to €65
SALZBURG DROPS
In 2006, thousands of visitors travelled to Salzburg to celebrate the 250th anniversary of Mozart's birth, catapulting the city into first place in terms of revPAR growth up 26.6%. However, without a similar event to draw the crowds this year, there were lots of spare rooms and revPAR dropped 6.1% to €66.
BUSY BARCELONA
Barcelona has performed well recently, thanks to a mixture of sport, business and culture fixtures, as well as its increasing popularity as a weekend break destination.
During 2007, average room rates in the city increased 9.0% to €142. Occupancy has also been boosted by a percentage point, resulting in an overall revPAR growth of 10.2%. Among the added attractions to the city in 2007 were the global 3G mobile telecommunications conference and trade show, the Spanish Grand Prix and an Olympic sailing week. There were also several popular festivals, including the Barcelona Summer Festival, staged between June and August.
OUTSIDE THE EURO ZONE
Turkey has been trying to widen its appeal as an 'arts and culture' destination, and has also hosted some major sporting events – including the Turkish Grand Prix in August. With average room rates that are more competitive than its European rivals, it has also been attracting a good slice of the trade show and conference market. Demand is also high from Middle East business travellers, particularly in the summer months.
As a result, Istanbul hoteliers enjoyed revPAR growth of 12.2% in 2007. Its absolute average room rate of €103 put it in fifth place of cities outside the euro zone behind Moscow, London, Geneva and Zurich.
However, with another 25 hotels opening up in the city by 2010, occupancy levels are expected to drop off, with average room rates possibly following.
A LIFT FOR TEL AVIV
In the summer of 2006, the picture looked bleak for Israel's hotels, as the conflict with Lebanon kept tourists away. However, according to the UNWTO, visitors to Israel increased an impressive 24.3% to 2.3 million in 2007.
"Moscow's growth as a centre for global business is phenomenal."
Hotel performance was also impressive and Tel Aviv can boast that they achieved the strongest revPAR growth in Europe, up a remarkable 19.8% to €99. Two large exhibitions, one in January and one in June, brought thousands of extra visitors to the city. In addition, the Tourism Minister has been lobbying for government funding for new hotels to cope with the anticipated demand in 2008.
LONDON CHEER
London still stands head and shoulders above many of its neighbours. It has the highest occupancy rate in Europe – at 82.6% and commands the third highest average room rate – €192 – in the non-euro zone area after Moscow (€257) and Geneva (€227). Both business and leisure travel to the UK's capital has remained strong, leading to 9.7% growth in revPAR.
One of the main highlights of the year was the Tour de France starting in London for the first time in its 104-year history. Although the tour later became bogged down in controversy with drug testing and teams being sent home, it is still the world's biggest annual sporting event.
During the same weekend, the Live Earth Concert attracted a multinational audience of 90,000 to Wembley Stadium, while 15,000 more crammed into the grounds of the All England Lawn Tennis Club for the Wimbledon tennis finals.
MOVING TO MOSCOW
Moscow's growth as a centre for global business is phenomenal, and pushing up the demand for affordable rooms and hotels that can provide good quality conference facilities. One of the first hotels focused at attracting business travellers has been built within Moscow's World Trade Centre building. The 527-room Crowne Plaza Moscow – World Trade Centre opened in September 2007 but there is plenty of room for more developments.
With this backdrop, it's not surprising that Moscow is hanging onto the gold medal for average room rates throughout Europe at €257. The city also achieved impressive revPAR growth in 2007, with an 11.5% increase to €183.
ON THE SIDELINES
Prague's recent popularity has been outstanding, but the oversupply of new hotels and competition from other Eastern European cities has led to a flat performance among Prague's hotels. The strength of the local currency has added to Prague's problems, as European travellers visiting the city now feel they are getting less for their money than they did in the past.
With several new hotels opening in the city during 2007, occupancy levels have declined slightly to just over 70%. With an equally small decrease in average room rates, revPAR fell 2.1% to €74. Business visitor numbers were also down, as far fewer events were staged in 2007 at the International Congress Centre, contributing to the fall in hotel performance.
DIFFICULTIES IN TALLINN
Tallinn, which has also seen a drop in occupancy and average room rates, has had a difficult year. Riots and clashes with police followed the removal of the famous Russian memorial – the Bronze Soldier – to a military cemetery outside of the city centre. Russian-speaking teenagers, the worse for wear from cheap alcohol, were among those blamed for the protracted violence that led to a ban on alcohol sales from stores after 8pm. This widespread ban has been blamed for a drop in tourist numbers, as many of them had visited Tallinn to stock up on cheap alcoholic drinks.
"Europe remains one of the most stable regions of the world."
However, 2007 marks the first year that hotel performance declined since the survey began tracking the market in 2003 and a longer-term vision of their tourism is being taken. More recently in December, nine new gates opened at Tallinn Airport. This development is a part of an expansion project that will allow the airport to handle 2.3m passengers per year – twice as many passengers than before the expansion.
LOOKING AHEAD
Europe remains one of the most stable regions of the world, and while economists point to fiscal tightening and slower demand, confidence remains strong. With the continued expansion of the low-cost carriers and the skies over the Atlantic now officially open, we expect to see more competition as transatlantic air travel is liberalised and the scrabble for flights to and from Europe's major hubs begins.
This will enable Europe to become even more accessible to eager tourists wanting to explore the region and allow Europe's hoteliers – already the revPAR kings of the world – to be optimistic about the year ahead.