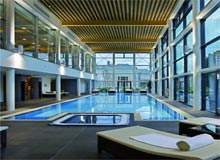 A legendary veteran of the hotel business, 66-year-old Horst Schulze was a born hotelier. At just 11 years old he told his family from Winningen, Germany, that he wanted to work in a hotel. Aged 14, he left school and went off to be a bus boy 110 miles from home. He has come a very long way since then, recently launching two new brands of his own – the ultra-luxury Capella Hotels & Resorts and the more affordable luxury of Solís Hotels & Resorts.
With fewer than 100 rooms in each property, Capella Hotels & Resorts offers guests a more personal experience – influenced by Schulze's philosophy of providing a tailor-made service.
In the 50 years that Schulze has been in the industry, one person has had a particularly important influence on him. "My maitre d' at the Luxe Hotel was absolutely superior," Schulze says. "When he entered a room, you knew he was there. I wrote an essay on him when I was 15 which became the motto of my life and also that of the Ritz Carlton – 'We are ladies and gentlemen serving ladies and gentlemen'. Guests respected him just as much as they respected their fellow guests."
Schulze believes that his philosophy is one all members of staff should understand. "You don't just hire employees to be employees, you hire them to become part of your belief system," he says. "We believe employees should be treated as, honoured as and respected as part of the company – I instituted this philosophy because they are a part of me. They are still part of me, consequently, they become part of the company."
Schulze knows the hospitality industry inside out. He held management positions at Hilton and later Hyatt. In 1983, Schulze joined the fledgling Ritz-Carlton, which then had only three hotels. He rose far and in 1987 was named executive vice president. A year later, he became the group's president and chief operating officer. With two billion dollars in sales, Schulze left Ritz-Carlton in good shape in 2001.
Capella's background can be traced to West Paces Hotel Group, which Schulze founded shortly after leaving Ritz-Carlton. He started off by signing management contracts to run existing hotels for their owners. Today West Paces oversees an impressive roster of seven properties, including Casa Madrona Hotel & Spa in Sausalito, California and Parkhotel in Euskirchen, Germany.
THE CAPELLA STANDARD
Capella is Schulze's five-star plus baby. Two are open for business so far, the Capella Resort & Spa Castlemartyr in Ireland and the Schloss Velden in Austria with a further seven yet to open – from Dusseldorf to Baja California, Mexico, scheduled to open by the end of 2008.
All Capella hotels will have spas, boutique shopping and gourmet restaurants, while some will have golf courses and/or marinas. Two of the five Capella hotels currently under construction will anchor larger developments that include sole and fractional-ownership homes and apartments.
Capella, which takes its name from the alpha star of the constellation Auriga, offers unprecedented personalised service for a hotel which Schulze hopes will set new standards in luxury. All Solís and Capella hotels will be privately owned but Schulze and his team manage them.
Solís is designed to appeal to the traditional four- and five-star hotel guest, priced just below its closest competition, which, according to Schulze, is Ritz Carlton, Four Seasons and Jumeirah. Two hotels are open so far, Solís Lough Eske in County Donegal, Ireland and Solís Cambrian Hotel & Spa in Adelboden, Switzerland. Solís hotels boast service amenities, such as activity directors, great bartenders and greeters to welcome guests as they enter the hotel.
"Global wealth levels continue to rise, creating both a greater demand for luxury goods, including hotels."
These are busy times for the hotel industry, with record levels of activity as investors put billions into new and existing properties. Well over one billion dollars of investment capital has already been committed to Solís. The luxury market in particular is enjoying a bonanza period at present.
R Mark Woodworth, the president of PKF Hospitality Research believes there has never been a better time to launch another luxury brand. "Global wealth levels continue to rise, creating both a greater demand for luxury goods, including hotels, and an increasing number of high-end travellers that are demanding that the industry set the bar at a higher level," he says. "Capella is focused on satisfying these needs."
Woodworth believes that the reason Schulze matched Capella with Solis is down to the fact that there are a finite number of Capella opportunities around the globe.
"Solis enables West Paces Hotel Group to leverage their core competencies with a product that is positioned below Capella but yet is still focused on meeting the needs of the traveller that seeks out the best hotels in a particular market," he says.
One of Schulze's most high-profile Capella projects is renovation of the landmark Breidenbacher Hof, in Dusseldorf. Scheduled to open in spring, the nine-storey building will be a luxury hotel with approximately 100 rooms, restaurants, high-end shops, offices and serviced residential apartments. As Woodworth explains, this is the way forward in how luxury hotels will develop parallel to other luxury developments.
"The capital investment required to develop a luxury hotel is significant, and the ongoing expense required to operate such a facility at the level demanded by highly discriminating travellers is substantial," he says. "That being said, often times, and certainly in the current lodging cycle, luxury hotels are coupled with high-end residential. The premiums created for the residences is typically substantial – 30%-40% higher – than comparable stand-alone facilities. This greatly enhances the overall economics of the mixed-use project."
Schulze believes his Capella clientele do not want to be bound by a strict operating system, so he has dispensed with a few standard rules, such as having no set-times for check-in or check-out. Instead, that is left up to each guest. "The objective of Capella, very simply, is to become a global service leader," he says. "We are concentrating on individual response to individual needs."
Every member of Capella's team has a purpose. "I believe most organisations employ people to fulfil a certain function. I think this is quite immoral. I think the chair on which I sit is a function, a human being is not a chair and a human being should be hired to become part of an objective."
A NEW GENERATION OF LUXURY
For Schulze, it's a sad fact that when he visits other hotel companies he encounters employees with very little understanding of their company's beliefs. He feels strongly that a thorough awareness of the strategy, beliefs and objectives of a hotel company, should be etched into employee's minds. Schulze's record at Ritz Carlton in 2000 shows a staff turnover of only 24%, which is extremely low for the industry. Clearly, his philosophy in hiring and training is worth
paying attention to.
In the 21st century European hospitality industry, few employees now work their way up through a company as Schulze did – a situation which he believes has been a great loss to the industry. "Even in Europe, real apprenticeship hardly exists," he says. "The system has changed, people just come in and work and it is rare that you have a leader figure teaching the theory as well as the practise." Leadership is an essential quality Schulze looks for in general managers. "A manager makes things happen, a good GM causes people to reach that little bit further – most important though is experience."
"My wife gets so frustrated when I have dinner in a hotel and I turn over the plate, just checking the quality!"
Despite the clouds of recession looming on the horizon, Schulze is confident that there is room in the hospitality market for a new ultra-luxury brand. He looks to a new generation of luxury travellers from China and India who he believes will, by sheer numbers, keep all markets, including the top tiers, comfortably buoyant.
"How can we possibly think that luxury travel will not survive?" he says. Schulze's three-year plan certainly gives no hint that any recession will stand in his way. "In three years Capella will have 20 hotels and the brand name will be the absolute leader in the deluxe hotel business."
Despite his confidence, Schulze is full of praise for his competitors. A recent visit to the One & Only Royal Mirage Dubai left him particularly impressed. "I felt true hospitality and a welcoming spirit, though believe me I am always the biggest critic," he says.
Capella's strategy is to open hotels in unique, one-of-a- kind settings. Summer 2008 will see the opening of the group's third hotel, Capella Ixtapa on Mexico's Pacific coast.
It is the first of three Capella properties planned to open in Mexico – the others being Rivera Maya and Cabo San Lucas later in the year. Expansive suites, exceptional dining, a championship golf course and pampering spas are just a few of the many features this hotel will offer its guests.
Schulze admits that his dedication to high standards in the industry makes it difficult for him to switch off sometimes. On a recent family holiday to Austria, he decided to rent a house instead because he can never quite relax in a hotel. "My wife gets so frustrated when I have dinner in a hotel and I turn over the plate, just checking the quality!" he says. "Even I get frustrated at myself."
Everyone who knows Schulze and who has worked with him understands that excellence and service is a philosophy that infuses his life and those working with him. Schulze is renowned in the industry for his guru-like inspiration on staff and his accessibility. At Ritz-Carlton, Schulze enforced a work ethic that empowered every employee, from chambermaid to vice president, to do whatever was necessary to satisfy an unhappy guest. This has been carried over into his new brands. Schulze admits that he finds it difficult to walk into an office every morning instead of a hotel lobby.
However, with 10,000 employees set to be working for Schulze over the next 36 months, he is determined to keep as close to the action as possible. "As soon as we have a hotel in Atlanta, I will make sure our offices are extremely close by – much to the dismay of the GM!" he laughs.