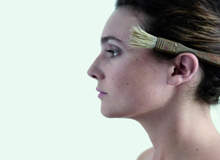 It sounds like a made-up story that I submitted my proposal anonymously to my father, but it's completely true. We have this weird thing in my family that everyone has to do their own thing – we don't really believe in a family business.
I heard that my father was renovating Le Meurice and he needed something to cover the glass dome of the former Jardin d'Hiver. I went to Le Meurice and sat down with a pencil and paper and just dreamt of what kind of space it could be. I realised that it was going to be a kind of theatre and I wanted to reflect this on the canvas. I received a phone call from my father after I submitted my plan. He told me that he had picked my project. It was a big surprise for me and him.
The first few days were a bit awkward but it turned out wonderfully. My father asked me why I was interested in the project and I said it was because of an old French tradition that we don't have anymore, where painters have been involved in old Parisian buildings. We had an appointment with Franka [Holtmann; Le Meurice General Manager] so she could decide whether Le Meurice thought it was suitable. They loved it and I was given complete freedom.
The renovation affected everyone. Each member of the hotel, from the head of the restoration to the waiters, were involved. Franka had meetings with them all to get their opinions. Before Le Dalí, I had never stayed at Le Meurice. Even though I have been away in London and New York studying and working for the past eight years, I am a real Parisian. It was great to work on such a Parisian institution.
I knew Dalí lived at Le Meurice but I did not know the restaurant was going to be such a homage to him. I don't know what the painting would have been like if I had known. My influences are more El Greco and Chagall.
PLAYING WITH A THEME
The canvas is a pyramidal painting, made up of triangles. I saw each of the triangles as a pair of curtains that open onto an undefined world where characters are moving. I liked the idea that you don't know who the spectators are and who the actors are. So either the characters on the canvas are looking at what is happening below or you are the actor looking up at what is happening on the canvas. It is a kind of dual vision. I don't want to impose anything. I want guests to play with the fact that there is this theme and either they are part of it or they are not. The structure of the painting is like a tent. It gives you warmth and protection.
When you have to transfer all the energy that comes from a composition into a 145m² painting, that is tough. Sometimes I painted for hours and really thought I had lost it. It felt like five months of fight within myself.
"The canvas is a pyramidal painting, made up of triangles. I saw each of the triangles as a pair of curtains that open onto an undefined world where characters are moving."
The canvas is a real painting with pigments and brush strokes. I wanted each colour to have a purpose. The hearty colours like the red sienas are for the rooted characters, the gold is for the sacred – either for Le Meurice or to symbolise the history of having paintings in public spaces in France. The white symbolises the dream, the impalpable.
I worked with a team of six others on the painting. When we were finished we hired a big film studio to assemble it.
The biggest moment was in December when we had one night to install the painting. It was the first time that I had seen the canvas hung up in its entirety. That was scary. We were up for 18 hours installing it, so my nose was in the painting and I couldn't tell what people thought. Franka came in at 9am the next morning and said she was completely happy. I'm sure she was also a bit relieved. I said: "You're the only person I can trust now."
A lot of artists paint for themselves, but I only believe in the viewer. It was a bit daunting as Le Meurice was going to be seen by so many people.
I love hotels. I don't have any favourites, but for me a hotel needs to be cosy. When I was younger and following my parents around the world, I really loved the Royalton Hotel, one of the first hotels my father worked on in New York.
I always wanted to be an artist, not a designer. My father told me that as long as you find your own path, you won't be in the shadow of anyone. If I am influenced by theatre and the fairy powder that he puts on things, it's because of him.
I see Le Meurice as a big family now. I was really lucky to be involved with Le Dalí. I don't think that it could happen again. It's not like a movie, when people ask you to do another one afterwards.
Interview by Christopher Kanal