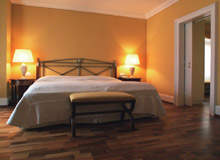 This year's winner of the coveted European Hotel Manager of the Year Award, Emanuel Berger, is a model of the dedicated hotel manager. 36 years at the helm of the five-star Victoria-Jungfrau Grand Hotel have made him and the Interlaken property practically synonymous. At 64, Berger has won plenty of awards in the past.
It is perhaps to be expected of a man who has dedicated his life to a hotel which has enjoyed a sustained period at the top of hotel league tables. But this accolade, voted for by EHMA members, is particularly special. "This time it's extremely flattering, as the jury are my peers," he says. "After all, who is more critical than your competitors?"
Nevertheless, he is modest about his achievements. "I may be the person receiving the awards, but it's a team achievement," he says. He also points to the role of his wife in the hotel's success: "She is an inspiring partner. Through our individual expertise we complement each other." Rosmarie Berger-Borer, 59, comes from a family of hoteliers; her brother heads the prestigious Peninsula Group. She is responsible for the interior design, as well as keeping an eye on the operational part of certain departments, such as housekeeping. She also does promotional work, including developing the hotel's own magazine.
A SWISS LOVE AFFAIR
Berger always knew he wanted a career in luxury hospitality. After attending the École Hôtelière de Lausanne, a string of international work placements followed, including his first experience as front office manager at the Victoria-Jungfrau in 1966. "I must confess," he reveals, "I fell for the grand lady [Victoria-Jungfrau] all those years ago. The property never fails to fascinate me."
During his first stint at the historic hotel, the young Berger must have made a lasting impression on the then general manager, Ulrich Liggenstorfer. Four years later, while Berger was working at the Waldorf Astoria in New York, Liggenstofer approached him with the life-changing proposal to take over the Victoria-Jungfrau. Berger accepted and in 1970, at the age of 29, he became its general manager.
"The amenities are modern, but we still capture the atmosphere of the good old times."
His commitment to the property became clear when he helped acquire the hotel in 1985 together with some major investors. "I luckily managed to win our best clients as shareholders," Berger recalls. His enthusiasm made the hotel a prime example of a Swiss success story, attracting the country's large multinational corporations, such as Hoffmann-Roche, Novartis, UBS, Swiss Re, KI0 London and Zurich Insurance.
"We were fortunate to have good people around and an outstanding board, chaired by Dr Bratschi," he adds. "But I guess what makes this venture special is that they joined a partnership with a small boy like me." Ownership is organised so that a pool of major investors control close to 80% of the shares, with the rest owned by 7000 shareholders. "We are a public company, listed on the Swiss stock exchange, so we have to do reports and respond to all legal aspects, which can be quite complicated, but it has been a good construction that has lasted over 20 years."
LOCATION
The Victoria-Jungfrau is set in the Interlaken valley, one of the most idyllic corners of the world. Unlike many hotels in Switzerland, it is surrounded by ski resorts but not actually in one. Still the hotel enjoys unrivalled popularity, especially among blue chip companies on the lookout for a corporate paradise. This may be due to the tranquillity it provides – a benefit of not being part of a hectic leisure resort.
The property is open all year, as each season has something different to offer guests – ranging from hiking in summer, golfing in autumn and skiing in winter. But it is the hotel's sense of originality that makes it so unique.
The Victoria hotel first opened in 1865, and 30 years later the adjacent Hotel Jungfrau was linked to the building by a dome-shaped tract. The building remains true to that period, although the interior features rather more contemporary luxuries. "We've been able to move this historic hotel forward to become a traditional property that keeps its original charm but combines it with the latest comfort," Berger says. "The amenities are modern, but we still capture the atmosphere of the good old times."
MANAGEMENT STYLE
Berger is clear about why he enjoys his work. "Being in contact with all parts of a hotel's operations has been rewarding and challenging," he says, "but the most fascinating aspect is to be in contact with the guests. Excellent service is key and looking after guests is the most important part of my job."
Being a hotelier is undoubtedly a vocation for Berger. "I believe very strongly that we do a deal with our guests: they are not only paying for their vacation; in addition they are giving us their time. Time is a precious element nowadays, but it gives us the opportunity to make a difference and add value." He smiles, "Thinking about it, we hoteliers have a heck of a responsibility."
Working collaboratively this responsibility extends to industry-wide cooperation. He underlines the importance of associations such as EHMA, and has actively set up consortia, for example benchmarking with comparable hotels in the Victoria- Jungfrau league, such as the Gleneagles in Scotland, the Villa D'Este in Italy, and Brenner's Park in Baden-Baden, Germany and Royal Evian. "In my opinion cooperation among hotels is of prime importance," he explains. "The exchange of experience is the only way that an individual hotel can improve its quality of service – and its figures – in this very competitive market dominated by the big chains. So we should do much more together and form all sorts of consortia and collaborations in order to be stronger in the marketplace."
"Excellent service is key and looking after guests is the most important part of my job."
An example of such a collaborative venture is Berger's regular training exchange programme. He sends his talented staff on three-month exchanges, for instance to hotels of the Peninsula group, where they can practice other styles of management. "These exchanges are extremely important for staff, not just because their skills improve," he says. "It also allows us to keep our staff much longer. When they come back they have seen something else, had new experiences."
So despite having stayed at one hotel for most of his working life, Berger sympathises with his staff's ambitions to venture elsewhere: "After all, the grass always seems greener on the other side. But on their return, staff tend to appreciate their work even more. This is one of the reasons why we have created a special atmosphere among our staff, which the guests feel too."
Berger's attitude to investing in staff is clear. "I believe a hotel should have a long-term philosophy," he says. "In our industry we have two expensive investments – the buildings and the staff. Both need a long-term approach." He points out that building investments are written off in accounts for an average of 20–25 years, so why should the same thinking not be applied to staff?
"The Victoria-Jungfrau is not just me," says Berger. "The property and the staff are all part of the Victoria-Jungfrau family. That way we achieve our goal of making our guests happy, now and in the future."
AUTHENTICITY IS KEY
Berger has never gone for the one-shot deal to maximise profit. Keeping the hotel true to its roots has been central to its success. As a result, he has hosted celebrities and heads of state such as the Thai royal family and the King of Belgium.
In a market where guest expectations are continuously rising, the Victoria-Jungfrau has been a leader in its field for a long time. The trick is to stay appropriate to your context, something Berger has noticed himself when travelling. "It's fascinating to see other hotels and learn from them," he notes. "For example, I think the Peninsula in Hong Kong is spectacular. But it always depends on the context; the main thing we care about is authenticity. Things don't have to be luxurious; what we look for is something authentic." The trick certainly works for the Victoria-Jungfrau, which offers its guests true Swiss hospitality.
So what would Emanuel Berger's advice to aspiring hoteliers be? "In one word: passion. You have to love what you do and if you do what you love then you'll succeed." His coronation as European Hotel Manager of the Year appears to show that there are many with EHMA who love what he does.