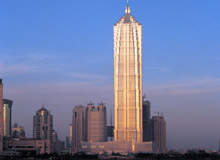 The newest addition to the Chinese capital's ever-changing skyline is the Beijing Yintai Centre, the tallest skyscraper on Chang'an Avenue. The breathtaking view from the top takes in the Forbidden City and spreads out to the west.
Directly opposite sits the China World Trade Centre and Rem Koolhaas' space-age CCTV headquarters.
The owner of this incredible view is not a big financial institution but the Park Hyatt Beijing, which opened in July 2008. It is testament to the hotel industry's role in shaping the new China, particularly the western hotel groups.
"Not a week goes by without a lavish hotel opening party."
Not a week goes by in China without a lavish hotel opening party. The Olympic Games in Beijing in August and the Shanghai World Expo in 2010 have given hoteliers an added incentive, and the extraordinary growth of the hospitality industry looks set to continue long afterwards.
China's economic growth, estimated by the Bank of China to be 10.5% in 2008, and its increasing urbanisation have created a seemingly insatiable appetite for new hotels. Between 1999 and 2005 the number of domestic travellers rose from 40m to 110m.
According to the China National Tourism Administration, about 10,000 star-rated hotels are expected to be built in the country by 2015. The number of five-star properties is likely to rise to 500 from about 360 today.
This is fuelled in large part by the Beijing Government's investment in transport infrastructure, particularly in airports – 97 of which will be built in the next 12 years. "China is a huge part of the future of hospitality," says Koos Klein, Hilton's area president of Asia-Pacific and a 25-year veteran of the industry.
Patrick Ford, president of US-based industry research group Lodging Econometrics, agrees. "China has been, and continues to be, a hot target for Asia-Pacific developers and international global brands," he says, speaking from his office in New Hampshire. "It's the place to go."
A recent study of daily hotel performance by STR Global showed significant rate and revenue spikes in Beijing during the 2008 Olympic Games as the city posted an occupancy rate of 88.47% during the event. However secondary host cities Hong Kong and Qingdao experienced RevPAR declines.
STR Global also reported declines in occupancy and RevPAR in the months leading up to the Games. Analysts will be interested to see how hotels in northern China that were developed to meet the needs of the Games adapt to new supply levels.
Top performance
"China is on an upwards economic trajectory and we are trying to catch the curve," says Ford. "By all measurements China is a tremendous target, second only to the US."
Compared with another emerging hospitality hub, India, China is in a different league, says Ford. "China has been in the business of hotel development for a lot longer," he explains.
"The decision-making process in China is much speedier. Once a decision is reached, the process of getting started is turbo-charged compared with India."
According to a Hotelbenchmark Survey by Deloitte, China's hotel operators increased RevPAR by 3.2% – to $86 – during 2007. World Tourism Organisation data shows that international visitor arrivals increased by about 16% and tourism receipts by more than 20% in the first four months of 2008.
Brand horizons
IHG, the British company behind InterContinental and Holiday Inn, is opening a new hotel each week in 2008. According to Lodging Econometrics' figures, IHG's China construction plans amount to 89 projects, or 32,403 rooms.
Hilton aims to open 33 sites in the country, including 25 of its Hilton Garden Inn Brand. For Starwood, owner of Sheraton, Westin and Le Meridien, more than half of its 80 hotels under development in Asia-Pacific are in China, where the company expects to double its portfolio by 2011.
Playing catch-up are recent arrivals including the French hotel giant Accor, which has fast become the second-biggest brand after IHG. Accor operates six brands in China, including the upscale Sofitel and Pullman, mid-level Novotel, apartment brands Mercure and Suithotel and budget brand Ibis.
It plans to obtain a portfolio of 180 properties in China by 2010, according to Michael Issenberg, chairman and chief operating officer of Accor Asia-Pacific.
Today the big western companies have free rein at the top end of the Chinese market. No local company has the sheer size, access to finances and brand power of its Western cousins, such as Accor and Hilton.
But the vast majority of companies has opted to operate rather than own hotels. Investors generally come from Asia and the Pacific Rim, and use the branding and marketing services of the hotel companies.
The management contracts routinely involve a western chain providing a hotel with a general manager and senior personnel. The operating company will then take a percentage of the hotel's total revenue and a slice of the profits.
IHG has more hotels in China than any other overseas operator and was the first western chain to have a presence in China. This gave the company visibility and a head start in fostering good relationships with local officials and, as China liberalised its economy, property developers.
The latter have proved key to success in a country where business etiquette and bureaucracy can be complicated and frustrating, but ultimately rewarding.
Today China is IHG's third-biggest market by number of hotels after the US and the UK. But this is guaranteed to change.
"China will be our second-biggest market within three or four years," announced Andrew Cosslett, IHG's chief executive, at the opening of a 560-room InterContinental in Chengdu in the heart of China's Sichuan province earlier this year. "It took us 23 years to open 81 hotels there. We'll add 50 this
year."
However Koos Klein, who was named Asia-Pacific hotelier of the year 2007 for his work with Hilton, also has a keen understanding of the market. "Watch us, we are going to catch up," insists the Dutchman from Hilton's Asia-Pacific area office in Singapore.
"Our pipelines are 80% behind China. I have never seen anything like this in my 30 years in the hotel business and I don't think it will be repeated anytime soon."
Hilton Hotels Corporation operates, via its international subsidiary, six hotels in China. It plans to extend its presence to 12 by the end of 2008 and 26 by 2011.
"China is a huge part of the future – ahead of India," Klein explains.
He adds that Hilton is shifting its attention to inland China to follow the development of secondary cities such as Chongqing and Shenzhen.
Hilton has a simple method of deciding where to expand, according to Klein. "We find out what future demand will be and predict what type and at what price point, then we find hotel projects that will suit those demands," he explains, adding that the company is particularly keen to push its conversion brand Doubletree, two of which have opened in China this year.
Klein believes the lack of a stifling bureaucracy in China means that projects are executed faster and more efficiently than elsewhere. He adds that western hotel groups were surprised by the scale of demand in China.
"We were already aware of what was happening in the higher segments of the market but when we decided to bring our mid-market and economy brands to Asia as well, the magnitude of the exercise became clear to me," explains Klein. "We started to export Hilton and Hilton Garden Inn to China exactly as this explosion of travel was talking place. That was a big eye opener for us."
Klein does not expect demand to wane anytime soon. "The market is undersupplied and there is a rush to fill the gap," he says. "I think it will continue to grow at fast rates for the next 25 years, but it won't be a straight line – there will be dips."
Enter the boutiques…
An area that China has been slow to develop is the boutique designer hotel sector. As the recent opening of the Emperor Hotel in Beijing – part of Claus Sendlinger's Design Hotels stable – has shown, there is a big market for this type of hotel.
In March, Hong Kong-based boutique operator Swire Hotels announced the launch of its first four hotels in Greater China. Having opened in August, the 99-room Opposite House in Beijing is the first property to be managed by the new company.
The Opposite House will be followed by the opening of a luxury hotel in Pacific Place Hong Kong in the summer of 2009, and another in Guangzhou in 2010. Swire Hotels also plans to manage a lifestyle business hotel called East in Hong Kong.
…and the budgets
Budget hotels are a new concept to China. In 1999, the Central Government began promoting travel as a way to stimulate the economy.
Now the Chinese budget hotel industry is dominated by more than 100 local brands, led by top players Jin Jiang, Beijing Tourism Group and Home Inn. Western budget companies are eager for a slice of the market.
Accor plans to open 120 Ibis budget hotels by 2010. However the dominance of Chinese entrepreneurs means that private equity investment in local firms is the easiest way for many foreign investors to benefit from the boom.
Home Inns plans to quadruple its number of hotels to 1,000 within a few years and expand outside China into other Asian locations.
With greater numbers of domestic Chinese travellers and foreign travellers with less money to spend, the budget sector looks set to become as big as, if not bigger than, the top end of the market. The fast-developing Chinese budget hotel industry has drawn comparisons with the US motel boom of the 1950s.
"What happened in the US over a period of 50-60 years is going to happen in China in a period of 15 years," says Klein.
A bumpy road ahead?
One of the biggest problems for western operators in China is finding the right staff. One hotelier suggested that pay rates could climb by 6-7% this year.
Hospitality courses tailored by some of the bigger operators are springing up at universities across China – and not just to address the domestic market. As the number of Chinese travelling abroad increases, so the big hotel chains will need Mandarin-speaking staff overseas.
Hilton is investing in locals so that one day they will run the hotels. "The days of the Swiss expat GM are numbered," says Klein. "We have a corporate responsibility and as part of that we need to help people further their careers."
Qiu Zhao Tong, chairman of the Brussels-based Europe China Hotel Management Experts Council, an intermediary for the European and Chinese Hospitality industries, warns that outside operators need to invest not just capital back into China, but a viable training infrastructure. "It is crucial for Europeans to understand that you cannot eat all the pieces of the cake by yourself."
Qiu agrees that the problem is not simply finding staff, but retaining them. "Salaries are low, which can make the service standard lower," he explains.
Perhaps the biggest challenge for western hotel companies is to maintain their focus on a long-term vision. The wider benefits might take longer to be realised, but they will reach beyond hospitality.
"Hotels are windows of economics," says Qiu. "They follow economic growth."
Tweaking the brands
"It took us 23 years to open 81 hotels in China. We'll add 50 this year."
In 21st-century China, brand recognition is everything. Any western company seeking success in the market must establish its brand fast.
Those that do can reap big awards. As the Chinese Government increases the number of countries with Approved Destination Status, Chinese travellers will seek to stay with their favourite brands overseas.
For some western brands, a bad reputation from the days of the Cultural Revolution can be a good thing, says Klein. "In the past when there were articles in Chinese papers about the corrupt, bourgeois West, the Waldorf Astoria in New York was often described as a place of sin and excess. When the Chinese started to travel, lots of them wanted to
go there."
It's one thing to achieve brand recognition, quite another to successfully adapt a brand for local tastes. Most concern the most divisive area of cultural difference – food. "We try to stretch the brand for its local requirement without it losing its connection with the home product," says Hilton's Klein.
"American guests will still be able to get a hamburger, and the Chinese guests at the next table will be able to order noodles."
Chinese hospitality has a lot to teach the West. "Providing personal service to guests is more acceptable in Asia than in the West; it comes as second nature," says Klein.
Pat Ford agrees. "The best there is a different kind of best from anywhere else."
The Olympic party may be over in Beijing but the hangover looks set to last for years. Expect many more lavish openings as revitalised operators take their chances in the biggest hospitality market in history.
"If we did not take risks we would all be CEOs," says Klein. "No guts, no glory."