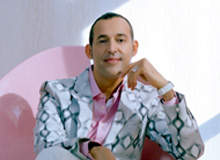 Pundits may argue forever about the upsides and downsides of globalisation. On the one hand are greater opportunities, more broadly accessible and evenly distributed; on the other, the conquest of local customs and styles by a relentless international corporate culture.
The hospitality industry brings differing regional and global values into particularly sharp contrast, not only because hotel settings bring the frequent-flying segment of society in contact with the low-wage segment but because economies of scale favour business models that emphasise standardisation.
At its worst, globalisation makes the world a big, shallow, overpriced, glitzy mall. But at its best, say enthusiasts such as designer Karim Rashid, globalisation dissolves our limitations and makes us more aware of our common humanity.
To Rashid, whose travels have fostered strong preferences in lodging and refreshingly radical meditations on design as a force in cultural change, globalisation is much more than an economic phenomenon. It is a condition under which deep thinking about design can improve the way people live.
Growing fields
Another prominent proponent, architect and designer David Rockwell of New York's Rockwell Group, notes that globalisation helps to foster and expose diverse talents that might otherwise go underdeveloped. "Many of the progressive and imaginative hotel projects are happening where the design and creative fields are burgeoning," he says, "such as Amsterdam and Spain, and more recently in Mexico and South America. Vibrant and cosmopolitan design communities are forming around local talent and attracting young designers from all over the world."
How well do you
really

know your competitors?

Access the most comprehensive Company Profiles on the market, powered by GlobalData. Save hours of research. Gain competitive edge.
Company Profile – free sample
Thank you!
Your download email will arrive shortly
Not ready to buy yet? Download a free sample
We are confident about the unique quality of our Company Profiles. However, we want you to make the most beneficial decision for your business, so we offer a free sample that you can download by submitting the below form
By GlobalData
"Globalisation has opened up the diversity of the individual," adds Rashid. "This is important because cultures tend to have borders, prejudices, fanaticism. As our world shrinks, we become more aware of the world around us, we communicate globally, we mix, and in turn we will eventually have one global culture made up of individual objective minds that are not repressed by race, religion, or creed."
"Spaces need to touch our sensual side."
In the hotels he admires and those he has designed, spaces and objects declare more than stylistic preferences: they express a philosophy. They "need to touch our sensual side, touch our emotions," Rashid believes.
"They need to elevate a certain experience and they need to be human."
Streaming the Lakers
Globalisation has different meanings in different contexts, but as a set of economic, technological, and aesthetic convergences, it catalyses changes in organisations and individuals. Modern communication and trade have allowed companies to enter far-flung new markets and outsource functions once performed locally.
These channels have also expanded people's information base, altered their standards for appearances and services and, in the case of many business travellers, multiplied the chance (and the need) to be conversant with cultures that they might in previous eras have visited once in a lifetime at best. All these effects have implications for hotel design and operations.
From a primarily economic perspective, the human side of a world dominated by multinationals may be harder to see and the trend that architect and columnist Roger K Lewis called "the McDonaldization of architecture" can be particularly galling in hotels. International travellers may enjoy the comforts of home but if they wanted a space that matched it in every respect, they wouldn't travel.
Hotels everywhere need to strike a distinctive balance between familiarity and novelty and, by extending the reach of commercial influence and multiplying the culture-clash variables, globalisation complicates this effort. Because hotel design primarily addresses travellers' convenience and interests, with the secondary function of providing local residents a gathering place, it is all too easy – particularly in chains – to devote attention almost exclusively to the interior, presenting neighbours with a bland façade or an outright eyesore.
Boutique hotels mitigate that effect to a degree, and big chains' recent movements towards the boutique model – such as Hyatt's Andaz line, Starwood's W and Marriott's Edition – represent an implicit acknowledgment that demand for unique design is widespread. "The hotel companies are trying to create as individual a product as they can for the market they're going into," says Richard H Penner, professor at Cornell University's School of Hotel Administration and co-author of Hotel Design, Planning and Development.
"Many companies are trying to individualise their hotels, so that an American company, when it goes to India or China, is not just taking an American prototype and plunking it down there." Though much of the hospitality industry's globalisation process began with efforts to make Americans more comfortable overseas, Penner now sees more two-way traffic in travellers and ideas.
Holiday Inns in China, he has found, have adapted so successfully to local expectations that some citizens there believe it's a Chinese company.
The force of IT
Thomas Friedman's globalisation bible The World Is Flat: A Brief History of the 21st Century identifies information technology as the chief transformative force in this pervasive process. Much of contemporary hotel design, says Kathleen Dauber, principal at the Los Angeles office of Hirsch Bedner Associates (HBA), correspondingly involves incorporating communication and entertainment media into the hotel experience so that travel doesn't sever connections to home, work, and culture.
Visitors to the four and five-star hotels that HBA works on, she finds, expect a sophisticated "cross-pollination of design trends and styles." They also expect the room or suite to be an electronic nerve centre.
"Americans are realising that the world does not consist of America."
"TV in the living and dining rooms is almost an expected amenity at this point," she says, "which is sad and good at the same time. Do we really need that constant input?" Evolving expectations in video technology imply that many do.
"Before, a 42in plasma screen would be considered an upgrade. Now we're looking at 60in at some properties. If you want a piece of art that someone has selected laboriously and spent time creating, versus a plasma TV, unfortunately the plasma TV gets the bigger bang."
Integrating the traveller's multimedia devices and services – iPod docking stations, Skype videophone connections, perhaps eventually Smartboards – adds to the sense that the rooms of the future are extensions of private homes. The familiar pay-per-view TV box, which she calls "the cookie-cutter product", is yielding to a boutique hotel approach.
"How do we make you feel like you're in your own living room? How do we let you download the Laker game in Singapore?"
A common complaint about globalisation is that it erodes national identities, but erasure of some national definitions may be a welcome change. Regardless of some travellers forgoing local experiences to sit in their hotel rooms watching basketball, Dauber contends, the "ugly American" stereotype is fading: "I think Americans, shockingly, are more sophisticated in their travel" than they once were (and are still often assumed to be).
Americans who frequently travel to Asia, she has noticed, are likely to learn local customs, distinguish offensive from accepted behaviour and do their best to blend in. Ugly Americanism hasn't fully vanished but it tends to appear among first-time or inexperienced travellers, particularly visitors to Europe who assume the cultures are similar enough that they needn't make much effort.
Dauber believes and hopes that "Americans are realising the world does not consist of America."
Localise and humanise
Facets of today's top hotels that look outwards toward their locales can build a bridge between travellers and locals. Food service has a special role here.
Although "everybody wants to be able to eat something identifiable," Dauber says, visitors also "want to feel like they are where they are: that they're in a different country." At the same time local populations are essential to hotel restaurant economics.
"Put some kind of food into your hotel that draws from the local clientele," she advises, "because they've all learned that you can't survive on the hotel guests sustaining the restaurant." A distinctive regional cuisine and a chef with a recognised name will attract both groups.
Having worked with Starwood to develop the W and aloft brands, from the original W New York to the new W Retreat and Spa in Vieques, Puerto Rico, David Rockwell favours designs that incorporate local features, emphasising continuities between short-term and permanent residences. "A home should be a reflection of the people who live there – travel mementos, personal collections or hand-picked crafts – surrounded by well-designed furniture and features," he says.
"In the same way, a hotel should cater to each guest, exhibit accents of its location, and provide living rooms and social gathering places to make the space seem more like home." He has sought to generate "a real fusion of hotel and residential architecture" in projects such as the Asian-themed Sè San Diego, an urban hotel-condominium hybrid with the relaxed atmosphere of a Pacific Rim resort, and the Andaz/75 Wall Street complex in downtown Manhattan, which brings an unexpectedly
low-key ambience to New York's financial district with natural materials and abundant light, plus a feature that isn't local but humanises the setting: a rooftop terrace with a sandy beach and hammocks.
A hotel's environmental profile is perhaps the aspect of design and operations that makes the deepest implications about how a hotel treats its community. Richard H Penner sees green design and sustainable practices, from efficient energy use in food service and laundries to small but significant ways to reduce waste – such as waiters circulating with glasses of water at meetings rather than disposable plastic bottles – becoming standard procedure, and not only in the
appearance-conscious parts of the US.
Developers and operators are turning greener "not so much for cost reasons as just to be a good citizen," he says. "I think the green hotel is something that in ten years everyone will do, and no one will think it unusual."
Efforts to improve environmental performance, Dauber adds, involve an awareness of material sources and transportation costs during construction, plus technologies that are more affordable at the new-build stage than during a retrofit, such as electronic controls of lighting, heating, and draperies that conserve energy by adjusting to guests' presence. These systems and basic building structure, she says, are more important investments than furnishings, especially in times of tight money.
"You can never scrimp on volume, scale and proportion," she says. "I'd rather see scrimping on the furnishings, which you can replace. Keep the money in the bones of the building."
Edit the marketplace
The progressive aspects of globalisation provide grounds for optimism but there is still a tendency for soulless designs to crowd out local colour and variety. "A Hilton or Marriott that goes to Europe or China looks more like a Hilton or Marriott than does an individually owned or operated boutique hotel," says Penner.
Equating chains with banality in all settings, however, is unfair. Dauber notes that although Holiday Inns have no name cachet in the west, "in Africa, a Holiday Inn is a four-star hotel."
She cites the Mandarin and Shangri-la organisations for their distinguished interiors, adding praise for MGM's CityCenter and Boyd Gaming's Echelon for "non-themed, timeless design."
Rashid is harder to please. "There are parts of each hotel I love and hate," he says. "For example the Mondrian in LA – the rooms are airy, very relaxing and spiritual, but the bathtubs are old and ridiculously small."
"In boutique hotels there is too much of this watered-down, pompous French transitional aesthetic."
He recoils from most retro environments – "I cannot stay in old hotels or antiquated simulations. They give me nightmares" – and looks to the future for a less-is-more aesthetic.
"There are so many banal conventions in hotels. In boutique hotels there is too much of this watered-down, pompous French transitional aesthetic: dark wood and the pseudo-classic language of the '30s. They are all the same and just safely decorated for image, not really designed. Putting contemporary furniture into a hotel does not mean that it is a well-designed or even a 'designer' hotel."
He praises the W in Seoul as "the best of the chain" and admires Ruy Ohtake's Hotel Unique in Sao Paolo: "The lobby is a phenomenal, grandiloquent space and the landscaping is beautiful, but the safe beige palette and dull furniture don't do justice to the architecture." Other favourites include the Radisson SAS in Düsseldorf, designed by Matteo Thun, and at the Puerta America Hotel in Madrid, Zaha Hadid's "technorganic and sensual" white rooms.
"The problem," he continues, "is that when we use the word 'design' we think of fashion, extravagant art furniture and expensive poetic objects, radical buildings or nonfunctional products, but this is not design. We think of style, not design. Any new work that recalls, implies or signifies history is style, not design. Design is about shaping the future, about contemporary needs, desires, technologies, materials, and new social behaviours."
Original thinking
A global future formed in this way, Rashid believes, calls for original thinking about the lifespan and outcome of products, the implications of excess, and distinctions between market seduction and more genuine sensory appeal. Designers and architects, he says, thus have a unique responsibility that links tastemaking, practical ergonomics – avoiding hard corners, sharp edges, and dysfunctional details – and environmental stewardship.
"I believe that every new object should replace three, and this is dependent on using new technologies, new materials and, of course, better design. Better objects edit the marketplace."
Something else has been editing the marketplace lately: a crashing economy. Offering his recent work on the Prizeotel in Bremen – "a fluid, comfortable and intelligent space" and affordable at €59 a night – as a model for the hotel of the future, Rashid speaks of inexpensive, streamlined buildings and objects in the tones of a manifesto: "We need to beautify this planet in every aspect, in every corner of the earth."
The rhetoric resounds from a more optimistic age but Rashid's predictions may be more realistic than they would have sounded a few years ago. Penner sees decline in discretionary travel demand, with cutbacks affecting services more than rates, and Rockwell finds that under these conditions, "clients will be less impulsive and will focus their attention on timeless, sustainable spaces."
Considering the irreversibility of technological change, accelerating global connectivity is a tendency that the economy is unlikely to dampen, and that the hospitality field should continue to plan for. "You go to grade schools and middle schools" in California, reports Dauber, "and they're teaching Mandarin Chinese. I don't think globalisation is going to stop."