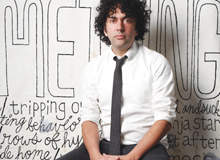 Ace Hotel is a boutique hotel chain founded in 1999 in Seattle, Washington, US by Alex Calderwood. Along with three friends, he purchased a halfway house with plans to renovate it as an affordable hotel for a young bohemian clientele.
Calderwood had previously founded Rudy's, a retro barbershop concept he eventually expanded to more than a dozen West Coast locations. In 2007 Calderwood opened a second hotel in Portland, followed by properties in Palm Springs and New York early in 2009.
Christopher Kanal: Why did you decide to become a hotelier?
Alex Calderwood: It was a combination of factors.
I have a handful of partners and one of them, Wade Weigel, and I travel a lot and visit hotels all over the world. Ten years ago, a property became available in Seattle that turned into our first Ace Hotel.
We never really had any intention that we would do any more hotels. It was only after we opened that we considered the possibility of having more.
It was something that had a bit of life, and that we could apply to other cities.
You work on other projects, including Rudy's barbershop and an events company. Is there a lot of synergy between these projects?
Absolutely. All the staff know each other pretty well.
We actually had people who had jumped from one company to another. I think on a basic level a lot of the customers are very similar.
'Our mission is to create what I like to call an instant classic rather than a hip hotel.'
A lot of the events agencies – the key corporate clients – are also now clients of Ace. There's a similar sensibility.
What ethos are you trying to create in Ace Hotels?
We refer to ourselves as inclusive rather than exclusive.
Our mission is to create what I like to call an instant classic rather than a hip hotel. There are certainly edgy elements that we will incorporate into the hotel and into the design.
If you look at each of the hotels, there is definitely a thread of continuity and a certain ethos of spirit that is common among the hotels. We are trying to create something with a lasting quality.
I want a hotel to be more like a living room for all the people that live around it. That is very appropriate for New York.
People are adopting Ace New York as a meeting place. If they are going for dinner they can meet for drinks at Ace, or come to read the paper or work on the computer, so it's very much a living room for the neighbourhood.
No question.
Are you looking to open elsewhere in the US or abroad?
There is certainly more stuff in the US, on the East Coast. I think Chicago would be another great city.
I personally would like to have a European experience. We will see but deals take a long time to put together.
There are only so many hotels in the world, unless you are going to build a bunch of them.
You have had two new launches this year in New York and Palm Springs. How big a challenge has the recession been for you?
We have been well positioned in one sense. We are a good value proposition in how we have developed the properties.
In terms of an actual recession we have revised our projections, although not perhaps to the same degree that the rest of the industry has.
So, do you still plan to open a hotel every one to two years?
It is so hard to say. With the type of unique, quirky projects we do, it's really hard to quantify it in an exact formula but I would say we will stick with that.
Are there any other projects on the horizon that are outside hotels?
There are a definitely a couple of ideas that are kicking around in my head but for the foreseeable future, the hotels require my focus. There are still a couple of interesting ideas that I would like to pursue.
There will be more hotels but I am not exactly sure where and when. Within the existing Ace Hotels there will more layers that we will continue adding.
We will probably go deeper in terms of retail collaborations and media content. We are doing some very exciting things with our video on demand system that we supply to flagship hotels.
There are other areas that are not necessarily hotels but are part of the hotel project, such as our project with the Spotted Pig restaurant that opens in mid-September.
Does the Ace Hotel brand need a vintage location?
I don't think it's a requirement – it's just what we have done up until now. We have had conversations that if we were to build a new hotel, there are certain ways we would approach it.
We would apply that same spirit and ethos but just to a different medium.
How particular are you about location? Ace New York is in Midtown Manhattan, an often forgotten part of the city.
Ace New York was an opportunity for us to create a lasting impact. It would probably have been more predictable for us to go to the other side.
We looked at a couple of things but there were great deals that happened to be ready to go. It is a fantastic location in Manhattan because you are right in the centre and it is very convenient.
People also forget that a tremendous amount of creative business is done in Midtown.
Does that mean you feel a certain responsibility for reinvigorating the neighbourhood?
I think its part of our ethos and the way we think anyway. We have reached out to a number of the companies in the area to see if they want us to help put together a neighbourhood website that can tell the story of the neighbourhood.
Ace began in Seattle and is based in Portland. Do you feel you have retained a Northwestern sensibility?
I think so but we were very conscious that we would also become a thread in the fabric of New York. I think we have achieved both.
There is a certain quality that exists everywhere and sometimes it has been referred to as something that is very Northwestern. I think it is everywhere.
If you go over to Brooklyn you will find the same kind of sensibility and personalities that you would equally find in Portland or Seattle. But the hotel is very much New York.
What gap does Ace Hotel fill in the market?
Ace started from a gut instinct. Because we were not from the hotel industry, we were putting something together that was almost a little naive and I think it served us well with all the properties.
We were going by what we thought was right.
There was no Ace formula then?
Absolutely. It's much more satisfying to come up with something that felt genuine and a little different but was not overly intimidating.
Somehow that combination created some kind of appeal. I would not suggest that we are everything to everybody but I think for a certain sensibility we strike a chord.
I think there is a fallacy in the hotel industry that is just all about creating a really good design. Ace is going in a new direction that has not been explored.
It is anti-design. We can be a little bit imperfect and not precise.
Can you describe the typical Ace guest?
In a deck of cards the ace is the high card and the low card. It is much more psychographic than demographic.
'I want a hotel to be more like a living room for all the people that live around it.'
Because we have a multiple price system we get a wide variety of people. The quirky older buildings have afforded us rooms that are smaller and more compact while we have other rooms that are larger and much more generous.
I think our guests like rubbing shoulders with each other. There is a range that can appeal as much to a professional with a big budget to maybe a young couple from Europe coming to New York.
There is no one-dimensional person. I was very surprised in Seattle and Portland at how many older guests we get, too.
From couples who were hippies in the '60s and their grandchildren, to young modern families and others coming to the city to check it out. The core of guests are what I like to call cultural enthusiasts.
Whether it be food or music or art or architecture, they have a certain enthusiasm and passion for culture.
What cultural influences has Ace drawn from?
We obviously love steet art and music. There is definitely a love for literature, flea markets and things that you can tuck away inside a hotel.
Have hotels lost their sense of cultural place?
I don't think we set out to reclaim it. I walked to one hotel in Chicago, screwed up my eyes and went "Wow, I could be in any city, anywhere in the US."
But I think that is changing now and people in the industry are getting smarter.
The deck
Ace Hotel New York
20 W 29th St
New York, NY 10001
262 rooms
Ace Hotel & Swim Club
701 E Palm Canyon Dr
Palm Springs, CA 92264
180 rooms
Ace Hotel Portland
1022 SW Stark St
Portland, OR 97205
79 rooms
Ace Hotel Seattle
2423 1st Ave
Seattle, WA 98121
28 rooms