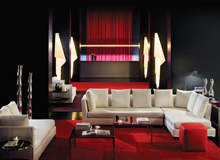 Hotel Jules, Paris
The Jules reinvented itself this year and has quickly established itself as one of the cutest contemporary design-oriented properties around. The Jules is in a Haussman building, one Metro stop from the Eurostar terminal at Gar du Nord and a short stroll from Opera.
The Wi-Fi works well and for a small hotel it manages to cram in a workable business centre, and a fitness room and sauna. Although very mod, it isn't an acid trip fantasia like the Murano; you can work on site without feeling like you've disappeared down a rabbit hole.
Rooms are on the smaller side, but the space is reflected in the price – when budgets are tight, this is a great option for the French capital. The lobby bar isn't a "scene"; it's quiet and comfortable enough for a meeting, and there's a proper breakfast area in which to have your morning espresso and croissant, rather than a boutique-hotel afterthought.
www.hoteljules.com
Sofitel Heathrow Terminal Five
Now that Terminal 5 has got its act together, and the logistics are on a par with the dining and shopping, the Sofitel – virtually a T5 annex, with direct access via a covered walkway – is one of Europe's best business hubs. Its 605 bedrooms and a fantastic Roux restaurant are just the start.
"Although very mod, it isn't an acid trip fantasia like the Murano."
There are 45 meeting rooms, which can accommodate a total of 1,700 people, with a 117-seat theatre with full AV facilities. For downtime there's an ESPA Spa and a 24-hour gym.
"Our guests particularly love the feeling of not being at the airport, even though they are," says the hotel's director John Donaldson. "We have a Zen garden and the hotel design is unique, with interiors by Khuan Chew of KCA International, renowned for her work at the Burj al Arab in Dubai and the Four Seasons in Hong Kong."
www.sofitel.com
Boundary
Eyebrows were raised when Terence Conran opened his Boundary emporium at the nadir of the financial apocalypse. The dining rooms have proved themselves as destinations in their own right, and the rooftop cocktail scene has muscled in some of the action that the adjacent Shoreditch House had monopolised.
The hotel is a gem, if for its location alone – it's a short walk to the city, yet also in the middle of the east London style and arts scene. This is a grown-up property, with fantastic, focused service for its 12 rooms.
As you'd expect from Conran, everything looks incredible. There's free Wi-Fi, safes that fit a full-size laptop, and spaces to book for private meetings.
www.theboundary.co.uk
CitizenM Amsterdam City
The CitizenM style is all about pared-down function executed in hi-tech fashion. One control handles all the in-room electronics.
There's fast and free Wi-Fi throughout and the peaceful, white lobby is a lovely place to set up office for the afternoon. The comfort factor is particularly high, with super-king beds, Frette linen and free on-demand movies.
This is the future of business hotels – calls are at Skype rates, all bookings are online and the business centre has Mac terminals. The sooner there's a CitizenM in every city in Europe, the better.
www.citizenm.com
Four Seasons, Florence
"The dining rooms have proved themselves as destinations in their own right."
Getting a room in the heart of Tuscany when there's a big event on has always been difficult, with the city divided between bland corporate chains and a few boutique properties, the best of which sell out months in advance. The seven-year construction of the 116-bedroom Four Seasons has changed the landscape entirely – two Renaissance palaces have been transformed within a picturesque 11-acre garden to create one of the most elegant hotels in the country.
If you don't have time to fit in a visit to the Uffizi gallery while you're in town, you can enjoy the 16th-century bas-reliefs across the hotel's ceilings. There are two business centres on site and the hotel can provide secretarial services, video conferencing, worldwide couriers and translation services.
www.fourseasons.com/florence
ME Barcelona
The fourth branch of the ME is typically Catalonian in design, but contemporary Catalonian – all steel and glass flash – rather than Gaudi weird. "We offer a real Barcelonian experience," says GM Sergio Urol.
"It's not a hotel where you end up alone in the hotel bar, bored, looking at your Blackberry. We're not a hotel with strict corporate rules that govern the look or the food. There are wonderful views from the terraces of our club, Angels and Kings, and from our Dos Cielos restaurant on the 24th floor."
In terms of getting the job done, there's Wi-Fi throughout and conference facilities for between 14 and 500 delegates in 19 different spaces. There's a dedicated team on site to look after events, providing catering, mobile phone and computer rental, translation, secretarial and printing services.
www.me-barcelona.com