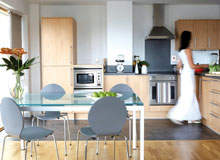 A checklist of room attributes may once have been limited to amenities but today's hotel managers are increasingly finding that allergen-free rooms, smoke-free hotels, biodegradable cleaning products and organic materials are scoring high on guests' requirements. Today's guest is more aware of the impact of surroundings on well-being and is not afraid to demand a safe hotel environment.
The effects of chemicals on our bodies, the impact of passive smoking and increases in allergy-related illnesses frequently top the headlines. And with guests prepared to pay for peace of mind, hotel managers are wising up to guest expectations and new legal requirements.
According to the US National Centre for Health Statistics, the prevalence of asthma has increased 75% since 1980 and more than 70 million people in the US suffer from allergies. In response, leading hotels are realising that they have to take significant steps to cater to this market and reassure their guests that they can provide a clean environment.
DEEP CLEANING
Hilton International has created two allergen-free rooms at its O'Hare establishment in Chicago, in partnership with Environmental Technology Solutions (ETS), a company specialising in indoor air quality.
Peter Lynn, general manager of the Hilton O'Hare, led the project and oversaw the gutting of the rooms. "Literally everything was removed – floor and wall coverings, drapes, furniture and bedding – everything," says Lynn.
How well do you really know your competitors?
Access the most comprehensive Company Profiles on the market, powered by GlobalData. Save hours of research. Gain competitive edge.
Company Profile – free sample
Thank you!
Your download email will arrive shortly
Not ready to buy yet? Download a free sample
We are confident about the unique quality of our Company Profiles. However, we want you to make the most beneficial decision for your business, so we offer a free sample that you can download by submitting the below form
By GlobalData
"Cleanliness is part and parcel of the experience of staying at a hotel or serviced apartment and managers forget that at their peril."
ETS then rebuilt the rooms with special wood flooring, wall coverings, fabrics, furniture, paints, adhesives and cleaning products. ETS worked with allergy and asthma experts to determine the role that indoor air quality plays in respiratory conditions and now has a patent pending on the technique, called Enviro-Room Design.
Nicholas Nardella, ETS president, adds: "Each room is sanitised and purified after each guest, and only toxin-free products and amenities are used and stocked in the room."
Dr Michael Foggs, chief of allergy and immunology at Advocate Health Centres, agrees this is the way to go: "Hilton hotels should be commended for having the insight and foresight to provide rooms with enhanced air quality – it's an environmental refinement whose time has come."
The rooms have proved so popular the O'Hare is already creating at least a dozen more.
DUSTING DOWN
Allergies have risen four-fold in the UK during the last 20 years, with one in three people now expected to develop an allergy at some point in their lives. More than 5.2 million people in the UK have asthma and these growing statistics have repercussions for hospitality standards as a whole.
The Chambers, a project of serviced apartments in Leeds in the UK, has introduced an advanced cleaning system known as the Rainbow to ensure rooms are virtually dust free.
Christine Boothroyd, creator of The Chambers, said: "Some of the most common predisposing factors for asthma are allergies to dust mites and mould spores and much more could still be done within the hotel industry to address these root causes.
"The general belief that vacuuming and dusting is enough is unfounded. Most cleaning activity is effectively little more than pushing the dust from one area of the room to another.
"Many people fall into the trap of thinking that superb facilities are all that guests require, but in fact they want more. Cleanliness is part of the experience of staying at a hotel or serviced apartment and managers forget that at their peril."
The Rainbow system eliminates the dust that allows mites to breed, allowing hotels to deal with the causes rather than the symptoms. Boothroyd adds: "Although initial investment is required, there simply is no substitute for a dust-free room and repeat bookings will, in time, bear testament to this."
TESTING GROUND
Meanwhile, the Buffalo Niagra Marriott in Amherst, the US, is carrying out an experiment with the University of Buffalo to shed more light on allergy-friendly environments. The $1.27m study hopes to establish data that will also be useful for healthcare facilities and aeroplanes.
The Buffalo Niagara Marriott has been renting the allergy-friendly rooms since June 2006 for $10 more than the standard room rate, according to general manager Richard Schroen.
It is being carried out in partnership with Anabec Systems, which provides deep-cleaning carpet treatment; VigilAir Systems, installers of germicidal ultraviolet light; Pure Solutions, which markets allergy-friendly room fixtures and fittings; IntelliPure, which has patented an under-bed air purification unit; and Collom Enterprises, which supplies cleaning products.
Robert Baier, executive director of the Industry/University Centre for Biosurfaces, explains: "The hotel industry and the companies that provide allergy-friendly technologies are banking on the outcome that scientific proof of the rooms' efficacy will appeal to the 25 million who suffer from allergies." Early findings have shown that in the treated rooms the breathable particle count dropped by about 75%.
CONSUMER DEMAND
Allergy associations are beginning to list allergy-free hotels and offer advice on how to adapt a room. The Allergy Buyers Club advises guests to ask for a non-smoking, pet-free room, take spray to kill mould and remove dust from the air conditioning, and ask for air filters to be changed before arrival and air fresheners not to be used.
Smoking is also a critical component of air quality and while legislation prohibits smoking in communal areas, hotels are slow to move towards a complete ban.
"Hilton hotels should be commended for having the insight and foresight to provide rooms with enhanced air quality."
Westin Hotels and Resorts, part of the Starwood Group, introduced a smoke-free policy last year in the US, Canada and the Caribbean in a $3m initiative as a result of feedback from guests, industry research and customer data.
The project involved cleaning all 3,900 former smoking rooms, which included replacing the soft furnishings, deep cleaning and treating all hard surfaces, walls and carpets to eliminate allergens, and replacing air filters and deep cleaning air conditioning units.
Sue Brush, senior vice president at Westin, says: "We went smoke-free to reinforce our brand positioning around personal renewal and for our guests, who overwhelmingly prefer a smoke-free environment."
LEGALLY CLEAN
However, while several hotels are taking voluntary steps to offer a healthier environment, there are also new laws emerging that will force hoteliers to sit up and take notice.
An important piece of regulation that came into force in the EU in October 2005 was the REACH agreement, which controls the levels of biodegradability in chemicals used in cleaning and maintenance products.
And it doesn't stop there. In 2008, the European Biocidal Products Directive will come into force. This will lay down standards for disinfectant products throughout the EU.
Companies are emerging to meet the new demands, such as Delphis Industries Ltd, which provides environmental products and services compliant with the legislation. The products are designed to counter bacteria such as MSRA, bird flu, E coli, salmonella and listeria.
A company spokesman says: "Most people do not understand the real effects that current sanitisers, disinfectants and cleaning products have on them or the environment."
So, for a safe and healthy guest environment and peace of mind for general managers, it might be time to have a spring clean so we can all breathe more easily at night.