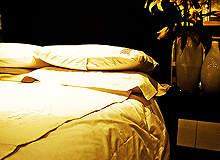 In an ideal world, a hotel's housekeeping service would be so efficient that customers would never have cause to complain. The truth is, however, that no system is flawless and increasingly demanding customers expect high levels of service. When complaints are made, well-established customer service protocols have the potential to reverse a guest's experience.
Housekeeping teams are responsible for much more than just turning down beds. Laundry, maintenance and cleaning of guestrooms and communal areas all fall under housekeeping's supervision, as well as often being a customer's first point of contact. Given that housekeeping spans such a wide variety of activities, it's inevitable that complaints will come from many angles, but some of the most common include noise complaints, room cleanliness issues, equipment malfunction, laundry errors and communication problems with staff.
The LAST process for customer service
Sharon Glancy is the managing director of Stonebow, the training division of People 1st, the sector skills council for the hospitality, leisure, travel and tourism industries. If a customer makes a complaint, what is Glancy's advice for mitigating any potential damage to the hotel's reputation and convincing a customer that their concerns are being taken seriously? She recommends a handy acronym: LAST, which stands for listen, apologise, solve, thank.
"Given that housekeeping spans such a wide variety of activities, it's inevitable that complaints will come from many angles."
The "listen", "apologise" and "thank" sections of the process are really about good communication. Guests are less likely to leave frustrated if staff have genuinely and actively listened to the complaint, demonstrated understanding and thanked them after the problem has been resolved to reassure them that the hotel does not begrudge them the right to speak up. "Stress that [complaints] are the only way you can find out about any problems and put them right," she says.
When it comes to solving the cause of the complaint, Glancy advises that finding out the facts of the situation should be the first priority. "Complaints can sometimes get blown out of proportion," she says. "It often happens to housekeeping, where a simple switch can solve the problem.
"Rephrase the complaint in your own words, showing the customer that you have understood what they have said, then let the customer know what you intend to do and act immediately."
Glancy notes that with customers being more connected to friends and relatives than ever before, poor customer service rarely goes unnoticed. "It is said that customers who experience poor service are twice as likely to tell other people as customers who have had a positive experience," she says. "With online forums such as Thorn Tree and TripAdvisor, there is no hiding from bad reviews."
Stonebow provides bespoke training courses for the hospitality industry, ranging from in-house training programmes for large companies and short courses for SMEs, including "focus on customer services" courses. Hotel clients include The Ritz London and Q Hotels.
Customer service culture
Alison Lee-Savage, head of customer services at UK hotel chain Ramada Jarvis, says that customer service should be built in to a hospitality company from the ground up to be most effective. "It is absolutely essential to have a policy in place to ensure all staff members are aware of how your hotel wants customer complaints resolved. It reflects your dedication to customer service."
The establishment of a fixed customer service culture makes staff feel better able to deal with guest complaints by themselves, which in turn gives customers the satisfying feeling that their concerns are being personally addressed rather than filed away at corporate headquarters. "Empower staff so they are confident enough to be able to resolve the problem within the hotel rather than having to escalate the problem to head office. Providing a client with a new room, an upgrade or an after dinner drink shows the guest that you care about them," says Lee-Savage.
"When investigating a complaint, speak to all the parties involved – that is your guest and the housekeeping staff," Lee-Savage continues.
"The establishment of a fixed customer service culture makes staff feel more able to deal with guest complaints by themselves."
"Don't be afraid to ask challenging questions from both parties as your job is to resolve the complaint. Remember that the customer wants you to take personal ownership of the complaint. A manager must do everything in their power to ensure that the customer's concerns are addressed and the situation is resolved fully, but must never act in a manner that alienates staff or de-motivates them."
The proactive customer service approach of Ramada Jarvis extends to its customer feedback policy. The company uses a web-based service developed by Medallia to survey customers after their stay, even if they haven't complained. Customer service staff sort through responses, and makes sure that unhappy customers are updated on the ways in which their feedback is being addressed.
Whether it is during or after a guest's stay, opening a clear and sympathetic line of communication with customers is the key to dealing with housekeeping grievances. This positive communication is the glue that holds together a positive customer experience, and without it even the most impressive hotels will struggle to keep up with the competition.