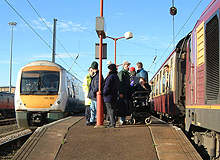 As most major economies more slowly out of recession, the hotel industry's road to recovery is underway. Nonetheless, the recovery is precarious and the sector has seen significant drops in revPAR, particularly in the US and Europe. The challenge now is to move ahead from the pressures of recent years while confronting emergent trends such as the 'staycation', where people choose to holiday at home rather than abroad.
Against this backdrop, the need for innovation and unique service offerings has taken on a pressing significance. But while the talk of downturn and the threat of a double-dip recession in the UK may cast gloomy clouds on the horizon, the industry has seen the introduction of unusual and eye-catching offerings that, if not providing a robust solution, demonstrate that the sector is capable of producing an imaginative response.
On the right track
Take the rail enthusiast, for instance. In the UK, trainspotting has long been maligned, but in Japan it is more openly welcomed. The country boasts 20,000 rail buffs, who, according to the BBC, spend more than $40m (£24m) a year on their hobby. To tap into this overlooked market, two hoteliers are offering niche packages. Tokyo's Hotel Mets Akabane and the Odakyu Hotel Century Southern Tower are situated close to some of the country's busiest rail stations, a major selling point in marketing to train fans.
And if it's model railways that stoke your coals, then the Washington Hotel in Akihabara has the perfect accommodation: a room with its own model railway. Guests staying in the £170-a-night room can even bring their own miniature locomotives to run on the 30m track.
"The Fairmont Chicago provides a bath sommelier who draws 'serenity baths' as part of the hotel's in-room dining experience."
For a more feminine feel, the Hello Kitty rooms are on offer by the Grand Hai-Lai hotel in Taiwan. The 50m2 Hello Kitty suite and the 33m2 Hello Kitty room are styled after the popular Japanese character, a cute cat that has been licensed across most popular media, along with endorsements at many theme parks and restaurants.
Guests nostalgic for an older toy icon can stay at the Barbie-themed rooms at Paris's Plaza Athénée. With two rooms decorated in "the fashion doll's favourite colours" – pink – the hotel promises the rooms "will turn sweet little girl guests aged three or over into real little princesses". While available for a short time, the hotel, which also offers a Sex and the City deal, highlights the potential for tapping into popular media and film trends to create a tailored experience.
Another example of tailoring specific hotel experiences to specific interests of its guests comes from New York's Library Hotel, where guests at the luxury boutique hotel can expect highbrow accommodation. With over 60 rooms stocked with books, the hotel's floors are based around the ten major categories of the Dewey Decimal System: social sciences, literature, languages, history, mathematics and science, general knowledge, technology, philosophy, the arts and religion.
A special type of service
While not every guest will want to stay in a themed room, many expect a high level of service during their stay at a hotel. One offering that has seen significant development recently is that of the concierge.
Beyond the normal responsibilities of helping with bookings and arrangements, guests at the Tides Riviera Maya Resort & Spa, Playa del Carmen, have access to a soap concierge who provides examples of freshly produced soap made from local ingredients. For the guest looking for a more restful experience, The Benjamin in New York offers a sleep concierge, whose job it is to help guests have a restful night's sleep.
The concierge, Eileen McGill, helps guests chose from 12 types of pillow – including upper body, buckwheat, satin, hypo-allergenic, water-filled, Swedish memory and magnetic therapy – as well as arranging massages at the hotel's spa. In addition, a 'Sleep Menu' offers such childhood snacks such as milk and cookies. McGill can also loan guests a white noise machine to screen out distracting noises. So confident is the hotel in its promise of restful sleep that it offers guarantee that promises a free night's stay if a guest does not sleep as well, or better than, at home.
While unusual, these concierge services at least expound upon established expectations of a hotel. But for what of more unusual tastes? Enjoy cheese? Then check into the restaurant at the La Posada in Santa Fe, New Mexico, where a cheese concierge will help you select from more than 20 artisan cheeses. If that isn't cheesy enough, the Ritz-Carlton South Beach offers a 'tanning butler' to help pool-side sunbathers apply sun tan lotion.
For a cleaner approach, The Fairmont Chicago provides a bath sommelier who draws "serenity baths" as part of the hotel's in-room dining experience. The sommelier is on hand to mix exotic oils and ingredients including mint, chocolate and milk.
Not every guest is looking for a healthy escape; some want escapism, opulence, and to exercise their inner wild child. To meet this need, the Hotel Sax in Chicago has looked to the exemplars of bad behaviour: rock stars. The Celebrity Rider Package lets guests experience the services and amenities demanded by rock stars through their contract demands. Guest can choose from: Rock like the Red Hot Chili Peppers (with signature tube socks), Glam Nights like Jennifer Lopez (with a "peaceful oasis of white lilies"), a Rat Pack-inspired package (which includes a suite with a personal bartender) and Play like Ari Gold (featuring a helicopter ride and sports car service).
From rail to rock, these offerings illustrate that, with the push to stand out in a challenged market, there is a room to suit the needs of every guest.