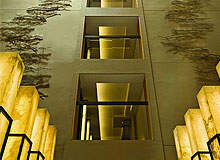 While the threatening words "double dip" loom over European economies, China is already getting back to its businessas- usual mode of rapid growth, which means renewed opportunities for hotel operators. A prime example is The Upper House, which opened in October 2009 in Hong Kong, and the new 300-room business hotel, East, which launched there this February.
Brian Williams, Swire Hotels' managing director, is incredibly upbeat about the potential China and Asia have to offer. "The marvellous thing about Asia is they tend to recover very quickly," he says. "They're quick to stop spending and very quick to start again, so it's a short sharp hit. And, as luck would have it, the first month of rebound in the market was October 2009."
But Williams's optimism is not just built on a generally sunny economic outlook. "I was in the hotel lift with four ladies in their fifties, all mainland Chinese, clearly on a shopping trip and carrying every brand name you can imagine," he says. "These are not the young generation, these are people who experienced real communism, and yet they had just spent tens of thousands of dollars."
Tour of the House
 The Upper House is ideally located for such wealthy boomers from the mainland. It sits on top of Pacific Place, an upmarket development of designer shops, offices and hotels wedged between the Wan Chai and Central districts of Hong Kong. Passing through the Thomas Heatherwick-designed stone entrance, guests glide up an escalator – the first stage in what architect Andre Fu describes as "a poetic upward journey" – and rest high above the noise and heat of the city below.
The interior relies on muted tones but sharp design – calm and inviting but not excessively cosy. Starting at 730ft², the rooms are more spacious than the 6,96ft² suites at the JW Marriot occupying the building's lower floors. Back in the dining room, Williams is in full flow laying out the company's strategy and future plans. Swire Hotels is a division of Swire Properties and was created to operate facilities the business owns. Swire is a major landowner in the city and Pacific Place itself is one of the company's holdings. The decision to branch out into hotels was motivated by a desire to boost the performance of some of these assets. "One of the purposes of building the Upper House was to add another dimension to Pacific Place, which is already a highly valuable piece of real estate," Williams says. "It is considered by many people to be the city's pre-eminent mixed-use development and if we've added something new, created a bit of noise, some extra footfall, all of that is very good for our office and retail tenants."
Upper identity
Despite the five-star backgrounds of many of the staff, the service is more relaxed than at some of the city's other luxury hotels. The guest experience team are uniformly young, good-looking and decked out in grey slacks, crisp white shirts and purple cardigans. "I thought we could be a little bit more modern in our service delivery," Williams explains. "There's a tendency in some of the traditional hotels to be subservient, fawning and deferential. Our systems, planning and training are created around allowing our individuals to have some personality."
"Our systems, planning and training are created around allowing our individuals to have some personality."
In addition to individuality, design and a commitment to service, the Upper House encompasses art, technology and dining. Swire worked with awardwinning chef Gray Kunz, luring him back to Hong Kong after an extended spell in New York. After the Olympics rolled out of Beijing at the end of August 2008, many hotels found their dining rooms empty, but Williams claims the Opposite House – Swire's first hotel, located in Beijing – was "heaving". Because we're not preoccupied with massive convention banqueting, we can think like restaurateurs," he says. "We don't think like hoteliers when it comes to restaurants."
The strategy also seems to be working in Hong Kong and on a Sunday evening the bar at the Upper House was still lively well after midnight. The unique blurring of boundaries between expatriates, foreign residents and Chinese in the city adds to a sense of excitement and appealing to locals has been an important focus for Swire. "Coming into the restaurant, you feel like you're really at the heart of the scene," Williams says. "There's nothing more depressing than going to a hotel dining room half full of people who you just know are bored business travellers. You want to see beautiful people, action and the soul of the city."
Model business
Williams might be having a lot of fun in his role but he is also generating a tidy revenue stream for Swire. Both East and the Upper House were cash positive in their first month of operation. And while nothing has been confirmed, the company is rumoured to have its eye on another property in Beijing and one in Shanghai. China remains the primary focus but plans have long been in motion to open a series of hotels in the UK. In 2006 Swire acquired Alias Hotels, which operates boutique city-centre properties in Brighton, Cheltenham and Exeter, and snapped up the Avon Gorge Hotel in Bristol in a separate deal. Work is underway at the Regency era building in Cheltenham for an October launch and although it's a long way from Beijing and Hong Kong, Williams is convinced that he has identified a gap in the market and can inject a similar DNA into the operations.
"There's a wide open market for midpriced, high-quality, fun hotels in regional towns and cities in the UK."
"There's a wide open market for midpriced, high-quality, fun hotels in regional towns and cities in the UK. All you've got to do is stay in a budget hotel in Cheltenham and look at the car park: there's a Range Rover, a Mercedes 500, a Porsche and a Ferrari. Do their owners really want to stay in a budget hotel?"
The hope is to bring the same concentration on quality, service and dining developed in China but add a touch of English eccentricity. For someone so bullish about Asia, it might seem an odd move but Williams is convinced the venture will be a success.
He clearly enjoys the latitude given to him by the parent group and relishes the opportunity it affords for crafting hotels with a strong sense of personality. Growth in both the English and Chinese markets looks set to continue and Swire's experience so far shows what is possible with the backing of a deep-pocketed investor. While the company's model might not be easily replicable, for a property group looking to add lustre to its holdings, it seems to make perfect sense.