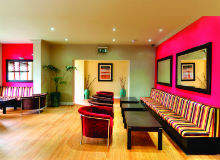 At the moment, each new story about the Western economy seems to compound a growing sense of despair. Negligible US growth, the eurozone debt crisis and all-round low consumer confidence threaten to lead to long-term stagnation or, as a worst-case scenario, a fall back into recession. Inevitably, these problems are mirrored in the hospitality sector.
Shedding the heavy discounting mindset has proved difficult, particularly in more provincial markets, and banks are proving unwilling to provide the financing that hotel developers need. Consequently, many larger groups have had to put their expansion plans on hold, while smaller and independent establishments often struggle to survive. Steve Joyce, however, chooses to look on the bright side.
Joyce was appointed president and CEO of Choice Hotels in April 2008, just months before the economic situation began to unravel. After a long tenure at Marriott, during which time he rose to the rank of executive vice-president of global development, Joyce was charged with steering his new company through the toughest environment in living memory.
"If you want to be hailed in the highest annals of CEO-dom, I wouldn't recommend starting your career in 2008," he jokes. "But if you look at the data and talk to people from across the industry, business is pretty resilient. Because of the supply/demand balance at the moment, where in some places we are even seeing negative supply, existing hotels should do okay whether the economy helps out or not. And if we do get some help at the back end of 2011, what looks like a disappointing year could become quite a good one."
With more than 6,100 franchised hotels in more than 30 countries and territories, Choice is better positioned than most to benefit in tough times. The diversity of its business and its strength in the middle of the market is an asset at a time when business people are starting to travel again, but are expected to seek cheaper lodging. As of 30 September 2011, corporate accounts were up by 14% in relation to room nights and by 19% in terms of revenue. Still, doubt about the availability of financing has proved a frustrating obstacle.
"Urban financing had come back faster than hoped and we had a few big deals that we were hoping to squeeze through the pipe," Joyce explains. "We aren't sure yet, but it seems like financing for that might be slowing, and this is sure to affect the deal flow. When I started we were launching an upscale brand called Cambria Suites, which had a lot of interested franchisees. In September I was thinking to myself, this is easier than I thought – with one major partner we were underwriting 40 deals. October hit and at the end of that month we were underwriting zero."
How well do you
really

know your competitors?

Access the most comprehensive Company Profiles on the market, powered by GlobalData. Save hours of research. Gain competitive edge.
Company Profile – free sample
Thank you!
Your download email will arrive shortly
Not ready to buy yet? Download a free sample
We are confident about the unique quality of our Company Profiles. However, we want you to make the most beneficial decision for your business, so we offer a free sample that you can download by submitting the below form
By GlobalData
Choice used its comparatively strong balance sheet to upgrade its fundamentals. In doing this during a recession, it was also able to take advantage of the lower fees charged by many service providers.
"Because we were in such a strong financial position, we had the ability to make some significant investments in our infrastructure, which has benefited our franchisees," Joyce explains. "We've invested in a new technology platform, upgraded a number of our servers and managed to get some of the best designers in the world to work for really good rates. Of course, I would prefer a more robust financial environment, but we have done the best with what we've been given."
The conversion trend
The financial squeeze has given a decisive push to a trend that was already gaining momentum – the move away from new-build projects to hotel conversions. Choice is already known in the US for its strength in this area. Europe, with its smaller, more location-specific establishments, is the company's next challenge.
"We think the European market will be our next big conversion opportunity," Joyce explains. "We have a technology platform developed in the US that is completely cloud-based, so you can access it on your own systems using the internet. This is hyper-connected to all our distribution channels and puts us in a strong position to capture demand. The European hotels we are looking at are smaller and more diverse than those of most US brands. We are used to, and like working with, different types of buildings for our brands."
Affiliation with Choice can be advantageous for European hotels at a time when many are struggling. These outfits can take advantage of the company's broad distribution network without having to give up any managerial control or image rights. At the same time, Choice can go some way to fulfilling the massive demand for room nights, especially in urban areas.
"One of the big successes we've had in our US market, in addition to our regular conversions, was the Ascend Collection," says Joyce. "It isn't really a brand – we are just selling distribution. So a lot of independent hotels that want to retain their own identity, but have been hurt by the downturn and are looking for more consistent distribution opportunities, can come to us. This also helps wean them off the almighty travel agent or allows them to bring in the travel agent at a much lower cost."
The need for an independent style is, in Joyce's view, still a distinguishing feature of the European market, although the US is beginning to move in that direction. The company will be targeting Europe with four brands that cover markets ranging from two-star through to four-star. Revitalised Eastern European and Russian markets, as well as unbranded hotels in traditional European centres, will be initial places of interest.
"When you look at European consumer trends, you see a few things that are ahead of the US curve," he says. "Consumers over there are also much more concerned about the environmental impact of a company. Where the US is ahead is in identifying the advantages of connecting to large distribution systems. Unless you are of a significant scale, it is difficult to deal with distribution sources in a way that makes financial sense."
The association with independent hotels has added benefit for Choice. In Europe, the company enjoys a presence in the two, three and four-star markets, the higher end represented by its Clarion brand. In the US, Choice is still firmly associated with the middle tier. Joyce believes that by leveraging the power of its Ascend Collection partners, Choice can build a reputation at the upper end of the US market. This flexibility with regard to branding derives mainly from the company's pure franchising model, which involves minimal real-estate risk and has contributed to its steady performance during the downturn.
"We have the ultimate model from the asset-light perspective," Joyce explains. "Many of the major chains have said that it's what they want to move towards as it is remarkably robust. You do everything you can to help your franchisees do well, and you do well in return. Profitability is stable and you can grow fairly significantly without the need for external capital just by utilising your balance sheet. I was at Marriott for 26 years and spent a lot of time investing in real estate. That is good at certain parts in the cycle, but you often have conflicts that arise from dealing with multiple parties. And quite frankly, our business model is just much more profitable."
India and China
After Europe, India is an area that will be of particular interest over the medium term. Although the country has a rapidly expanding middle class, there is at present a notable dearth of hospitality aimed at the area between budget and upper scale. China faces a similar predicament, but presents unique regulatory and business challenges.
"We believe that India will come along a little faster and have already seen the emergence of a strong franchising business there," he says. "With China there are two basic things you need in order to do well: permission and protection. So if we are going to do something there, I'd want to do it with a well-established local partner."
Joyce is positive about the next few years. Internal investments made since 2008, a period in which growth has been a struggle, should stand Choice in good stead for when the market does rebound.
"Over the next 18 months, as the value of our platform becomes well known, we will have the opportunity to ramp up pretty aggressively on the conversion side in Europe," he explains. "If 2013 improves in Europe and the US, and we move back into a cycle where transactions occur, our improved distribution platform will hopefully lead to more robust activity, which would match nicely with our operating performance. And, of course, we need to continue to build strong relationships with our franchisees. We are in this together."
With growth likely to be constrained for some time, staying asset-light, investing in fundamentals and making associations with the right independent brands could prove the strategy of choice for many major players.
---

This article was first published in our sister publication Hotel Management International.
---