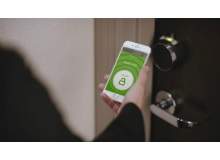 Hilton Worldwide added digital key to its Hilton HHonors app, which will help guests to bypass the hotel check-in counter and access their rooms directly.
It will also help guests gain access to other areas where keys are required.
Hilton said that with new age technology, loyalty programme members will get to use their smartphones as their room key to 170,000 rooms across 250 US properties by 2016.
The properties will include the company's major brands such as Hilton Hotels & Resorts, Waldorf Astoria Hotels & Resorts, Conrad Hotels & Resorts and Canopy.
French royal château Palace of Versailles is expected to be converted into a luxury hotel in order to raise revenue for its maintenance.
Seven million people visit the state-owned château every year. The increasing number of visitors triggered successive governments to cut funding for the historic palace from €47.4m in 2013 to €40.5m this year.
The palace is inviting private companies to bid to create hotels in three of the 17th century mansions located 100 yards from the main building.
According to reports, some rooms will have a view of the Orangerie, a gallery that sheltered Louis XIV's 3,000 orange trees in winter.
The hotel, tentatively named Hotel de l'Orangerie, is expected to provide guests access to the royal gardens for the first time in 300 years.
Marriott International opened its first hotel, the Courtyard Belgrade City Center, in Serbia.
Serbia is located in southeast Europe's Balkan peninsular.
The hotel will have the brand's new European design, which features glass façade contrasts against the historic city centre backdrop.
The 114-room hotel is set to open this September and will mark the entry of the brand into its 42nd country.
Carlson Rezidor Hotel Group expanded its presence in India with the signing of three new hotels in the north, south and western parts of the country.
One of the three hotels will be Radisson Blu Kochi Elamkulam, the brand's first hotel in Kerala, which is set to open this December.
The 150-room hotel will feature 1,500m² of meeting facilities and will provide modern day amenities to its guests. The hotel will be located in close proximity to the city center, Kochi Infopark, Special Economic Zone and Smartcity Kochi.
Scott Flynn Properties (SFP) in a joint venture with Flynn Property Group commenced development of the Brisbane Airport Hotels and Conference Centre at Brisbane Airport.
The $150m project includes Pullman Hotel, Ibis Hotel and the adjoining conference and meeting centre.
The five-star Pullman Hotel will feature 131 rooms, and the three and a half star Ibis Hotel will feature 243 rooms. It will also include a 1,500m² conference and meeting centre, which can be configured in different ways to accommodate up to 500 guests.
The project is positioned next to the Domestic Terminal car park, which allows guests to walk down to the terminal.
Australia's gaming and entertainment group Echo Entertainment announced plans to invest $345m to construct a new hotel tower in Gold Coast and renovate the entire Jupiters complex.
Upon completion in early 2018, the new six-star, 17-storey Jupiters Hotel will offer more than 70 luxury suites in the new tower, in addition to the existing 592 rooms.
Queensland premier Annastacia Palaszczuk said: "More than 800,000 international visitors already come to the Gold Coast each year and my government is committed to working with the tourism industry to continue growing those numbers.
"The new rooms will help accommodate the games' visitors and attract tourists for decades to come. They start flowing now with construction of the new tower expected to create 500 jobs on-site and a further 350-400 off-site supporting the construction activities."
InterContinental Hotels entered a management contract with U&N Hospitality for a 222-room Holiday Inn Express on the Ao Nang Beach in Krabi, Thailand.
The hotel will be the brand's sixth property in the country.
Located close to Krabi International Airport, the hotel will be a two-hour drive from Phuket International Airport and will be close to the Noppharat Thara beach and other attractions.
Holiday Inn Express Krabi Ao Nang Beach will feature the brand's signature Great Room, which will include free Wi-Fi , free Express Start breakfast with a Grab & Go option.
Hilton and Hyatt Hotels introduced a 413-room, dual-branded hotel at the waterfront community, The Wharf in Washington DC.
The hotel will be located between Maine Avenue and Wharf Street, adjacent to 7th Street Park and is expected to open in 2017.
It will consist of two properties, a 120,000ft² lifestyle brand hotel, Canopy by Hilton, which will feature 175 rooms and a 145,000ft² extended-stay hotel, Hyatt House consisting of 238 keys.