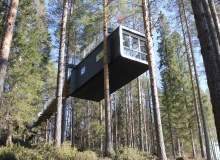 There is nothing unusual about an unusual hotel. Construction companies the world over are erecting their resorts, bed and breakfasts and guest houses a pace and, it seems, the more outlandish the design, the better.
From open-air accommodation to fairy tail cottages, an underwater resort and a converted prison, unusual hotel concepts are setting the trend in the industry.
Here, we list some of the most progressive and innovative designs in the world today.
Ice Hotel, Jukkasjärvi, Sweden
Existing only between December and April, this winter wonderland isn't just a hotel, it's an art project.
Each year, designers worldwide gather to create the temporary ice structure using only frozen water from the nearby Torne River.
"Existing only between December and April, this winter wonderland isn't just a hotel, it's an art project."
Japanese artists were the first to visit the area and create their snowy exhibition 1989 and now, the 22nd Ice Hotel is being built.
The property invites its first guests at the end of the calendar year, when construction is still taking shape, and each week thereafter a new part of the hotel opens to visitors.
The hotel consists of cold accommodation, including the snow room where guests sleep in -5 degree temperatures, and warm accommodation, including the Arctic and Nordic hotel chalets.
Jail Hotel, Luzern, Switzerland
Travellers can do the time without committing the crime at the Jail Hotel. Here, cold cells and prison guards have been replaced with comfortable accommodation and maître d's behind bars.
Guests can opt to stay in 'unplugged' rooms complete with bunk beds for a more authentic prison experience, or spend the night in one of the themed suites which once housed the jail warden's offices, the prison library and the visitor's room.
The Jail Hotel is a former prison, built in 1862 and converted in 1999. Today, the property's thick walls and solid doors still retain their original feel but guests don't have to worry about being locked up.
Airplane Suite, Gelderland, the Netherlands
The 1960 Ilyushin 18 was once used to transport bosses of the German Democratic Republic government, but now offers luxury accommodation to the public.
Located at Teuge Airport in the Netherlands, this converted plane, which was acquired by Hotelsuites.nl in 2007, features a single suite, jacuzzi, shower, infrared sauna and a 40 metre, fully equipped cockpit. Guests can book a plane tour, a helicopter tour or a flight lesson during their stay.
Chocolate Boutique Hotel, Bournemouth, UK
Owners Gerry and Roo Wilton developed this hotel in 2006 after spending five years manufacturing chocolate fountains and introducing chocolate workshops around the UK. Originally a bed and breakfast, the Chocolate Boutique Hotel has now been refurbished to contain 13 chocolate-themed rooms decorated in brown and gold – all of which offer a 'daily chocolate option' – and a chocolate bar. The Wilton's workshops and are still run in the hotel and guests, if they so wish, can order in-room chocolate fountains.
Majahuitas Resort, Puerto Vallarta, Mexico
The Majahuitas Resort is an eco-friendly hotel located in one of the most secluded beaches in the Bay of Banderas.
The protected cove can only be accessed by boat and is wholly reliant on solar power for its energy.
As a result, no TVs, telephones or computers interrupt the natural surroundings of the resort.
The hotel is built on communal land belonging to the community of Chacala, which cannot be sold, but the property was leased to a group of investors under a 20-year agreement signed in 1996.
Accommodation is mostly open-air, with only rustic wooden roofs sheltering guest beds.
Tree Hotel, Luleå, Sweden
Forty miles south of the Arctic Circle, a lofty hotel waits for its guests among the tree tops. The Treehotel was created by Kent Lindwall and his wife Britta in 2010 and consists of five rooms sitting four to six metres above ground.
They include the camouflaged Bird's Nest, the Blue Cone (containing four beds and a separate living loft) and the spaceship-themed UFO with ladder access. The Mirrorcube room is clad in mirrored glass to reflect the surroundings of Lulea, a small village containing a restaurant, shop and guest house. There is also a sauna situated among the pines that can accommodate up to twelve people.
Krumlov Tower, Cesky Krumlov, Czech Republic
The Krumlov Tower is one of the last remaining monuments of the medieval Cesky Krumlov fortification built at the end of the 15th century. Now part of a heritage site, the tower has been converted into a budget bed and breakfast which attracts tourists all year round. The tower is situated about 300 meters from the main gate of the Cesky Krumlov Castle and features double and quadruple rooms.
Huvafen Fushi, Malé, the Maldives
The Maldives is known for its villas on stilts, but Huvafen Fushi is set apart from other hotels in the country, and indeed the world, thanks to its underwater spa treatment rooms, designed by British architect Richard Hywel Evans.
"Owned by luxury brand Per Aquum Resorts and Spas, the Huvafen Fushi hotel has 43 bungalows."
There, guests can watch for sting rays and tropical fish whilst receiving treatments incorporating locally sauced ingredients.
Lime Spa also features six glass-floored, over water treatment rooms; an ice-room and a rain shower.
Owned by luxury brand Per Aquum Resorts and Spas, the Huvafen Fushi hotel has 43 bungalows spread over land and water.
Cappadocia Cave Resort and Spa, Nevsehir, Turkey
Hot lava covered the region of Cappadocia around two million years ago, but after surrounding volcanoes stopped erupting, the lava turned to soft rock, a material that was later dug into, to create underground cities and hotels like the Cappadocia Cave Resort and Spa. This five star hotel is now part of a heritage site and features 54 rooms and several suites built into the mountain, as well as restaurants, bars and a Turkish Spa.
Das Park Hotel, Essen, Germany
Spending the night in a concrete sewage pipe doesn't appeal to everyone but you have to credit Das Park Hotel for its original ideas.
Of course, the sewage pipes have been sectioned off and converted into individual 'bedrooms' complete with wall paintings by Austrian artist Thomas Latzel Ochoa, storage facilities, a mattress and sleeping bag and advanced lock and electronic keypad systems. Designed by architect Andreas Strauss, Das Park Hotel can also be found in Ottensheim, Austria.