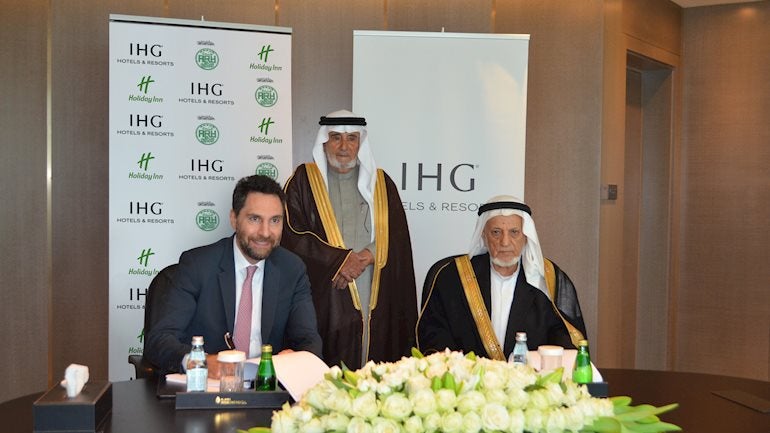 InterContinental Hotels Group (IHG) has partnered with Al Rabea Hotels and Trading to bring back Holiday Inn brand to the city of Najran in Saudi Arabia.
The renovation and rebranding will take place in two phases and is anticipated to complete by the end of next year.
Once the renovation is concluded, the hotel will have five villas and 82 rooms.
The hotel will feature multiple facilities including, a gym, a steam, an outdoor pool, a sauna and jacuzzi.
Besides, the hotel will have a coffee shop, an all-day dining, a poolside lounge, and a lobby lounge.
Apart from the recreational facilities, the hotel will also feature four spacious meeting rooms for the business guests.
IHG India, Middle East and Africa managing director, Haitham Mattar said: "It is our great pleasure to welcome back Al Rabea Hotels and Trading Co to the IHG family, and once again establish our presence in the city of Najran.
"As IHG grows within the Kingdom, we aim to contribute to the realisation of the nation's ambitions and support tourism development in secondary cities.
"As one of the world's most preferred brand, Holiday Inn is a perfect fit for families and travel explorers alike who frequent emerging destinations like Najran."
According to IHG, the agreement also aligns with the tourism development plans of Saudi Arabia government.
IHG owns 36 hotels in the Kingdom across five brands, namely Intercontinental, Holiday Inn, Crowne Plaza, VOCO and Staybridge Suites.
In the coming three to five years, IHG will open 28 new hotels that are currently in development pipeline.
Earlier this week, IHG announced the opening of first voco brand property in Qatar.