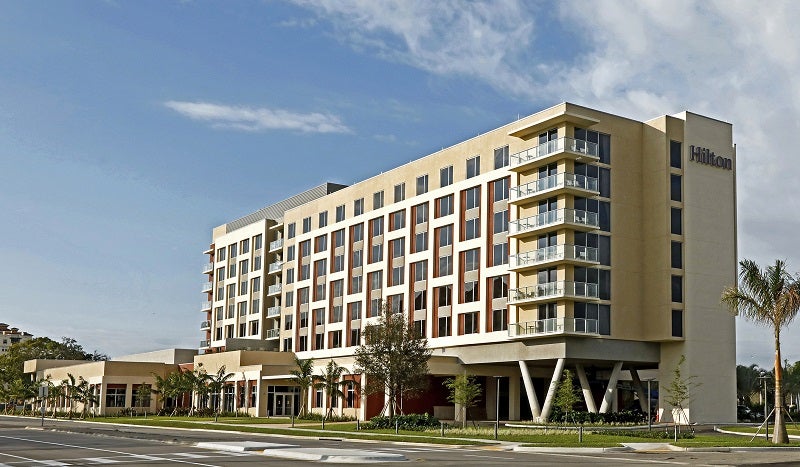 Baptist Health South Florida and Interstate Hotels & Resorts have unveiled the new Hilton Miami Dadeland, a new wellness-focused hotel that features Table 55 farm-to-table restaurant and rooms for extended stays, in the Kendall area of Miami.
The hotel, designed by local Coral Gables Architect, CallisonRTKL, includes Cuban tiles and pineapple-themed wall art and textiles with abstract lines, representing the fruit's symbol of hospitality.
Hilton Miami Dadeland features 184 contemporary rooms, including 34 suites.
Baptist Health chief strategy and transformation officer Ana Lopez- Blazquez said: "We are excited to see the opening of Hilton Miami Dadeland.
"Early on, we knew we wanted to introduce a unique product to the market that would serve a variety of needs.
"Hilton embraced our vision of a multipurpose hotel, with rooms equipped for extended stays, and our desire to incorporate wellness into the design of the guest rooms and amenities."
The hotel offers Hilton's Five Feet to Fitness in-room wellness concept, bringing 11 fitness equipment and accessory options into the guest room for exercise enthusiasts who prefer to work out in private to maintain their routine.
Hilton Miami Dadeland also features a health and wellness centre with fitness room, meditation garden, heated outdoor pool and walking and jogging trails.
Interstate Hotels & Resorts president and CEO Michael Deitemeyer said: "We are proud to be working with Baptist Health South Florida to operate the Hilton Miami Dadeland with its dynamic environment and distinct lifestyle focus.
"Partnering with leading brands like Hilton and Baptist Health allows Interstate to accelerate our continued evolution."
Hilton Miami Dadeland offers meeting and event space with 10,000ft² of indoor and outdoor meeting space, including a 6,250ft² ballroom with private outdoor patio and dedicated pre-function areas.
In addition to the restaurant, Hilton Miami Dadeland offers a grab-n-go pantry, Starbucks, a Wall of Water bar and room service.
Hilton Miami Dadeland is situated in the heart of Kendall and adjacent to Baptist Hospital of Miami, 13 miles from Miami Airport and two miles from Dadeland Mall and Metro Station.
It is also part of Hilton Honors, a guest-loyalty programme for Hiltons 16 hotel brands.