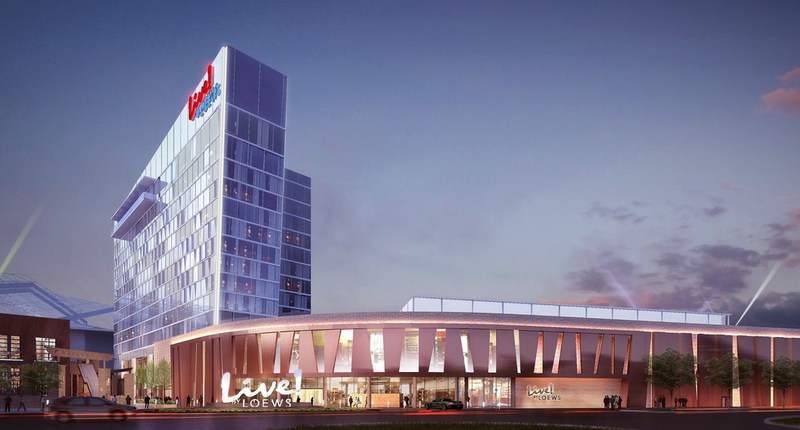 Loews Hotels, The Cordish Companies, and the Texas Rangers have announced plans to invest $150m in a new hotel and convention centre in Arlington, Texas.
The proposed 302-room hotel called 'Live! by Loews – Arlington, TX' will come up at Texas Live!, a $250m dining, entertainment and hospitality destination being developed in partnership between The Cordish Companies, Texas Rangers and City of Arlington.
Arlington Mayor Jeff Williams said:"An upscale hotel in the entertainment district has long been a dream for Arlington and we couldn't be more excited to see that dream become a reality with the addition of a Loews branded hotel.
"With this announcement, we have just combined three world-class businesses with a world-class destination. This is a home run for Arlington and its residents and visitors."
The 14-storey glass tower has been designed by US-based architecture firm HKS Architects and will feature several resort-style spaces and amenities.
Spread over an area of 35,000ft², the Grand Event Center at the hotel will feature a glass façade with views of Texas Live! entertainment district.
The meeting, event and convention space at the hotel will house a ballroom with banquet seating capability up to 1,500, an executive boardroom with five additional breakout meeting rooms, flexible pre-function space and a 1,500ft² outdoor terrace.
Additionally, Live! by Loews has a rooftop terrace with several private event rooms, as well as a central main space for private functions and events.
The pool area in the hotel will feature two bars, including a swim up bar, rentable private cabanas, lounge space and a fire pit.
The hotel's Event Lawn features a LED screen for sports viewing, movies and concerts.
Other amenities offered by Live! by Loews are a Revolver Brewing Brewery, bar and tasting room, 6,000ft² restaurant, fitness facility, Barista and coffee bar.
---
Image: The new hotel, called Live! by Loews has been designed by architecture firm HKS Architects. Photo: courtesy of PRNewsfoto/Loews Hotels.