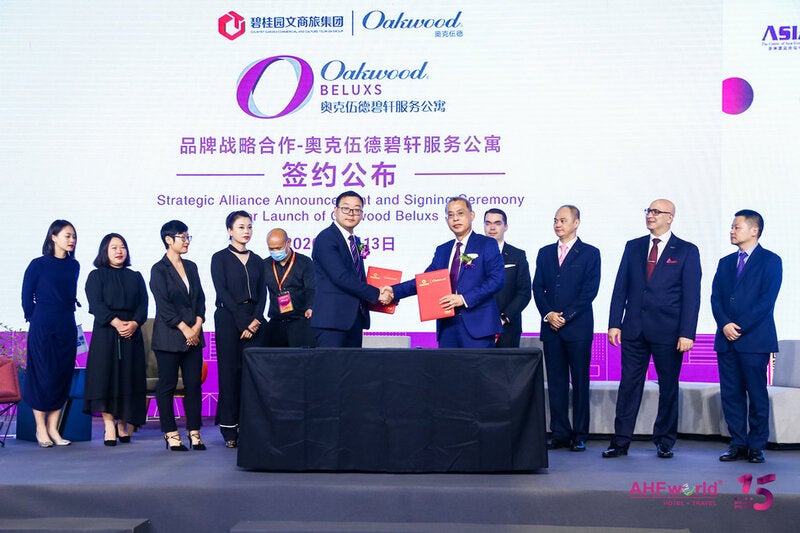 Mapletree Investments subsidiary Oakwood has entered a strategic alliance with Country Garden Commercial and Culture Tourism Group.
Announced at the 2020 Asia Hotel and Travel Forum held in Shanghai, China, the alliance will see the parties co-develop Oakwood Beluxs.
The alliance aims to open 100 Oakwood Beluxs properties across 50 top cities in China by 2030.
Oakwood Beluxs will be targeted as a residential lifestyle choice to the new generation of "well-travelled citizens of the world", including entrepreneurs and corporate executives.
Oakwood CEO Dean Schreiber said: "Being the pioneer of serviced apartments with over 50 years of hospitality expertise, Oakwood is committed to continuous innovation and evolution with a guest-first approach.
"Since our debut in China twenty years ago, we have identified an opportunity to augment our brand portfolio with a product that serves the emergence of a new guest profile.
"We are honoured to have support from Country Garden Commercial and Culture Tourism Group in co-creating Oakwood Beluxs to provide quality residential spaces for this growing segment of sophisticated travellers that will push the boundaries for hospitality experience; and look forward to announcing our first properties in Southern China in due course."
Country Garden Commercial and Culture Tourism Group has currently strategic alliances in place with more than 1,000 brands.
Its portfolio covers 1,156 cities in China, Malaysia, the UK, Australia, India and Thailand.