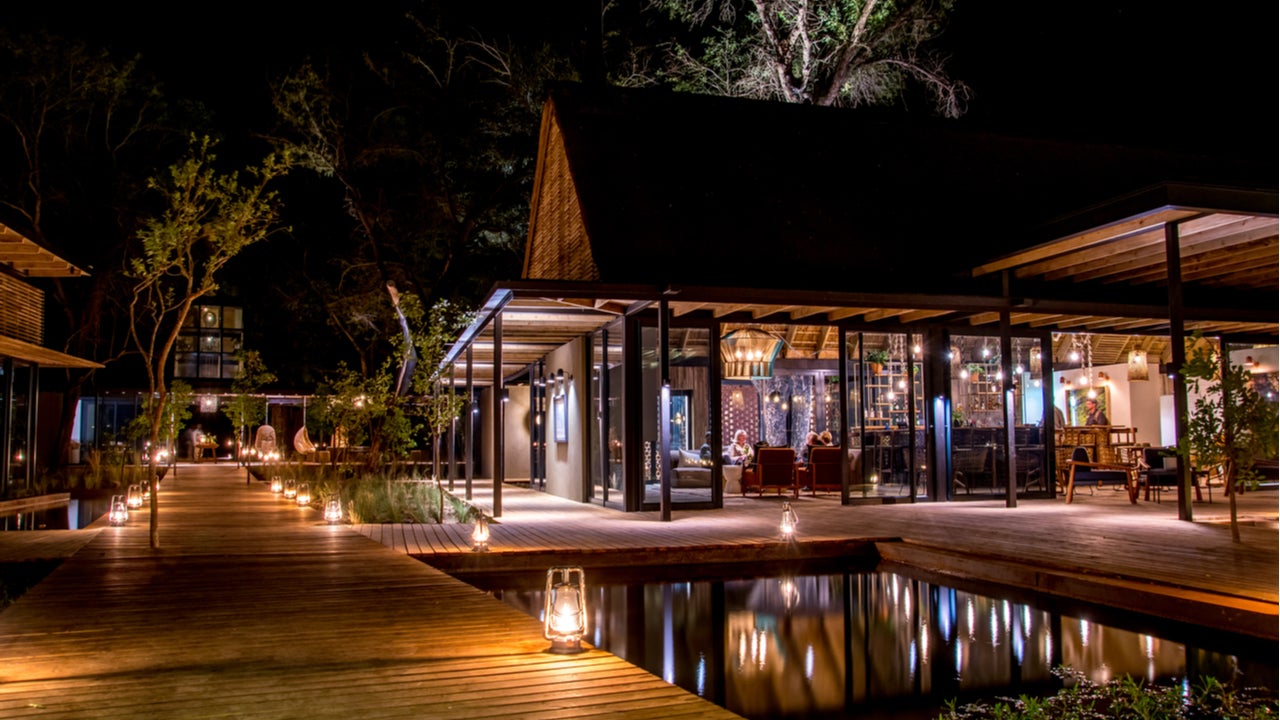 Resort leads as Hotel Management Network lists the top five terms tweeted on lodgings in Q1 2022, based on data from GlobalData's Travel and Tourism Influencer Platform.
The top trends are the most mentioned terms or concepts among Twitter discussions of more than 150 lodgings experts tracked by GlobalData's Travel and Tourism Influencer platform during the first quarter (Q1) of 2022.
1. Resort – 355 mentions
All-inclusive resorts in Europe, Sandals Resorts International setting new norms for Covid guarantees, and TPG Hotels, Resorts and Marinas' acquisition of Marshall Hotels and Resorts, were some of the popular discussions in Q1 2022.
The Points Guy, an online travel platform, shared an article on Covid-19 restrictions transforming travel and bookings, thereby compelling resorts to provide a more relaxing, and all-inclusive services such as entertainment, meals, and housekeeping. The article detailed that all-inclusive resorts in Europe are available to anybody looking for beach holidays or a ski-in, ski-out adventure. Some of the popular resorts listed in the article include Gran Meliá Palacio de Isora in Spain, LaBranda Riviera in Malta, Pestana Porto Santo in Portugal, Mitis Alila Resort & Spa in Greece, Club Med Grand Massif Samoëns Morillon in France and Excelsior Dolomites in Italy.
Resort also trended with regards to the vacation company Sandals Resorts International transforming the concept of all-inclusive to suit the requirements of the pandemic-era travellers in an article shared by Arthur Frommer, a travel blogger. The company is extending the deadline for its Covid-19 guarantee programme named Sandals Vacation Assurance and Beaches Vacation Assurance until the end of 2022, the article noted. The new terms of the programme offer several benefits for travellers, such as the cancel for any reason (CFAR) travel insurance, replacement of airfare credit of up to $500, and a full replacement vacation for use within a year. The programme also offers free coverage of costs for 14-days-quarantine at any of the company's resorts, and free complimentary Covid-19 testing approved by the origin country that makes returning home easier.
In another tweet, LODGING Magazine, the official publication of the American Hotel & Lodging Association (AHLA), tweeted on acquisition of hotel management and services company Marshall Hotels and Resorts by TPG Hotels, Resorts and Marinas, an operator of various hospitality assets. The acquisition will make TPG the owner of a portfolio of 130 properties across 26 states and help in fast-tracking its third-party management platform. The combined company will have its headquarters in Salisbury, Maryland, US. The acquisition provides greater efficiencies and economies of scale, apart from access to more capital, allowing the combined company to invest in other groups and attract new talent, according to Mike Marshall, the CEO of the combined entity.
2. Pandemic – 127 mentions
The increase in US hotel demand despite rising gas prices, the hotel industry learning to cope with the pandemic, and hotels adjusting to the changing needs of travellers amid the pandemic, were some of the popular discussions in the first quarter of 2022.
Hotel News Now, an online news source, tweeted on the continued recovery of the US hotel sector despite an increase in gas prices triggered by the Ukraine-Russia conflict. Experts claim that the pressure to increase domestic oil and gas production, resulting from the Ukraine conflict, has contributed to higher hotel demand from workers in the industry. The US hotel industry's occupancy rate for the week between 13 and 19 March 2022 was about 67%, the highest since the summer of 2021, the article noted.
Hotel prices also increased by 4% from the previous week and 14% from 2019 levels. Meanwhile, average gas prices rose to $4.32 per gallon on 14 March, having increased for 11 consecutive weeks, while US hotel demand continued to recover with more hotel rooms being booked and at higher rates. In addition, pent-up demand during the pandemic and 'drive-to-leisure' concept promoted by hoteliers led to a surge in trips planned by travellers despite an increase in gas prices, the article detailed.
The term also trended in an article shared by HOSPA, a hospitality professionals association, on how the hotel industry is coping with effects of the Covid-19 pandemic. The impact of the pandemic on the hotel industry in the US was found to be seasonal, according to November 2021 data. For instance, profits dropped in November compared to October, but the gross operational profit per available room (GOPPAR) in November was $55.68, a huge increase from the same month in the previous year. The industry's profits, however, were still found to be 29.4% down from November 2019 levels, the article noted.
Region-wise, the GOPPAR dropped to $34.82 in Europe in November 2021, which was still above 2020 levels but 41% lower than November 2019 levels. The average daily rate (ADR), however. was $10.68 higher than in 2019. Meanwhile, China's occupancy levels remained below 50% due to the impact of an outbreak in August, but the ADR remained above 2019 levels. Likewise, total revenues of the sector was down 25% year-on-year.
In another tweet, Tiffany Dowd, a global luxury hotel specialist, shared an article on the pandemic having completely changed travellers' needs, and hotels having to ramp up effort to adjust to them. An American Hotel and Lodging Association (AHLA) report indicated towards the continued recovery of the hotel sector, while uncertainties still remain over the next six months. The report highlighted staffing and return of business travel demand to be the key areas of concerns amid the pandemic, while focusing on the new traveller in 2022 will be key for hoteliers, the article noted.
The report further stated that future variants will make the next phase of recovery both uneven and volatile for leisure and business travel. Hotel occupancy and room revenues are expected to near 2019 levels in 2022, but the estimates for ancillary revenue, such as food and beverages will still be low. Full recovery of the hotel industry cannot be expected until 2025, the report added. Furthermore, loyalty programmes offered by hoteliers are likely to be restructured to address the shift towards leisure travel, while the blurring of the business and leisure travel segments will push travellers towards permanent digital nomad styles of working.
3. Booking – 105 mentions
Travel insurance provided by Marriott to US residents on direct hotel bookings, saving money while booking family trips to Europe, and booking device launched by Venue Butler in hotels across Chicago, were some of the popular discussions in Q1.
Richard Burns, a hotel specialist dealing in TV systems and broadband internet for hotels, healthcare, and hospitals, tweeted on hotel brand Marriott providing US residents with insurance for all domestic and international travels in partnership with Allianz Partners. The insurance can be availed while booking on Marriott.com and through the Marriott Bonvoy mobile app. The Allianz Global Assistance plans created for Marriott covers all individuals staying in the room(s), including friends and family. The benefits of the plan include compensation for pre-paid, non-refundable charges, such as airfares, expenses related to delays in covered travel, and medical emergencies. Other plan benefits also 24×7 availability of multilingual experts and trained staff to assist guests with medical and other travel emergencies, the article highlighted.
In another tweet, The Points Guy shared an article on being aware about occupancy limits while booking hotel stays. Vacationing with a family of four or five in the US maybe easy, however, booking family trips to Europe and other countries requires strict adherence to occupancy limits. For instance, a family of four or more will require to book two rooms in London and Paris. The article noted that travellers can save money while booking stays with families by using hotel points and paying a cash supplement, applying for upgrade certificates that will help in booking a larger room at no extra cost, and by booking a second room at a discounted price.
Booking also trended in a discussion related to taxi-booking service provider Venue Butler launching their taxi-booking devices for hotels across Chicago, shared by LODGING Magazine. The free taxi booking device allows a guest to request for a taxi within a minute, with the device displaying all the information related to the booking status, the cab driver's medallion number and name, and the expected arrival time, according to Thomas Kruyne, the managing director of Venue Butler. The front desk also stays informed about the bookings on the Venue Butler device and can track the ongoing request for taxis by guests, including delays and cancellations, the article highlighted. The device's built-in sim card allows 99.9% up time, allowing guests and hotels to book cabs at all times. The card comes with the address of the hotel that is pre-configured in the device and is connected with Chicago's largest yellow cab services.
4. Restaurant – 104 mentions
Plant-centric hotels and tours becoming popular, mobile chatbots helping restaurants resolve customer issues and needs in a post-Covid world, and Kimpton Hotels and Restaurants partnering with Talkspace to offer free counselling to its guests and employees, were some of the trending discussions in Q1.
Veronica Stoddart, a travel and tourism expert, shared an article on the emerging popularity of vegan travel. Plant-centric hotels, restaurants, and tours are becoming popular across Mexico and Greece. Vegans are low in number in the US although a growing number of Americans are quitting meat for environmental reasons, the article detailed. A 2019 survey by Ipsos Retail Performance found 9.7 million Americans to be vegan, compared to 300,000 about 15 years ago. Hotels are taking advantage of this switch to plant-friendly diets by introducing plant-based welcome mat with vegan menus and interiors, the article highlighted.
Marriott Bonvoy's Aloft Hotels, for instance, recently introduced vegan and vegetarian breakfast items to its grab-and-go lobby markets in more than 150 North American hotels. Hotels are also revamping the interiors and amenities to suit sustainable travel apart from introducing vegan menus, the article detailed. The Koukoumi Hotel in Greece, for example, started a vegan restaurant and a spa that uses plant-based massaging oils in 2020. Furthermore, travel companies such as Responsible Travel have introduced about 1,000 vegan-friendly vacations to support and protect wildlife by 2030.
In another tweet, Richard Burns shared an article on mobile chatbots playing a critical role for restaurants in a post-Covid world by offering customer support and driving revenues through meaningful interactions. Mobile chatbots have become a relevant tool for restaurants, due to the popularity of restaurant and food delivery apps among consumers during the pandemic. Digital solutions, including dynamic restaurant menus, chatbots, geolocation-based delivery tracking, customised menus and delivery options, are therefore integral to improving customer experience, the article noted.
Chatbot support facilitate orders, and address and resolve customer issues by engaging in conversation, the article highlighted. Chatbots can also automate customer interactions and can be integrated with a restaurant's social chat such as WhatsApp or Messenger. Furthermore, they serve as effective tools for pushing engagement and play a significant role in promoting products and services, while more customised and intelligent chatbots based on artificial intelligence (AI) technology can even understand customer intent.
TravelPulse, a platform for the travel industry's news, further tweeted on Kimpton Hotels & Restaurants partnering with online behavioural firm Talkspace to offer free mental health services to more than 4,000 employees as well as guests in the US. The partnership will allow every guest above the age of 18 years staying across Kimpton's 60 properties to have free access to 1,000 video therapy sessions and a $100 promotional code for a Talkspace package. In addition, all eligible employees will be given a free annual subscription to Talkspace, the article noted.
5. Business travel – 79 mentions
Business travel expected to make moderate recovery in the US this year, concerns over Omicron disrupting business travel demand in the US, and businesses that resume business travel likely to gain competitive edge over others, were some of the popular discussions in the first quarter.
Tim Peter, founder and president of Tim Peter & Associates, a marketing and advertising agency, shared an article on US hotel marketers expecting moderate recovery of business travel. Leisure bookings is likely to drive most of the revenues generated by hotels this year, the article added. Will Traywick, vice president of marketing at Prism Hotels & Resorts, stated that social group travel has increased in 2020 and 2021, as Covid-19 restrictions have eased. Business travel demand is slowing picking pace but is not back to its pre-pandemic levels. In 2022, corporate groups will be more willing to travel, although at a smaller scale than in 2019, the article highlighted. Gilbert Arredondo, divisional vice president at Remington Hotels, stated that corporate and convention group bookings had started to increase since April and will continue into the second quarter of 2022.
The term also trended in an article shared by Hotel News Now on US hotel performance experiencing a decline in the first week of January after the holiday rush in 2021. The decline was attributed to a continued weakness in business travel demand arising out of concerns over the Omicron variant. The US hotel industry's occupancy declined to 45.4% for the week ending 8 January 2022, eight percentage points lesser than the 2019 levels, but eight percentage points higher than 2021 levels.
The occupancy levels are the lowest and worse than most of the early 2000s, the article detailed. The demand in the US hotel industry was 88% of 2019 levels for the week ending 8 January 2022, while in December it was 99% of 2019 levels. Additionally, the industry's revenues were 81% of 2019 levels for the same week, the lowest since 2019, but within the recovery range. The hotel industry is expected to recover with signs of travel picking pace. Airport hotels had the highest weekly occupancy of 55% for the week, followed by resort hotels at 48% although urban hotels reported the lowest weekly occupancy at 38%.
In another tweet, Hotel Business, an online source for hotel news and information, tweeted on how in-person business travel and meetings are likely to give a competitive edge to firms. A study conducted by the San Diego State University School of Hospitality & Tourism Management, on behalf of the AHLA, found that business travel and in-person interactions facilitate productivity, and foster strength and collaboration, compared to virtual meetings.
In-person interactions are being considered as important, especially with 80% of the millennial workforce suggesting that face-to-face interactions help in employee recruitment, retention, and in building client relations. A survey by Morning Consult on behalf of AHLA further revealed that two-thirds of workers and 77% of business travellers believed that bringing back business trips and conferences was extremely important to cut the rise in screen time caused by virtual and hybrid work arrangements in the past two years, the article highlighted.