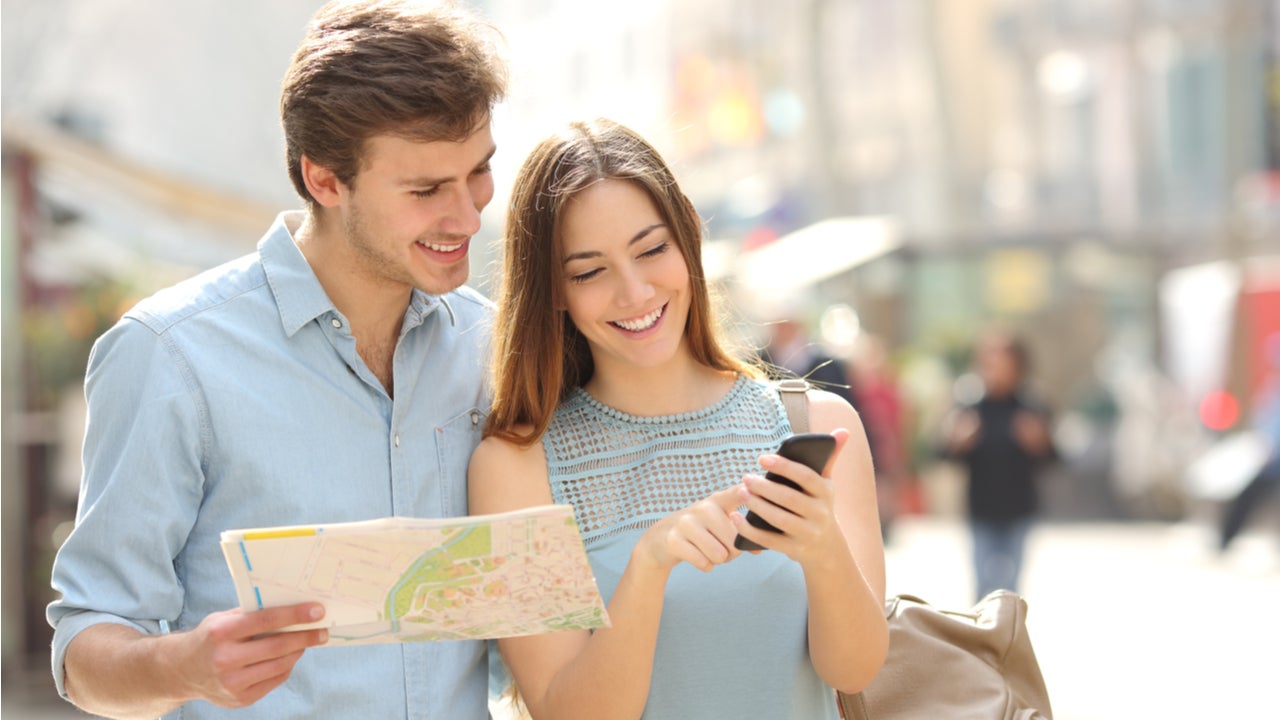 Companies within the travel industry have faced, and continue to face, unprecedented challenges and uncertainty due to the Covid-19 pandemic. In 2020, as travel came to a virtual standstill, the global market value for online travel intermediaries declined by 60.1% YoY to $236.7bn.
Listed below are the key industry trends impacting the online travel theme, as identified by GlobalData.
Artificial Intelligence (AI) and Machine Learning (ML)
ML is a subset of AI and is a process of learning from different types of data to make accurate predictions. ML in tourism mainly uses data including statistics, photos, maps, and texts. It is used in three stages: pre, during, and after the trip. It provides the necessary interpretations using models, approaches, algorithms, processes, trends, and systems to make predictions. The interpretations obtained can be used to help decision-makers who work in the tourism industry.
Within online travel, AI will play a central role in offering simplified travel arrangements and enabling the dynamic pricing and personalisation that online travel agents (OTAs) and direct and ancillary suppliers will need to thrive.
Big Data
The term 'Big Data' refers to large, diverse data sets that, when analysed computationally, can reveal patterns, trends, and associations. While its uses are varied, it can be especially helpful for tourism companies, because it can enable predictive and behavioural analysis. Collecting and harnessing data has been at the core of OTAs' strategies to differentiate themselves, first from offline travel companies and then from rival digital competitors by improving the quality of their offerings and increasing satisfaction with a tailor-made trip.
For online travel companies, big data analysis requires a significant shift from traditional databases and analysis techniques, and often an investment in data science and related application skills. Job titles within data-focused teams may include data scientists, data engineers, business analysts, machine learning engineers, and several product and infrastructure-focused data teams.
While utilising and applying the insights derived from Big Data has the potential to set online travel companies apart, alongside this come concerns over cybersecurity and data privacy. Going forward, online travel companies will have to invest in more advanced cybersecurity practices and talent to reassure customers and communicate the steps taken to ensure data privacy and security.
Travel apps
With the advent of smartphones, there has been a shift towards mobile and app-based platforms for many personal computing tasks. According to a 2019 report by Travelport, people now look at their mobile phone every 12 minutes on average and nearly 80% say they cannot live without it and never switch it off. With this comes a new set of expectations, as consumers expect brands to be everywhere they are.
Travel app development and downloads have the potential to increase going forward because of requirements to show vaccination or negative Covid-19 test status when traveling internationally and for some domestic venues.
Across all age groups of respondents in GlobalData's Q4 2021 Consumer Survey, it is evident that the popularity of online platforms far exceeds offline booking options. Following the growth of smartphones, travel app-related patents have continuously increased, even during Covid-19.
Conversational platforms
There are now several popular conversational platforms on the market. They can be broken down into two main types: those which converse via voice activation, such as Siri or Alexa, and those which use text to converse, such as WeChat, WhatsApp, or Messenger. Conversational platforms have the added benefit of potentially saving time and effort, preventing customer mistakes, offering a greater means for personalisation and customer satisfaction, 24/7 access, as well as new avenues to collect and store consumer data.
These channels can become an essential element of a company's success by encouraging direct engagement, interaction, and often, instant problem-solving.
Text-based chatbots have become relatively mainstream in online travel. According to a study by Travel Daily News, 84% of respondents claim they regularly use chatbots provided by travel brands for booking. Meanwhile, voice-activated platforms are still relatively nascent but are finding greater utilisation as this technology garners more investment and engagement.
Augmented and virtual reality
Augmented (AR) and virtual reality (VR) have long been on the list of emerging trends to watch, not only in travel but across many industries like gaming, healthcare, automotive, and engineering. Until now, these technologies have been somewhat niche areas that seemed a long way from becoming mainstream.
Furthermore, consumer purchasing decisions are being driven by the digitally advanced or 'smart' features of a product or service. Comfortable with technology, digitally savvy Gen Z and millennials' purchasing habits are often driven by advanced digital features. Millennials are similarly influenced by digitally smart products, with 85% of this age group being 'always', 'often', or 'somewhat' influenced by smart digital features. As such, this younger generational segment will likely be influenced by tech-forward products, platforms, and services.
As large technology companies such as Google and Apple have made significant investments into these technologies, developing AR and VR capabilities is now cheaper, easier, and quicker. Going forward, AR and VR have several potential uses within online travel and are playing a crucial role in transforming the tourism landscape and boosting travel experiences for tourists.
Blockchain and cryptocurrency
Blockchain is emerging as a powerful technological force that is set to disrupt the travel industry's status quo. In fact, blockchain is already being heralded as a game-changer for many different industries.
While blockchain has the potential to transform a highly fragmented travel industry, 19% of respondents regard blockchain as 'all hype and no substance', according to GlobalData's Emerging Technology Sentiment Analysis poll conducted in Q3 2021. However, 31% of respondents believe that blockchain is overhyped but sees its potential use, while 28% believe the technology will live up to its promises. Major companies such as TUI are already adopting blockchain technology in booking, reservation, and payment systems and significant sums of money are being invested in start-up ventures.
In relation to blockchain, cryptocurrency is also making several inroads into the travel space. Many travel companies are beginning to embrace crypto as a form of payment, from the travel site GetYourGuide, Travala.com, to the Bobby Hotel in Nashville, Tennessee, which accepts dogecoin and other cryptocurrencies.
For travellers, the biggest advantage of using cryptocurrency is avoiding foreign exchange fees. Cryptocurrencies also offer some price stability in countries where currencies are unstable and help travellers avoid fluctuating exchange rates.
Cybersecurity
Holding various levels of personal data, travel, and tourism is a hotbed for cybersecurity threats. As related industries begin to invest heavily in technologies such as AI, internet of things (IoT), and Big Data to offer the ultimate personalised' experience, the threat increases. There is a lack of investment from many in this theme—to be winners this needs to be identified with a clear, efficient strategy in place. Covid-19 has further accelerated the move online.
Businesses are streamlining business operations to accommodate changing needs, and the travel and technology sectors are becoming more intertwined, causing the travel sector to be more vulnerable to cyberattacks.
The global cybersecurity skills gap is exacerbating the increased demand for effective cybersecurity, with the industry in critical need of more qualified people. According to the International Information System Security Certification Consortium, or (ISC)², the size of the workforce with cybersecurity skills is 65% below what it needs to be, with the shortfall of skilled workers estimated to be 2.7 million.
Digital Covid-19 certificates
In response to Covid-19, creating an efficient, safe, and secure traveller experience has become paramount to ensure a smooth recovery. Governments worldwide have taken to issuing their citizens with digital and verifiable records of their Covid-19 status. This includes certificates for vaccination and testing, which digitally encodes the minimum information necessary to confirm a person's vaccination or test status into a machine-readable format, such as a QR code. This may exist within a purely digital solution such as in a smartphone app or can be on a paper certificate or its electronic PDF equivalent.
For instance, on July 1, 2021, the European Union (EU) implemented the EU Digital Covid Certificate (EU DCC) for digitally verifiable Covid-19 certificates. The EU DCC includes three types of digital certificates, for demonstrating either proof of vaccination, proof of a negative test result, or proof of recovery from Covid-19. The EU DCC has been a crucial element of Europe's response to the pandemic and has been key to supporting the European tourism sector.
The sharing economy
The sharing economy phenomenon has been growing for over a decade. Spurred by rapid digitalisation and the penetration of smartphones, sharing economy platforms have been transforming production and consumption systems in cities around the world. Sharing economy platforms have emerged on the back of radical changes in consumer habits, Airbnb, Uber, and their counterparts have revolutionised entire industries with their so-called "creative disruption".
Certain sharing economy players have grown into global companies in the space of only a few years. Airbnb is now active in more than 190 countries while Uber operates in more than 300 cities. However, as the economic power of these technology-driven companies has grown, regulatory and policy opposition has cropped up across towns and cities worldwide.
Aligned with the sharing economy model, a growing number of people are demanding a form of consumption that entails a high degree of personal interaction, and a community experience, with products offered by individuals rather than faceless companies. One of the many drivers of this trend is the change of attitude that is typical among the younger generations. This age group increasingly seeks out authentic experiences that allow for immersion in local culture.
The subscription economy
Over the past few years, there has been a seismic shift in growth strategies for business, brought about by a growing preference for subscription services from both businesses and consumers. According to McKinsey & Co, subscription businesses in the e-commerce market grew more than 100% annually from 2013 to 2018. Covid-19 has further accelerated the existing demand for subscriptions as more consumers have become accustomed to the reliable and time-saving benefits of subscription services, which travel companies can capitalise on as travel demand returns.
Skift Research identified subscriptions as a 'megatrend' in travel with these strategic initiatives accelerating as a subscription is seen as the next frontier of loyalty in travel. This stems from subscription and membership platforms representing a compelling way for travel companies to create lasting relationships with travellers and to generate a stable income stream. Given this, it is likely that subscription-based travel platforms will increase in popularity.
Climate conscious options
Travellers' awareness of the climate crisis has increased continuously over recent years, in turn, reshaping expectations. With changing traveller behaviour and preferences, legislation and policy makers are also putting increased pressure on travel and tourism companies to increase sustainability performance. Indeed, in the past years, there has been growing regulatory pressure to monitor and report progress on greenhouse gas (GHG) emissions reduction from industry initiatives, insurers and financial institutions, NGOs, governmental bodies, as well as country-specific administrations.
According to the World Travel & Tourism Council (WTTC), OTAs typically have significantly lower carbon emissions compared to other industry players such as accommodation providers, aviation, and cruise lines. However, as a result of increasing regulatory pressures and changing consumer expectations, companies are developing and integrating new capabilities to encourage climate-conscious travel.
This is an edited extract from the Online Travel, 2022 Update – Thematic Research report produced by GlobalData Thematic Research.