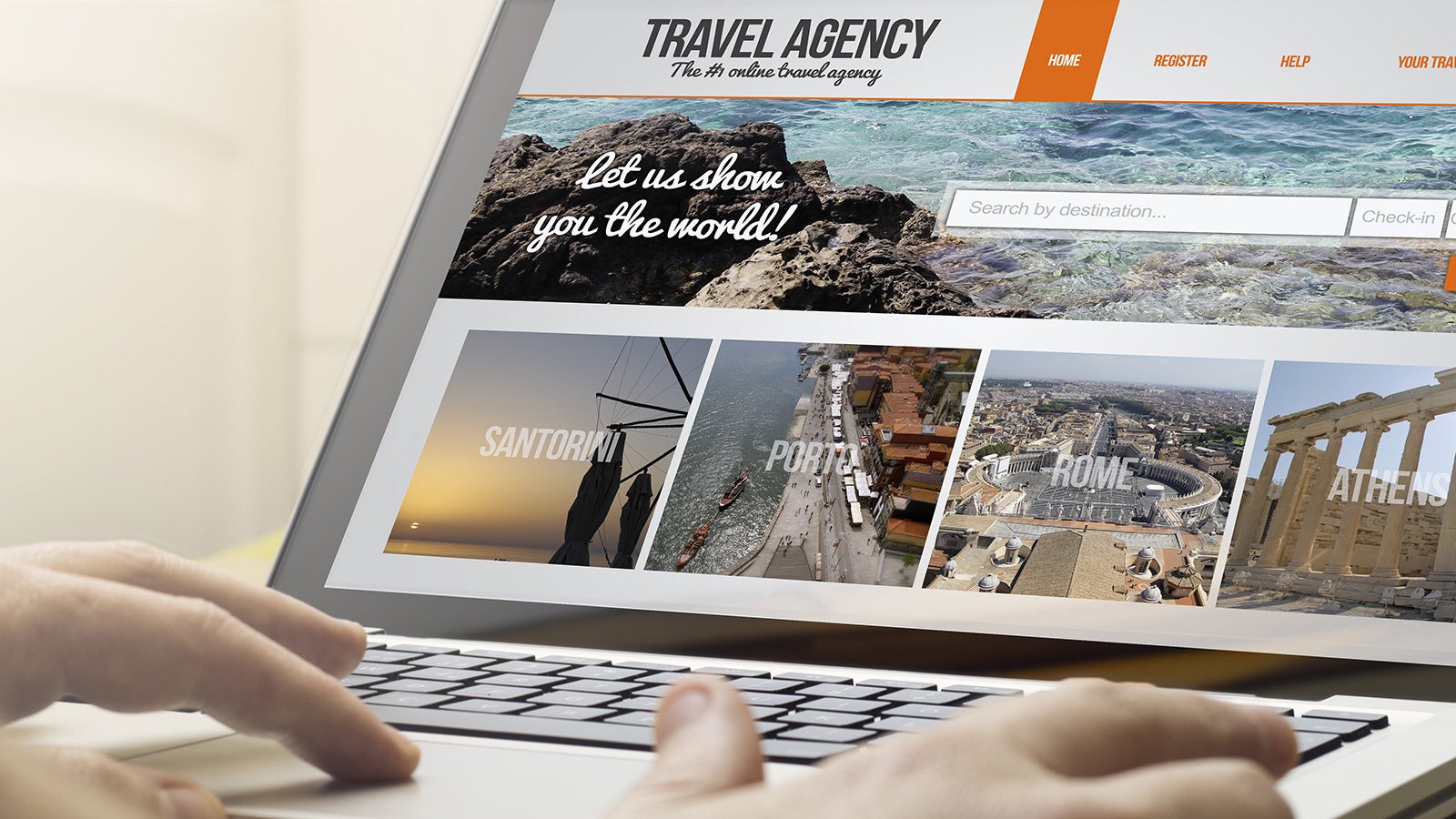 GlobalData's Patent Analytics Database reveals the top three patent themes mentioned by travel intermediaries so far in 2022, providing insights into what travel players are investing in and view as key drivers of business growth. Online travel takes the top spot, while cloud remained a key theme, along with machine learning.
The shift to online travel
Online travel is a pivotal theme and is driving significant changes across the travel sector. As shown by GlobalData, online travel is the most mentioned patent theme among travel intermediaries totalling 747 mentions in 2022 (as of August 23, 2022), demonstrating its importance. By 2025, GlobalData's most recent forecast reflect that the market value for online travel intermediaries will reach $765.3 billion.
The COVID-19 pandemic caused a digital acceleration due to the need to reduce physical contact and more consumers becoming adept at using technological solutions in everyday life, including for holiday bookings. With 24% of global travellers now selecting online travel agents and just 7% using in-store, according to a GlobalData consumer survey*, global travelers are now more heavily reliant on online platform purchasing habits. Without investment in online platforms, travel intermediaries will face decline.
Cloud technology is key area of investment
GlobalData's Patent Analytics shows that patent applications for cloud technologies have totalled 387 so far in 2022. Cloud computing refers to the provision of IT infrastructure, operating software, middleware, and applications hosted within a data centre and accessed by the end user via the internet. The cloud's most obvious benefits will enable travel providers the opportunity to leverage highly efficient tools and systems, without needing to spend on enhanced processing power, storage, and physical infrastructure. Additionally, companies with a large portfolio of brands have vast data sets to analyze and the use of the cloud can speed efficiency and increase agility. While the benefits of cloud technologies may seem too good to be true, a majority of respondents (54.7%) believe that cloud computing will live up to all its promises, according to a GlobalData poll**.
One such company invested in the cloud is Trip.com Group. The China-based online travel company has adopted Amadeus' cloud-based technology solution Amadeus Custom Search. According to a press release, Trip.com Group believe this technology will play an important part in accelerating long-term growth. It can be expected that cloud computing will continue to be an area of investment for travel intermediaries. A GlobalData poll*** revealed that 59.9% of respondents believe that cloud computing will cause significant or slight disruption in their industry.
Machine learning has many uses
Machine learning has emerged as a key theme with nearly 200 related patents so far in 2022. Concurrently, a GlobalData poll**** revealed that 29.6% of respondents, or their companies, will invest in machine learning in the next twelve months. Machine learning is an application of artificial intelligence that gives computer systems the ability to learn and improve from data without being explicitly programmed. The practical applications of machine learning are many and varied in the travel industry, such as chatbots and offering personalised recommendations based on past purchases, which are highly likely to be converted into sales. Travel intermediaries that invest in these themes will remain or emerge as industry leaders.
*GlobalData Q4 2021 Consumer Survey – 22,074 Respondents
**GlobalData Emerging Technology: Sentiment Analysis Q2 2022 – Ended 25 July 2022, 354 Responses
***GlobalData Emerging Technology: Sentiment Analysis Q2 2022 – Ended 25 July 2022, 353 Responses
****GlobalData Poll – Ended 16 April 2021, 476 Responses