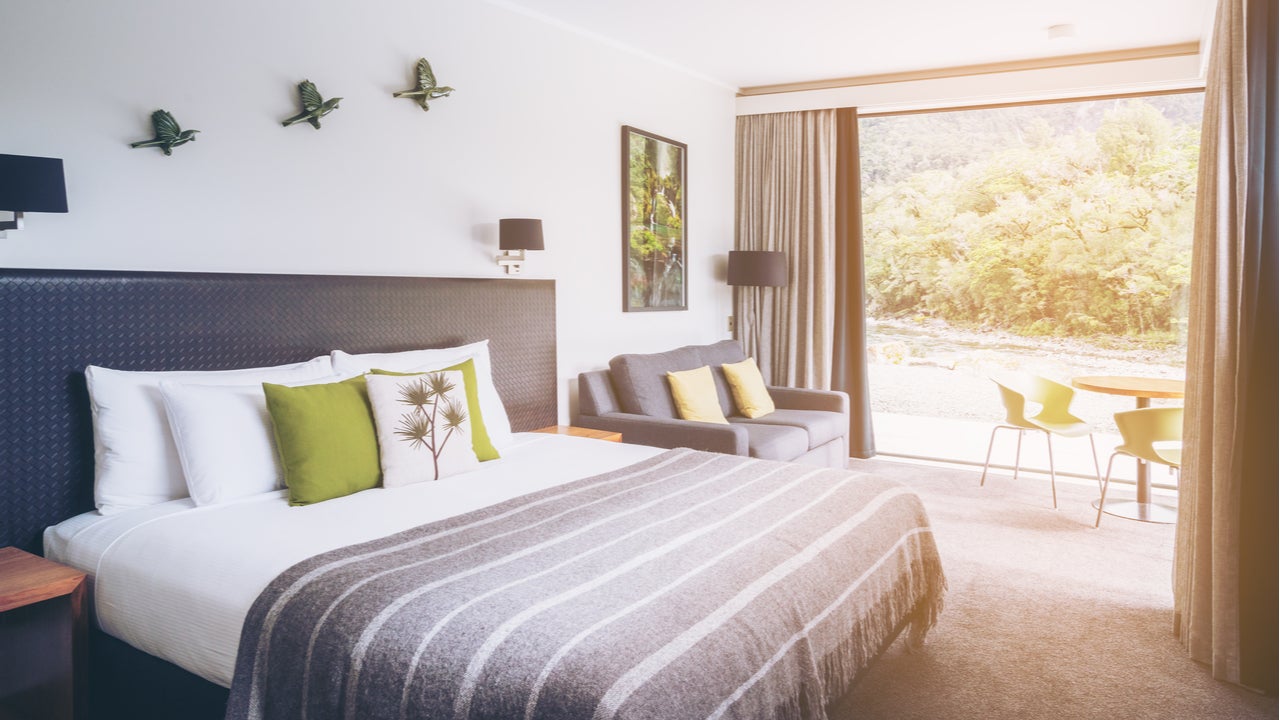 Using research from GlobalData's Influencer platform, Hotel Management Network has named five of the top companies trending in lodgings in Q3 2021.
Trending companies in lodgings: The top five
1. Hilton Worldwide Holdings – 181 mentions
Hilton Worldwide Holdings trended in Q3 Twitter discussions around the hotel group's announcement to no longer provide daily housekeeping at its hotels, its expansion plans in Las Vegas, and Hilton ranking second among the top franchise companies with the largest constructions in pipeline.
Hilton announced that it will not provide daily housekeeping at its hotels, thereby making it the first chain to adopt the change permanently, according to a video shared by The Points Guy (TPG), a US-based travel website and lifestyle media platform. The rooms at the Hilton hotels will now be cleaned and disinfected between guest stays. The company will do away with the practice of placing "cleaned and sealed" stickers on the doors of the hotel rooms. The guests who want their rooms to be cleaned can, however, request for the same from the front desk.
Hilton Worldwide Holdings (formerly Hilton Hotels Corporation) is a multi-national hospitality company founded by Conrad Hilton in May 1919. The company is headquartered in McLean, Virginia, US, and operates more than 6,400 properties in 119 countries through 18 brands. Waldorf Astoria, Hilton Grand Vacations, Conrad Hotels and Resorts, Signia by Hilton, and Canopy by Hilton are some of the brands of the company.
ICYMI: Hilton announced that moving forward, it will no longer offer daily housekeeping at its hotels.

Looking for more of the latest travel news? Subscribe to our daily newsletter here: https://t.co/zLp1z1pmXz pic.twitter.com/OVChK0Y99V

— The Points Guy (@thepointsguy) July 8, 2021
2. Expedia – 91 mentions
The increase in Expedia Group's revenue in Q2, hotel groups avoiding the use of aggregators, and the company launching an initiative to support UNICEF's global Covid-19 vaccination efforts were some of the discussions about the company in the third quarter.
Tim Peter, founder and president of Tim Peter & Associates, a marketing and advertising agency, shared an article on Expedia Group's revenues increasing by more than 270% in Q2 from $566m to more than $2.1bn compared to the same period in 2020. The company's gross bookings increased from $2.7bn in Q2 2020 to about $21bn in Q2 despite growing concerns over new Covid-19 variants.
CFO Eric Hart stated that the total revenue of $2.1bn is still much lower than that of Q2 2019. He emphasised that the company is making efforts to streamline its business for greater profitability and performance, apart from focusing on their brand messaging and marketing strategies.
Expedia Group is an online travel company catering to consumer and small business travel, including hotel room bookings, car rentals, airline seats, and destination services. The company offers its services through Expedia.com, Hotels.com, CarRentals.com, Hotwire.com, Orbitz, Travelocity, trivago and Vrbo. Expedia Group is headquartered in Seattle, Washington, US.
Air still well below normal and overall revenue down 33% from 2019 suggests that hotels should continue pursuing a "Backyard and Bundle" strategy: Expedia Q2 revenue tops $2B driven by U.S. hotel and vacation rental bookings @PhocusWire https://t.co/QRJZgSL3rc #hotelmarketing pic.twitter.com/GO000YDIQY

— Tim Peter (@tcpeter) August 9, 2021
3. Airbnb – 82 mentions
Airbnb surpassing one billion guest arrivals, the company's response to the Caldor Fire, and restrictions the company placed on booking whole homes on single nights during the Halloween were some of the discussions that caused Airbnb trend in Q3.
Martin Soler, managing partner at Soler & Associates, a marketing consulting firm for hotels and travel technology companies, shared an article on Airbnb surpassing one billion guest arrivals at Airbnb global listings. The Covid-19 pandemic boosted consumer adoption of Airbnb as they looked for safer options to visit friends and families in remote locations. The shift towards renting whole homes also offered economic benefits to hosts and communities who were able to earn income.
New hosts of the company, for example, earned $6bn in income during the pandemic. Remote working trends further pushed the success of the travel and tourism industry. Technologies such as Zoom have made tourist destinations popular and ideal for flexible working, the article noted.
Headquartered in San Francisco, California, US, Airbnb operates as an online marketplace for hospitality services such as lodging, homestays for vacation rentals, and tourism activities. The platform is accessible through a website and a mobile application that enables bookings.
Whenever a someone repeats the same statement, over and over it is a campaign. Recently Airbnb has been on a road trip about the revolution in travel + lots of predictions on their side. I would believe it more if they weren't pushing so hard. https://t.co/UulVcgeuyM

— Martin Soler (@martinsoler) September 23, 2021
4. Hyatt Hotels – 70 mentions
Hyatt's new hotel at Phoenix's downtown area, the company's partnership with Gopuff, and the expansion of the company's footprint across Europe were some of the popular discussions in Q3.
LODGING Magazine, a publication of the American Hotel & Lodging Association (AHLA), shared an article on Hyatt's plans to open the Hyatt Place Phoenix/Downtown in Phoenix's downtown area in Arizona, US. The 238-room, eight-storey hotel includes a restaurant and offers 24-hour dining and 24-hour fitness services to both leisure and business travellers. The new hotel is owned by the Pacific Hospitality Group (PHG), a property management company, and was constructed in collaboration with Mortenson, a real estate company.
Hyatt Hotels Corporation is a hospitality company headquartered in Chicago, US. It operates more than 1,000 hotels and properties in 68 countries through 20 brands. Park Hyatt, Grand Hyatt, Hyatt Place, Hyatt Centric, and Hyatt House are some of its brands.
The @Hyatt Place Phoenix/Downtown is set to open in the heart of Phoenix's downtown area in September 2021. https://t.co/JdvcgpgLnx #hotels #hospitality pic.twitter.com/4KoAmm1sZh

— LODGING Magazine (@LodgingMagazine) August 17, 2021
5. Marriott International – 67 mentions
Boston Marriott Copley Place opening its new lobby and M Club Lounge, Marriott having the largest construction pipeline in Q2, and the company making human trafficking awareness training available across the industry were among the major discussions around Marriott International in Q3 2021.
Richard Burns, a hotel specialist dealing in TV systems and broadband internet for hotels, healthcare, and hospitals, shared an article on Boston Marriott Copley Place located in Boston, US, announcing the opening of its new lobby and M Club Lounge. The lounge offers a VIP experience for professionals who want to hold meetings along with meals, beverages, and snacks.
Elite Marriott Rewards members staying at the hotel can share the space along with one companion. Furthermore, all travellers are allowed to book the M Club room, which gives access to two people to the M Club or they can purchase the M Club Lounge access during their stay.
Marriott International is a hotel company headquartered in Bethesda, Maryland, US. It operates more than 6,500 properties across 131 countries through 30 brands. The Ritz Carlton, JW Marriott, Le Meridien, Courtyard by Marriott, Protea Hotels, and Springhill Suites are some of the brands and properties operated by the company.
Boston Marriott Copley Place Reveals New Lobby and M Club https://t.co/hFrOUfQoeI #hotels #hospitality #lodging

— Richard Burns (@tvforhotels) September 2, 2021