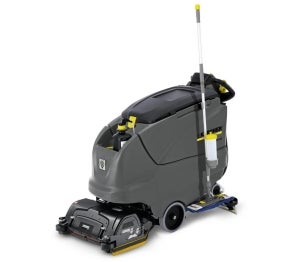 Cleaning equipment manufacturer Kärcher is going ahead with the second comprehensive change of corporate colour in the company's history. Just as when it changed from hammer finish blue to yellow in 1974, more lies behind the change than a mere corporate image redesign. The anthracite-coloured equipment now on sale for professional use is part of a strategic realignment of the entire company to focus on the customer.
"Our focus," said Hartmut Jenner, chairman of the Kärcher Management Board, "is on ensuring that our customers' needs are totally satisfied. The new colour is an important step in that direction in that it makes it much easier for them to choose the category of equipment they require. Their expectations of our brand are the starting point and destination of how we think and act."
"We took the first step in 2010 when we converted the product line for commercial contract cleaning to the new colour. Market research findings and the positive sales trend in this segment confirm that the change of colour was the right decision and one that our customers want," said Markus Asch, deputy chairman of the Kärcher Management Board, who is in charge of the Professional Products division.
The visual distinction between the professional range and consumer products that retain the well-known Kärcher yellow mainly benefits Kärcher dealers by making it easier for them to help customers arrive at a decision. A further advantage of anthracite as a colour is that it fits inconspicuously into its surroundings. It is, moreover, a colour that is impervious to dirt, reducing the effort and expense required to keep machines clean, while colour coding makes Kärcher's professional products easier to manage and maintain. Controls that are required for the cleaning process are yellow and those that relate to maintenance and servicing are pale grey.
With the NT 22/1 Ap Bp L, Kärcher launches its first battery-powered wet and dry...