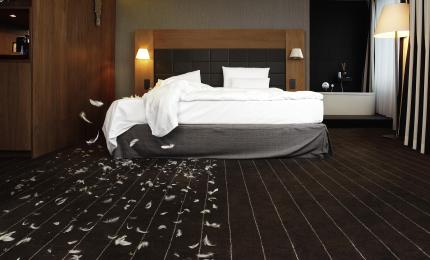 Kärcher, a family-owned enterprise, is a leading provider of cleaning technology. With pressure washers, vacuums and steam cleaners, home and garden pumps, sweepers and floor scrubbers, vehicle washes, cleaning agents, dry-ice blasters, drinking and waste water treatment plants, and water dispensers, it offers a range of innovative problem solutions. These include coordinated products, cleaning agents and accessories, along with advice and service.
Energy-efficient, eco-friendly cleaning products
With Kärcher products the focus is on conserving resources while delivering convincing cleaning performance. That is why over 600 employees in research and development are busy developing more and more new economical and eco-friendly products and methods. They include the T 12/1 eco!efficiency dry vacuum and an energy-efficient eco!efficiency setting for scrubber-driers.
Quiet, low-energy vacuum cleaning systems for the hotel industry
A distinguishing feature of the T 12/1 eco!efficiency vacuum is its low power rating of just 750 watts. The benefit for Kärcher customers is that it consumes 40% less energy than machines with a comparable cleaning performance. This reduction was achieved by means of improved flow characteristics. Another major advantage for the hotel trade target group is its low noise level of just 56 dB(A), which makes the vacuum suitable for noise-sensitive areas and for cleaning during hotel business hours. Hotel customers are not unnecessarily troubled by noise, and cleaning personnel also benefit from the low noise emissions.
Walk-behind, scrubber-drier with individual user profiles
The B 40 C-W walk-behind scrubber-drier features a newly developed operating system, Kärcher Intelligent Key. This makes it very easy to operate because it enables individual user profiles to be set up. Parameters such as speed of travel, brush rotation speed and detergent dosing are defined to suit the specific application. The facility manager uses his or her key to transfer these settings to the keys of users who can then only operate a rotary switch to select the desired cleaning program. This makes the machine very economical to operate because it limits the amount of energy and cleaning agent consumed to what is required.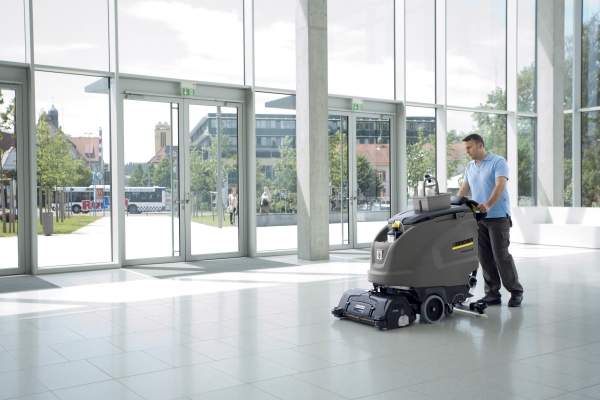 Innovation has been a key element of our corporate culture and we invest heavily in research and development.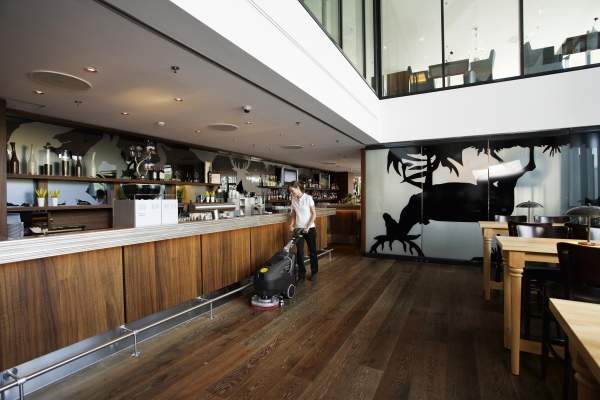 Machine parameters such as speed of travel, brush rotation speed and detergent dosing are defined to suit the specific application.
Kärcher focuses on conserving resources while producing systems that offer convincing cleaning performance.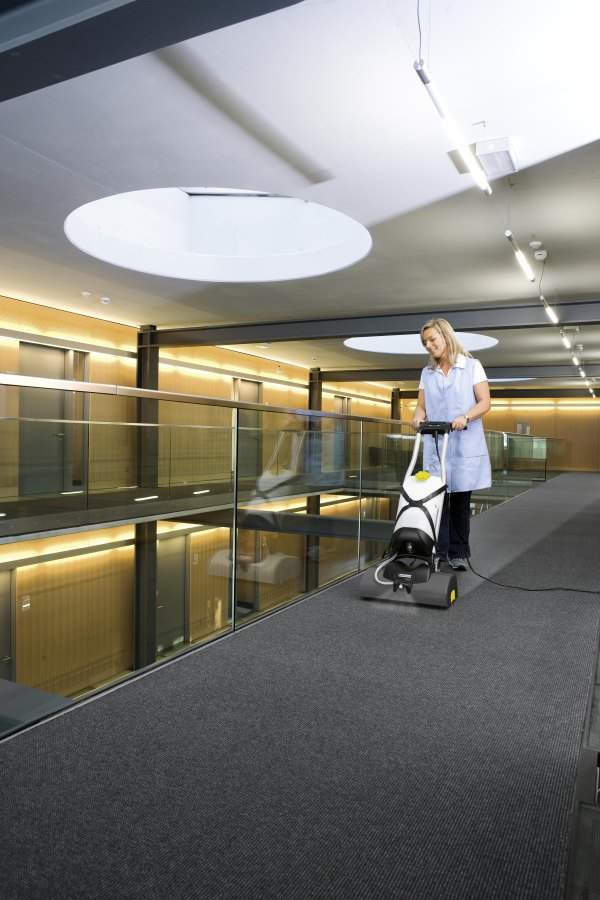 Our carpet cleaners are designed to save water and detergent, which means carpets are ready to be used more quickly after cleaning.
Kärcher produces quiet, low-energy vacuum systems for use in hotels so that guests are less disturbed by noise.
The machine is especially energy-efficient and eco-friendly in the eco!efficiency mode, which is perfectly adequate for maintenance cleaning of most floors. On this setting, the machine consumes little water and runs at a low brush and turbine rotation speed.
Carpet cleaners
Food residues such as milk, fish or vegetable juices not only soil carpets, but also make them smell unpleasant. The Kärcher iCapsol RM 768 OA carpet cleaner comes to the rescue by absorbing disagreeable odours. A special feature of the new carpet cleaner is its very short drying time. In addition, depending on the degree of soiling, just 50ml to 250ml in a 6% solution is sufficient for one square metre, so compared with wet cleaning it leaves very little moisture in the carpet. Consequently, depending on the material and the degree of soiling, the carpet can be walked on again after between 20 and 120 minutes.
Kärcher employs more than 9,000 people in 100 companies in 60 countries. More than 50,000 service centres in all countries ensure continuous and comprehensive supplies to customers all over the world. So there is always someone around for you. Innovation is the company's principal growth factor. Around 85% of its products have been in existence for five years or less.
Innovative approach to cleaning technologies
Innovation has been a key element of the corporate culture ever since the company was set up in 1935. Alfred Kärcher, an engineer with a passion for invention, applied his inexhaustible creative drive and ingenuity to finding solutions to technical problems. Yet he never ignored his responsibility for his employees' needs and concerns. That is why the company has always seen economic success and sustainable development as going hand-in-hand. Kärcher invests more than the average in research and development, in modern production methods and in high-quality apprenticeships and in-service training for its employees.
Over the past 30 years, Kärcher has carried out around 90 cleaning projects on historic monuments. In 1998, for instance, it cleaned the colonnades on St. Peter's Square in Rome, its biggest-ever facade-cleaning project at that time. In 2005, the cleaning of the Presidents' heads on Mount Rushmore, South Dakota, attracted a great deal of attention.