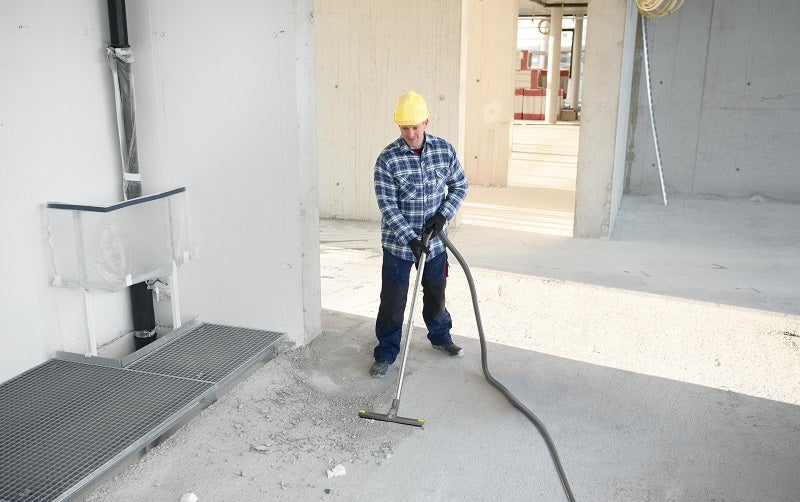 Kärcher is launching a new generation of wet and dry vacuum cleaners with improved automatic filter cleaning (TACT) on the market. The NT 30/1 Tact L, NT 30/1 Tact Te L, NT 40/1 Tact Te L and NT 50/1 Tact Te L models have a consistently high-suction power even with large quantities of fine dust. These extremely robust machines have been designed specially for operators in the motor trade and building industry or for industrial enterprises; the upgraded accessories also make handling particularly convenient.
The TACT system automatically cleans the flat pleated filter of the vacuum cleaner by sudden reversal of the air flow, without working interruptions or noticeable loss of suction power. The modified air flow inside the machine ensures that the dust is efficiently blown out with a larger volume of air than was previously the case. The operator can select a cleaning interval of 15s or 60s via the central rotary switch, depending on the quantity of dust.
The upgraded accessories and useful details facilitate use, also over long periods. The rubber material incorporated in the bend ensures that the handle fits snugly in the hand; the larger clips on the floor nozzle facilitate fast changes of use without tools for wet and dry applications. Tool boxes are held securely in place on a flat, non-slip storage area at the top of the vacuum cleaner and accessories are securely stored in specially designed recesses on the machine. Large metal castors and a safety bumper at the front of the casing ensure a long lifetime, even in harsh conditions.
All models are dust class L certified. The Te versions feature an integrated power outlet for the connection of power tools. The suction turbine is started when the power tool is switched on.
With the NT 22/1 Ap Bp L, Kärcher launches its first battery-powered wet and dry...