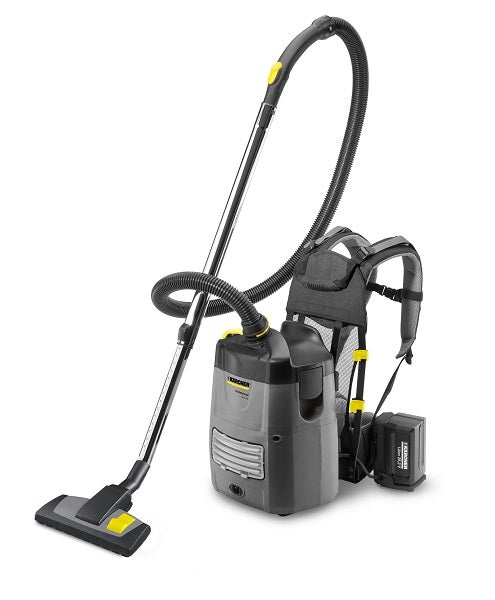 With the BV 5/1 Bp, Kärcher is launching a new backpack vacuum on the market. This model features a new lithium-ion battery thanks to which the vacuum cleaner for the first time delivers the same power as a mains-operated machine. Apart from selective cleaning, it can also be used for maintenance cleaning by contract cleaners, in the transport industry, in hotels and the retail trade.
Operated in the so-called eco!efficiency mode, an energy-saving setting, it only requires 400W. While the consumption of the vacuum cleaner is almost halved, the runtime is doubled from 24min to 46min. Thanks to the low noise level, the vacuum cleaner is also suitable for use in noise-sensitive public areas. Battery replacement with the new Kärcher BV 5/1 Bp backpack vacuum is simple at the push of a button.
The carrying frame has padded shoulder and hip straps, which can be individually adjusted to suit the user. A spring steel frame with mesh keeps the machine away from the body and allows air to circulate. The vacuum cleaner is controlled via a control panel on the waistband, which indicates the battery charge status.
With the NT 22/1 Ap Bp L, Kärcher launches its first battery-powered wet and dry...