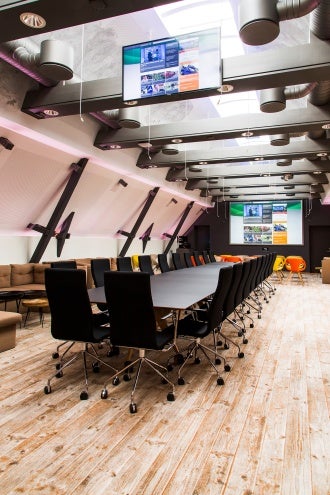 When Jyske Bank, the third-largest bank in Denmark, needed a new display system for its headquarters auditorium, integration company AV CENTER solved the problem by recommending and installing a rear-projected 120in Zenith screen from dnp denmark.
Located on the top floor of the building, the main challenge was counteracting the large amount of natural light flooding into the room, but Zenith screen was equal to the task.
Now, as visitors enter the main auditorium at the bank's headquarters in Silkeborg, they are immediately attracted by this large, flat optical rear-projection display built into the back wall and giving the impression of being a giant flat screen.
But optimised for use with both high and low-power projectors the Zenith screen boasts many advantages in terms of contrast and brightness uniformity, and also offers wide viewing angles. In this application, the Zenith screen is used in conjunction with a Canon WUX4000 (4,000 lumens) projector and besides providing a totally flush screen surface, it guarantees silent operation, top quality images and no risk of casting shadows from people moving in front of the screen.
The 23m x 9m top floor room is used for a wide range of activities, including board meetings, and it was the managers who had wanted a high-quality display that is easy-to-use and would harmonise with the interior design.
Jyske Bank director communication technology Steen Mertz said: "We knew the room itself was a challenge.
"It's long and narrow with a low ceiling, flooded with natural light from the windows and there are even skylights to contend with. But in cooperation with AV CENTER we found an elegant solution to this problem."
The entire display solution and all room lighting are controlled from two 10in touch panels. While one is situated at the podium the other is at the meeting room table to give presenters maximum flexibility, with small displays to enable them to preview the big-screen content.
AV CENTER's Henrik Jørgensen noted: "When you have space for a built-in solution, optical rear projection is the most aesthetically pleasing option.
"It means you can hide the projector and other equipment behind the wall.
"And it's is not just a pretty face. The advanced optical lens system delivers stunning image quality even when the room is filled with sunlight."
---
Image: AV CENTRE installs a 120in Zenith screen from dnp denmark at Jyske bank. Photo: courtesy of dnp denmark.