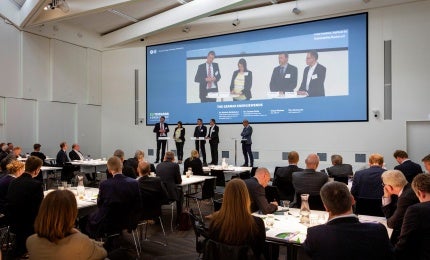 dnp denmark is the world's leading supplier of optical projection screens offering high-quality display solutions for conference rooms, conference halls, hotels, education, control rooms, digital signage, TV studios, home entertainment and houses of worship.
dnp's portfolio includes an extensive range of optical screens for all front and rear projection applications. Many of the world's leading brands trust dnp for its optical screen solutions, including Sony, Best Buy, Harrods, Hugo Boss, L'Oréal, Lego and Nike.
High-contrast optical projection screens
dnp's optical screens are available as front projection or built-in rear projection solutions to suit any presentation situation.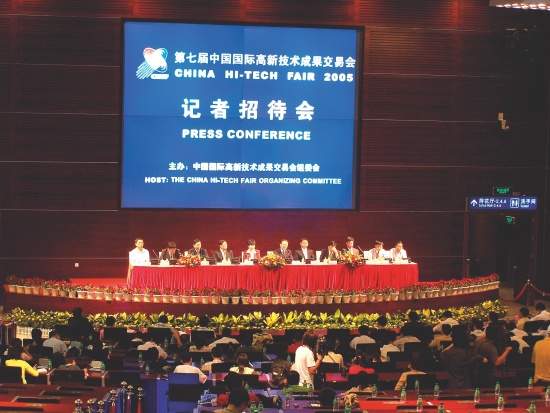 800-seat conference hall with four 200in dnp giant wide angle rear projection screens combined into a single 48m² display.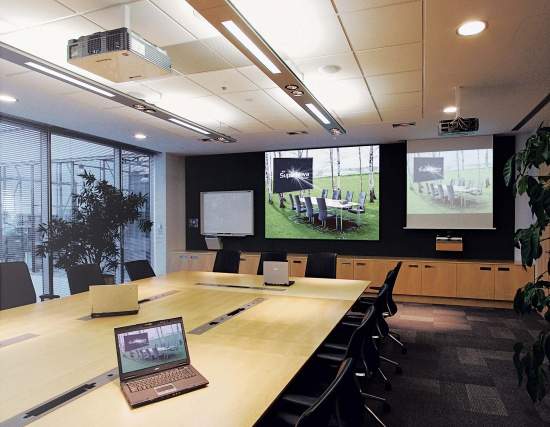 Meeting room with a dnp Supernova Infinity front projection screen. The screen to the right is a standard white front screen.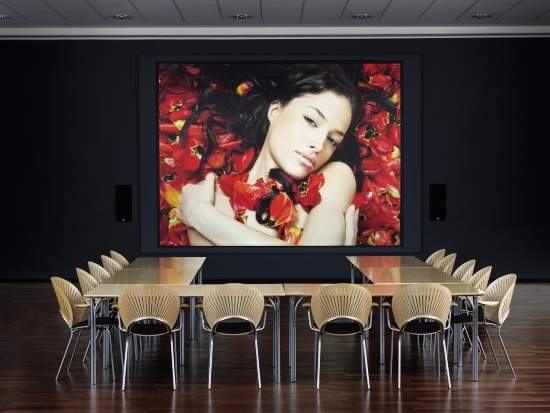 200in giant wide angle screen in a conference room.
Good ideas deserve a perfect presentation and with optical projection screens from dnp you can really do them justice. The projection screen is arguably the most important element of an AV package, although it only represents a small part of the total budget. As the face of the entire presentation system, it is the point of delivery for your message.
A good projection screen can dramatically enhance the image quality of a presentation whereas a cheaper screen can ruin your company's image; a false economy in the long run. Today, most architects specify high levels of natural ambient light when designing meeting and conference rooms. dnp's high-contrast optical screens perform well in these circumstances, exceeding the limits of traditional projection units.
Large, high-quality display screens for reception areas
First impressions have lasting effects and the reception area is the initial point of contact for most company visitors, which is why more forward-thinking companies are installing large screens in their hospitality areas.
High-quality screens from dnp allow companies to present their corporate presentations or news broadcasts, or captivate visitors with panoramic, peaceful or constantly changing footage from the great outdoors. Choose whatever type of footage suits your corporate identity and brand values knowing that it will not only enhance the first impression your company makes, but entertain waiting customers at the same time.
Presentation in high ambient light
dnp's optical screens allow you to project high-quality images in any situation, including broad daylight. To convey your argument successfully you need the audience's full attention. Until recently this was hard to achieve as large screen projection was restricted to darkened rooms, breaking the connection between audience and presenter.
A clear display that allows you to leave the lights on offers significant advantages to a presenter, as they are not blinded by the contrast between the bright light from the projector and the darkness of the room, and they can maintain eye contact with the audience and read their facial expressions. This system also enables the presenter to clarify a point by drawing on a whiteboard. What's more, viewers can take notes without straining their eyes in the dark.
Conference halls and conventions
Conventional front-projected images do not perform well with the bright lighting systems typically used in conference halls. In these situations, only dnp optical screen technology provides satisfactory quality.
Studies show that in order for a viewer to see detailed information clearly, the minimum acceptable contrast is 15:1. dnp's optical front projection screen, Supernova, was the world's first front screen to break the 15:1 contrast barrier, and the rear projection screens offer contrast ratios far above this level.
dnp Supernova screens display colours far more vividly and images in greater detail than standard screens and the Supernova Infinity screen variant can be used to create displays in any size. For extra bright conference rooms, the dnp giant wide angle screen, the world's largest optical rear projection screen, guarantees superior image contrast and excellent visibility from all positions, even in the largest and brightest conference room.
About dnp denmark
Since 1989, dnp denmark has been the worldwide large screen production centre of Dai Nippon Printing. With 35 production plants, 21 product divisions, more than 48,000 employees worldwide and an annual turnover exceeding $16bn, Dai Nippon Printing Co. Ltd. is one of the world's largest printing and media companies.
dnp denmark's laboratories benefit from higher levels of investment in research and development than any other screen supplier, leading to the production of superior, award-winning products such as the revolutionary line of Supernova front projection screens.
As a market leader, dnp provides its partners with the best technical support and some of the most innovative sales and marketing tools found today in the screen industry.