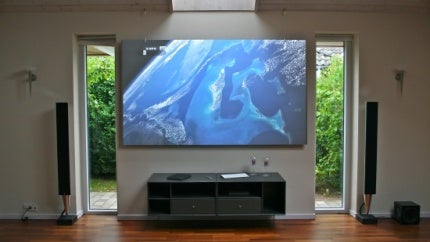 The dnp Supernova Blade is an elegant, frameless front projection screen that is ideal for use in meeting rooms, retail stores and residential applications. Only 3mm thick and available in sizes 100in, 110in and 120in in 16:9, it meets modern customers' demands for flatter, wider screens which maximise image size while reducing the space requirement of the overall installation.
The screen's clean look and slimline format suit modern architecture and interiors perfectly. At the same time, the dnp Supernova Blade performs superbly, providing a great viewing experience, even in brightly lit environments.
Features include:
Frameless, space-saving design
Minimal screen thickness – only 3mm
Available in sizes 100in, 110in and 120in in 16:9 format
Easy to install on wall or ceiling
Performs in brightly lit environments
Up to seven times higher contrast than conventional front screens
Available with 08-85 ISF-certified screen material or 23-23 material
Compatible with all standard projectors
First we had 60in LCD flat-screens. Then came 80in LED. Now, dnp is pleased to...