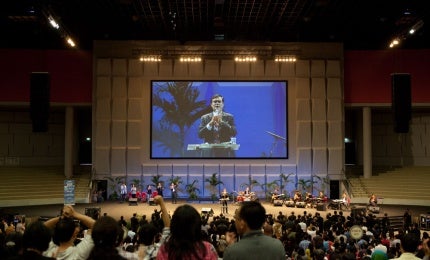 dnp Supernova Infinity is a modular screen system that creates screen images of incredible size out of any number of screen units from the Supernova family. The unique aluminium frame structure transforms the revolutionary Supernova Screen into a building block for creating large-scale displays in the size you need. With its large screen size, Supernova Infinity is an alternative to dnp rear projection solutions.
Features include:
Front projection in brightly-lit environments
Unlimited screen size
Seamless viewing experience
Easy to install
Soft-edge blending possible
CNC precision-cut edges
Compatible with all standard projectors
Full-colour balance conservation
Available with 08-85 ISF-certified screen material or 23-23 screen material
Floor stand available
First we had 60in LCD flat-screens. Then came 80in LED. Now, dnp is pleased to...