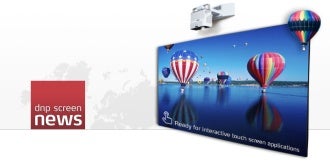 Based on the valuable input received from partners, dnp denmark never ceases to improve its products.
The company is therefore glad to be able to present to you a new and better version of the dnp Supernova STS screen.
The new and improved dnp Supernova STS will provide a better brightness with a gain of 0.9. It has an improved flatness and a new 20mm slim frame design for a more modern and light appearance.
Last, but not least, it now features a new hanging method that will reduce installation time.
dnp Supernova STS is optimised for ultra-short-throw projection and is ideal for situations where space is limited, such as class rooms, small meeting rooms, bars and clubhouses, and living rooms.
---
Image: dnp Supernova STS screen. Photo: courtesy of dnp denmark.
First we had 60in LCD flat-screens. Then came 80in LED. Now, dnp is pleased to...